Another big release for Nakivo today. They just released Nakivo Backup and Replication 9 which was announced and you have had an occasion to test the beta, just a few weeks back. The main feature added to the product is probably protection of physical workloads as Windows Server OS installed on a physical server can now be added as a backup source.
Windows Server backups can be encrypted both in flight and at rest. This is important as information leakage and security of data is one of the key elements to look when finding a data-protection solution.
Hyper-V 2019, the latest Microsoft's hypervisor is now supported as well. One final improvement which we can report is the integration of NEC Hydrastor solution which allows you to decrease the size of your backups by up to 95%. It is basically a disk-based grid storage system with data deduplication for backups and archiving.
Nakivo evolves release after release. With each new release, the product matures and becomes more feature-rich. It is a never-ending game as major software companies such as Microsoft or VMware provides upgrades and new releases. The backup vendors do have to follow the trend and support those products as fast as possible.
Nakivo currently supports VMware vSphere, Hyper-V, Nutanix AHV, AWS EC2, and Windows Servers. Seems like that physical Linux server protection might be next.
Let's dive into the new features of Nakivo 9, in more details.
Nakivo Backup and Replication 9 – What's New?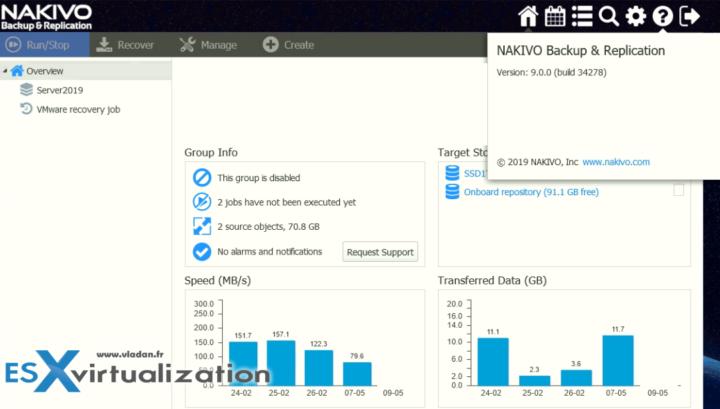 Windows Server Backup
NAKIVO Backup & Replication v9.0 allows you to protect a physical or hybrid environment by allowing for incremental Windows Server backup and recovery. With the application-aware backup mode, you can be sure that applications and databases, such as Microsoft Exchange, Active Directory, and SQL, running on your physical servers are backed up in a transactionally consistent state.
You can also improve your backup performance with Network Acceleration and save storage space with global deduplication and compression. To improve reliability, NAKIVO Backup & Replication can truncate MS Exchange and MS SQL logs, thus preventing them from taking up space on the server.
Hyper-V 2019 Support
NAKIVO Backup & Replication v9.0 fully supports Microsoft Hyper-V 2019.
NAKIVO keeps up with new industry releases, so if you have decided to upgrade your environment and take advantage of the new Hyper-V 2019 features such as Windows Admin Center and ReFS Deduplication, they've got you covered.
P2V from Backup
You can P2V (physical to virtual) from backup into a virtual machine (VM). It means that the backup of your physical hardware can be recovered and started up as VMs.
Quote from Nakivo blog post:
Last but not least, in v9.0 we have introduced the advanced P2V functionality. From this point forward, you can recover physical machines to VMware and Hyper-V VMs. With such functionality in place, you can rest assured that you'll always be able to recover business-critical elements of your infrastructure.
Product installation
Nakivo can be installed on Windows or Linux. Also, you can install Nakivo directly onto a NAS device. It runs natively on QNAP, Synology, ASUSTOR, Western Digital, and NETGEAR. Perhaps even more. You can find the list of supported NAS devices at Nakivo.
Nakivo claims that this way their software is up to 2X more performant compared to traditional backup infrastructures. It is mostly due to the fact that it bypasses some storage protocols and eliminates bottlenecks, and also, it's completely separated from virtual infrastructure, so not consume any resources.
Other then that, you imagine that modern NAS devices now have quad-core CPUs which can handle the load of storage tasks and also backup.
The product also offers support for high-end deduplication appliances such as Dell/EMC Data Domain and NEC HYDRAstor.
Links:
Download Trial here.

Source: Nakivo blog post
In 2019, Nakivo has added Windows Server 2019 Support for installation and also Nutanix AHV Support. The product can now protect Nutanix Acropolis-based infrastructures. By using a single pane of glass, customers can perform application-aware, image-based, incremental backup across VMware, Hyper-V,  Amazon EC2, and Nutanix AHV environments. Now also Windows Server (physical) systems.
More about Nakivo on ESX Virtualization:
More from ESX Virtualization
Stay tuned through RSS, and social media channels (Twitter, FB, YouTube)