Nakivo released today a new version of their flagship software, Nakivo Backup and Replication 8.5. Their product grew very fast during the past few years. Every release brings many new features and possibilities to install on different platforms. This release is another major release from Nakivo as they just added Nutanix AHV Hypervisor to the list of already supported VMware vSphere, Microsoft Hyper-V or Amazon AWS EC2.
We had an occasion to test the Nakivo 8.5 beta and we had a feeling to use a mature product as the beta included all the features we're writing about today.
As we highlighted in our post entitled Nakivo Backup And Replication 8.5 Beta announced with Nutanix AHV Support and more, the software is now also more efficient as it is able to do Replication of VMs from a backup file instead of creating a snapshot of VMs. This reduces pressure on a storage array due to snapshots which are triggered every time a replication job starts.
Nakivo software has many install possibilities. One new one has just been added. You can now install Nakivo on the top of the FreeNAS operating system where you can get it from the app store as an app, installed in a few clicks. This was already possible for certain NAS devices as well as an app integration: QNAP, Synology, ASUSTOR or Western Digital NAS.
What's new in Nakivo Backup And Replication 8.5
Windows Server 2019 Support: NAKIVO Backup & Replication v8.5 stays up to date with industry releases and can be installed on Microsoft Windows Server 2019.
Nutanix AHV Support: In addition to supporting VMware, Hyper-V, and AWS EC2 environments, NAKIVO Backup & Replication v8.5 can now protect Nutanix Acropolis-based infrastructures. By using a single pane of glass, customers can perform application-aware, image-based, incremental backup across VMware, Hyper-V,  Amazon EC2, and Nutanix AHV environments.
You can do an incremental, application-aware backup of either full Nutanix VMs or of separate disks. Network Acceleration and LAN-free data transfer can ensure high performance of your Nutanix backups. You can also save storage space with the help of global data deduplication and variable compression options.
Nutanix AHV backup in NAKIVO Backup & Replication is application-aware. This means that all application data is captured in a transactionally consistent state.
Per-machine subscription licensing: Customers can now purchase a per-machine annual subscription for NAKIVO Backup & Replication at an unprecedented price starting at just $17 per machine/year. A machine is either a VMware VM, Hyper-V VM, or a Nutanix AHV VM. The new licensing model removes vendor lock-in and enables customers to switch between virtualization platforms without extra backup fees or license changes.
Replication from Backup: Advanced data protection strategies require creating both backups of critical VMs for long-term data retention, and replicas of the same VMs for instant disaster recovery. Performing both VM backup and replication for the same VM doubles the load put on your production environment. Nakivo can create VM replicas from existing VM backups, eliminating the need to read the same data twice from the source VM. Such VM replication jobs can be chained to a backup job and run automatically every time a backup is created.

Once you launch a new replication job wizard and select VM backup as the source, NAKIVO Backup & Replication proceeds to read the data from the repository and inject it in the replica.
Ransomware-Proof Mini Backup Appliance Based on Raspberry Pi: Given that it is exceptionally lightweight, NAKIVO Backup & Replication v8.5 can be installed on Raspberry Pi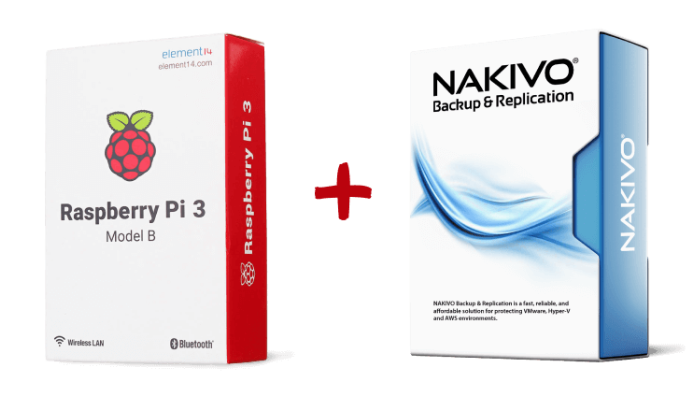 devices, thus creating a portable yet fully-functional backup appliance, which can be configured to be ransomware-proof.
Software-Defined Backup Appliance Based on FreeNAS: NAKIVO Backup & Replication v8.5 can be installed on the FreeNAS operating system. By deploying NAKIVO Backup & Replication v8.5 on FreeNAS, customers can turn a NAS server into a cost-effective, hardware-agnostic backup appliance with industry-leading data protection and site recovery capabilities.
Quote: FreeNAS operating system is free and has modest system requirements, which means you can purchase the most affordable hardware or even repurpose the hardware you already have. Add NAKIVO Backup & Replication's competitive per-socket pricing and you get a solution that can spare you considerable costs while delivering enterprise-grade data protection functionality.
Auto-Update: NAKIVO Backup & Replication can be updated to the latest version in just a few clicks directly from the web interface.
As you can see, Nakivo has made another step forward to keep up with the leaders in the industry.
Nakivo Backup and Replication 8.1 introduced a new feature called Policy Driven Data Protection allowing you to automate of backup job creation. For larger infrastructures, repetitive tasks such as adding VM(s) to a backup job are additionally also subject to errors.
So Policy Driven Data Protection is a time-saving and error-free function which does not provide immediate and obvious benefit for some, but it does provide a guarantee that at scale, you'll work more efficiently and faster because you won't lose time by creating backup jobs or adding VMs to an existing backup job. Also, you'll avoid repetitive (and boring) tasks which might be prone to errors.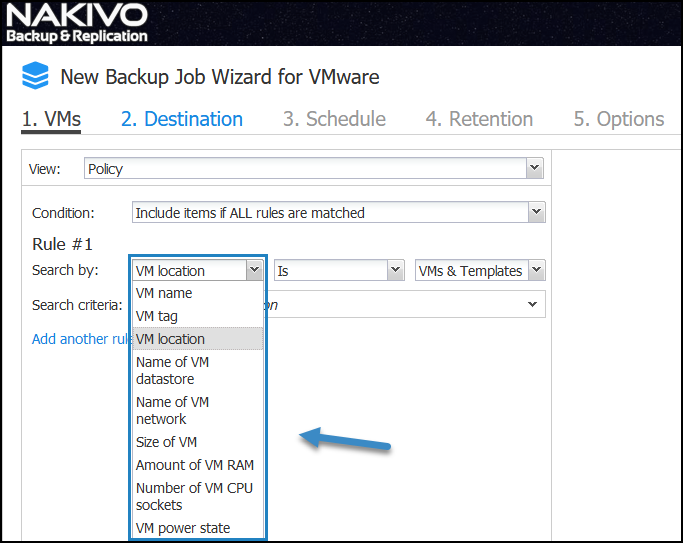 With policy, you are now able to define let's say a set of parameters, and then the system will make sure that your environment meets those parameters. The Policy-based data protection by Nakivo has this function that allows you to define a way to identify existing VMs and automatically base jobs from those parameters set in the policy definition.
When new VM(s) are added/created/cloned/deployed from templates within your virtual infrastructure, the policy identifies those VMs to the protection jobs automatically and adds those VMs to the data protection job. This works also the other ways around, when you decommission/delete VM(s), those are automatically removed from the data protection job(s).
Note: NAKIVO is offering a limited-time 10% discount on a 3-year Enterprise subscription license.
Nakivo user interface is lightweight. All you need is an HTML5 capable web browser. No console to install, no app to configure. If you're installing on Windows server, you'll just click an icon on the desktop to open the default web browser for launching the software. The UI is clean and intuitive.
Check Nakivo website here.
Trial Download here.
More from ESX Virtualization
Stay tuned through RSS, and social media channels (Twitter, FB, YouTube)