Nakivo Backup and Replication software is a rapidly evolving product. In this post, we'll talk about the different options and DR strategies that are needed for current modern data center environments. You as a datacenter admin must combine not only backup but also have a solid DR strategy for your organization. Today it is not enough to have a secondary backup location for your backups, but you really need a DR site that can kick in case of your main site problem.
I agree that each environment is different with different storage and connections, but some kind of rule of thumb should always be respected and this is based on RTO and RPO requirements. If you can afford to lose more than half a day of data, that's fine. Or you cannot. You need to be able to resume work if the main site is down within 15-30 min then you'll need a DR site for sure.
Ransomware attacks more and more often. While you can restore from backups it is fine. But what if the backups are already corrupted with the ransomware as some of those agents "sleep" or start to encrypt slowly before going full speed and encrypts all systems in a reach. This means that all your backups are probably already infected and you need to restore from long time ago and thus, lose more data…. There is no single answer. Separation of backup locations via air-gap, via different media (tape) is one of the solutions, but that might already be too late to act.
I think that the detection phase is crucial. A good ransomware/antivirus detection system allows to "catch" the early beginning and act rapidly by restoring critical systems.
What are Nakivo's Backup repository options?
When planning for DR and or storage, Nakivo has plenty of different options where you would need to land your backups. Let's have a look at the assistant creation of new repository that shows us that outside of the local folder, CIFS share, we also have NFS share.
Then We have Amazon EC2 and S3 options, and also Saas or Deduplication appliances.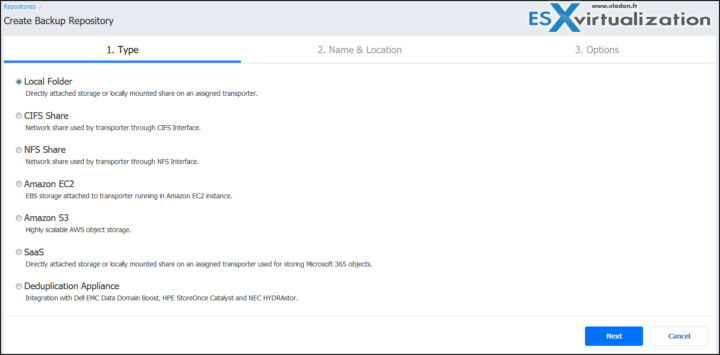 Deduplication and Compression, detach repository on schedule options
The second page of the assistant allows us to specify the type of data storage type which means how do we want to backup here.
Forever incremental – backups will be stored across thousands of files with built-in deduplication available. Recommended for simple disk-based DAS and NAS.
Incremental with full backups – backups will be stored in incremental files with periodic full backups, and without built-in deduplication. Recommended for improved reliability and deduplication appliances.
We have an automatic repository self-healing which helps when some inconsistencies are detected.
One of the options is pretty interesting, considering our ransomware fight. It says Scheduled detach and it means that you can schedule when the repository is connected. You have a built-in scheduler where you can specify when the repo is connected.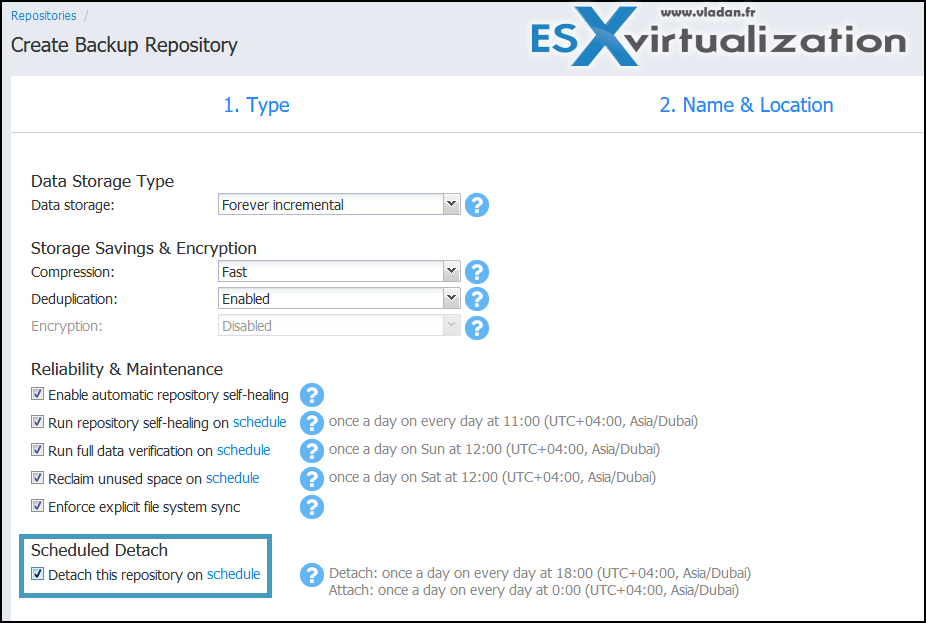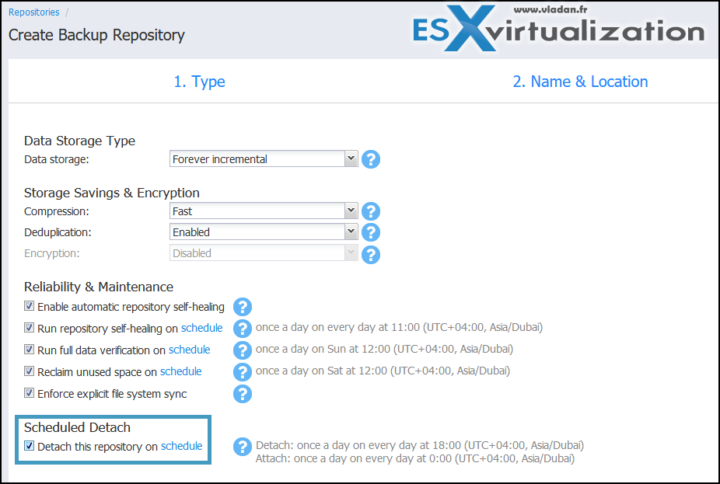 The scheduler window looks like this. The last line says "Delete and re-create the repository on attach" gives us an option for removable drives, where you basically attach a removable drive that each time has a new repository created before starting the backup job.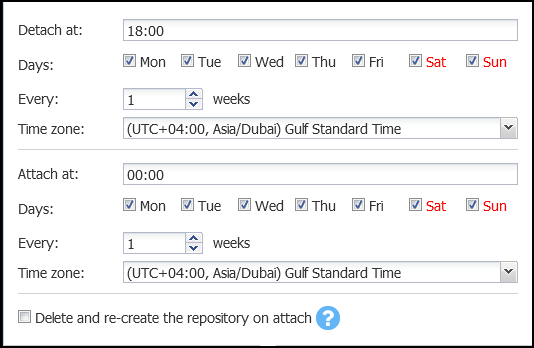 Nakivo DR options
In the past we have already written about Nakivo and DR so basically, once you have your VM backups locally, you might consider replication as it is the replication to another location, to another datacenter where you have at least one ESXi host and the standby copies of your VMs. (called replicas). Those replicas are in standby mode and their disks are refreshed with the latest data from the main site automatically.
So let's say that you backup daily, but then you have a replication set up each hour. It means that your RPO is one hour (you're losing one hour of work only). What you do is you start the VM at the remote location (or cloud location with Amazon) and this VM has only 1 h difference from your production VM that has just crashed. That's the idea of simple DR, but Nakivo can do better with Site Recovery jobs.
Your DR might never be used, a disaster might never happen, but it's better to be ready with this setup and its automatic replication job execution. You as an admin you just need to make sure those replication jobs finish without errors.
Nakivo has a Site Recovery feature allowing you to recover your site. You'll use special Site Recovery (SR) jobs from the Nakivo UI.  You can use different SR jobs for different purposes, such as disaster avoidance or planned migration of your data centers. Use multi-site SR jobs for planned migrations or create a primary Site Recovery job to minimize downtime and service disruption.
Via those jobs, you can orchestrate what going to happen. You can orchestrate disaster recovery across multiple sites. You can also do non-disruptive recovery testing. This is a real orchestration tool built-in that can be used in many many scenarios and sites.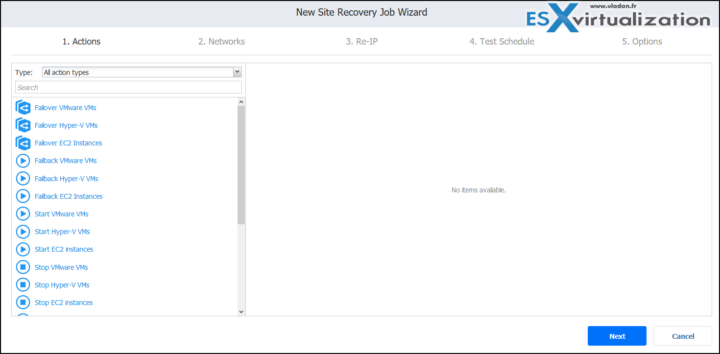 Nakivo Copy Jobs
Yeah, not to forget about copy jobs because once you have the traditional backup on your repository, you can create a backup copy job and use this data and send them over to the cloud or remote site without putting more pressure on your production VMs. Really useful to create an additional layer of protection in case you're hit by ransomware on your main site.
The goal today is to have your backups on multiple locations, in multiple clouds. Do backups as often you can so you have the freshest data to restore from in case any of your VMs gets corrupted.
Nakivo Easy Updates
There is no month without an update. If you haven't been around for a while and missed the latest updates, simply head to this page and download the latest update for your environment. On that page, you can download the latest Windows updater, virtual appliance and Linux updater, updater for NAS devices or an updater for Rasberry Pi.
As you can see, the vendor is very flexible and supports a wide variety of operating systems and devices for installing. This is very flexible and fits to many different environments without the need to have special skills to manage Linux boxes or to pay a supplementary license for Windows OS.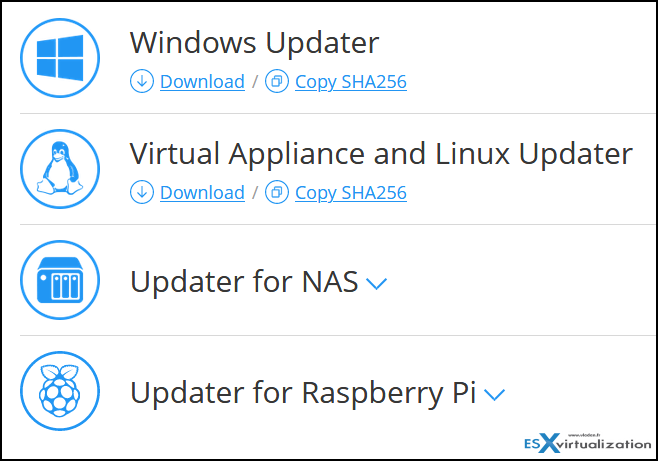 To this, I'd add only a possibility to do an update from within the product. A simple link within the product that you'd initiate the verification and download with an update of the product itself – automatically. I don't know why but currently this is all manual. But hey, the product evolves rapidly.
The product can now protect Nutanix Acropolis-based infrastructures. By using a single pane of glass, customers can perform application-aware, image-based, incremental backup across VMware, Hyper-V,  Amazon EC2, and Nutanix AHV environments. Now also Windows and Linux (physical) systems.
Other interesting features
Cross-Platform Flash Boot for Physical Machines – Instantly boots VMware VMs from physical machine backups without actually recovering the virtual disks. Supported destination – VMware VMs.
Workstations backup – Windows and Linux workstations are supported. Agent backups.
Nakivo can do a Full P2V Recovery – Recover physical machines from backups to VMware VMs or perform physical to virtual migrations. A full P2V recovery creates virtual copies of physical machines ready for production environments.
With Nakivo you can instantly recover VMs, Microsoft Exchange objects, Microsoft SQL Server Objects, Microsoft Active Directory objects, and files of Windows-based or Linux-based VMs. Pretty much fill all the needs that IT admin needs during his/her data protection tasks.
Links:
Download Trial here.
More posts about Nakivo on ESX Virtualization
More from ESX Virtualization
Stay tuned through RSS, and social media channels (Twitter, FB, YouTube)