Starwind partners with Systematica and also with ETC BV. Strategic partnership for easier distribution of Starwind iSCSI SAN solutions and VM backup technologies in Italy and Netherlands. You can read both press releases below. We'll be also talking about some interesting news from Starwind and new product offers.
Starwind is a very dynamic company and now ships also virtual appliances (hardware virtual appliances). And recently they announced a completely free version.
StarWind Virtual SAN Free is completely unrestricted: it is allowed for production use, supports all usage scenarios of the commercial version, has a perpetual license, and is not feature- or functionality-limited version of StarWind VSAN.
No Capacity Restrictions – you can use as many capacities for your mirrors, as you like (previously restricted)
No Scalability Restrictions – as many nodes as you like. (previously limited to 2-nodes only)
No Time Limit on License – The Free license if for life. After 30 days, the only management option you'll have is PowerShell or CLI.
Production use – can be used in production, but if anything goes wrong, you will only find support through community forums.
PowerShell Scripts – StarWind Virtual SAN Free is shipped with a set of ready to use PowerShell scripts allowing users to quickly deploy the Virtual SAN infrastructure.
No StarWind Support – only community-based support.
StarWind and Systematika Form New Distribution Partnership
Burlington, MA – March 19, 2012 – StarWind Software Inc., an innovative provider of iSCSI SAN software and VM backup technology, today announced that Systematika Distribution is the latest value-added distributor to join its worldwide partner community. Systematika, the leading virtualization distributor in Italy, now will make StarWind products available as part of its portfolio, and distribute StarWind products through its extensive network of value-added resellers on an exclusive base.
"StarWind offers high quality, cost effective SAN solutions that further strengthen our portfolio. Their products deliver an ideal mix of performance, simplicity and features plus they provide superior data protection. We believe that this will be of great interest and benefit to our customers. We look forward to a long and successful partnership," saidFranco Puricelli, Sales Manager & Business Development for Systematika Distribution.
"We are delighted to partner with Systematika Distribution, a recognized leader in Italian virtualization market, since working with the right partner is essential," said Artem Berman, Chief Executive Officer of StarWind Software. "We strongly believe that together with Systematika we shall see a huge demand on our SAN solutions from SMB sector, significantly increase our activities and impact in the marketplace."
About Systematika Distribution
Since 1983, Systematika Distribution is dedicated to the deployment of information technology for the professional market, with the aim of representing the reference point for VARs, system integrators and resellers that look for innovative and reliable technologies. Professionalism, competence and attention to changes in information technology are the cornerstones on which Systematika want to set the relationship with its customers, seeking continuity, long-term strategy. Systematika Distribution is van high-value distributor of technology that offers the best solutions from vendors related to virtualization: VMware, Quest Software, CommVault, PlateSpin / Novell, Veeam Software, IGEL Technology, FalconStor, Acronis, Pillar Data Systems, Red Hat and Blue Coat. Systematika was the first VMware distributor and Authorized training Center (VATC) opened in Italy and provides training courses ACE Acronis. For more information, visit: https://www.systematika.it

StarWind Software and ETC BV Form Distribution Partnership
ETC BV joins the StarWind Partner Community
Burlington, MA – March 20, 2012 – StarWind Software Inc., a global provider of iSCSI SAN software and VM backup technology, announces a new distribution relationship with ETC BV, one of the largest value-added distributors of IT products and services in the Netherlands. Now, ETC BV will supply a wide range of advanced StarWind iSCSI SAN and VM Backup solutions via its extensive reseller network.
Henk Snijders, General Manager of ETC BV, emphasizes that ETC is very pleased to be able to extend its portfolio with StarWind iSCSI SAN software and VM backup technology."With the StarWind software we can add even more value to our partner offering in the area of Virtual Storage & Backup solutions".
"We anticipate a productive cooperation with ETC's channel partners to arrange high-standard virtualization in their IT environments, optimize administrative expenditures, and enhance business perspectives," said Artem Berman, Chief Executive Officer of StarWind Software. "Now, even more European enterprises will be able to take full advantage of StarWind & ETC BV technologies to get a global view of their IT infrastructures, enabling them to ensure business continuity."
About ETC BV
ETC – part of SCH – is a distributor of an extensive portfolio of ICT products and services. ETC is mainly focused to deliver added value to its business partners thus allowing them to offer a complete package of custom-made solutions. Based upon its skill and expertise, ETC supports resellers in different areas such as financial services, leasing and rental services, consultancy, education, and training. ETC can serve almost the entire ICT market with a complete range of brand products and a broad package of services based on the principle of one-stop-shopping. ETC has a unique ETC Solution Centre where end users, as a guest of their reseller, can test or tune their own data on the solution of the reseller in a state-of-the-art environment and where they can get solutions demonstrated. More information on ETC can be found at www.etcdistribution.nl.
Update: Starwind has recently released a new product.
The new solution complies with the existing rules and the established data archival process by using virtual tape library from StarWind.
The Backup Process looks as follows:
It's Disk to > Disk to > Cloud backup process.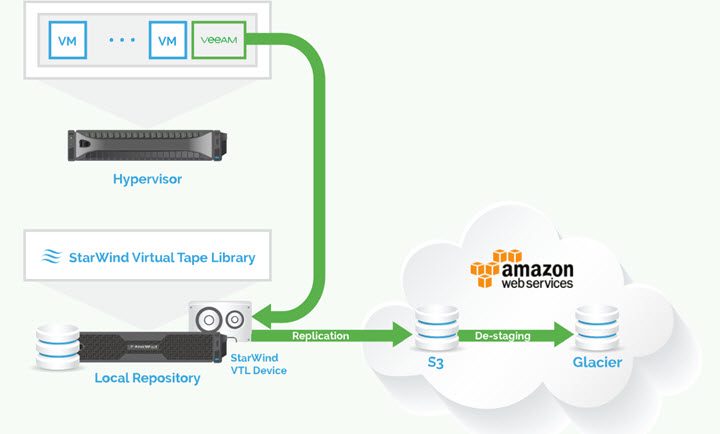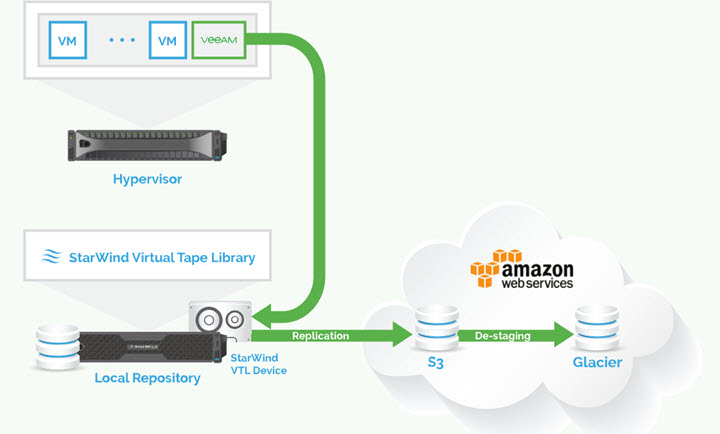 No additional hardware is necessary as StarWind installs on the same machine as Veeam Backup server.
StarWind Cloud VTL Features
Helps meeting the regulatory data retention requirements using reliable and scalable backup storage.
Specifically designed for AWS and Veeam for a robust and seamless data protection experience.
Reduces data management costs by replacing costly legacy tape process with a scalable and flexible solution using local disks, Amazon S3 and Glacier storage.
More from ESX Virtualization:
Stay tuned through RSS, and social media channels (Twitter, FB, YouTube)