Starwind software has released new version build of their flagship software product Starwind Virtual SAN. As we reported in our previous posts, a Free or paid version of Starwind Virtual SAN is available within their offering. The free and "self-support" is a bit limited but viable for some basic scenarios, and if you invest into some engineering support which helps you out to get the best out of your existing infrastructure, the paid version has all the bells and whistles.
Another option would be a Starwind's Hyperconverged appliance (hardware+software) which is pre-configured with options by Starwind engineers as a "ready-to-ship" system. Having a system which is tailored to the solution is the best option IMHO.
The new release brings a lot of enhancements and optimizations. New support for NUMA architecture, VMware Virtual Volumes (Experimental), optimization of LSFS and cache with detailed statistics, or reworked synchronization channel options. Also, there are some new innovations, such as new iSER protocol.
Screenshot from the lab.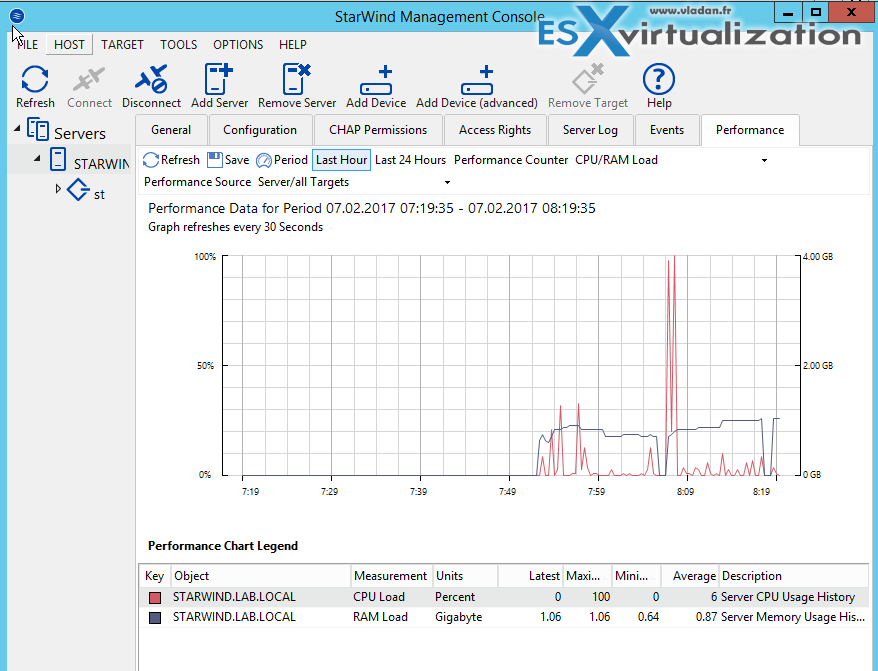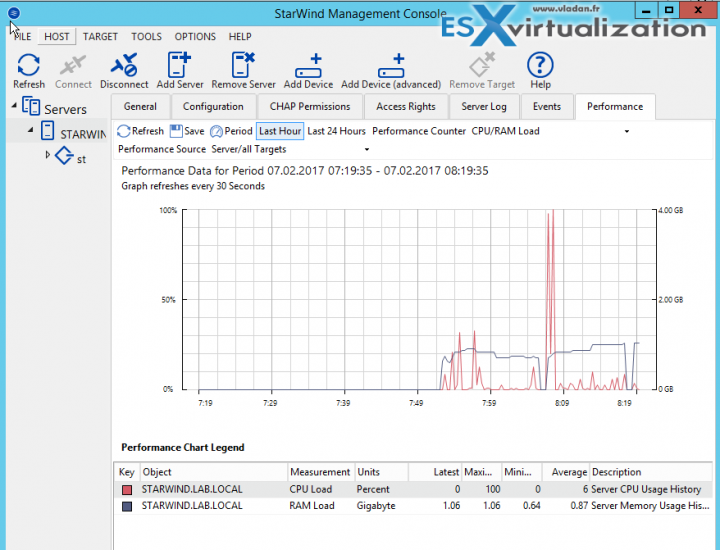 Starwind Virtual SAN v8 build 10547 Release notes:
Core – Extended support for NUMA architecture: option to set NUMA node for Virtual Device and Target, automatic distribution of devices and targets on NUMA nodes. Added support for ODX commands (Windows Offloaded Data Transfer). ODX performs certain data transfer operations on storage side without moving data through the client machine. Performance optimizations for VAAI WRITE_SAME command.
iSER Protocol – iSER protocol support added as experimental functionality. Network cards with RoCE v2, RoCE v1 RDMA protocols support are required for the protocol to work. Use Server – Configuration – Network section in Management Console to enable iSER support. iSER can be used for client connections and for synchronous replication. Mixed scenarios are supported: iSCSI access for client connections and iSER protocol on HA synchronization channel.
VMware Virtual Volumes – Added support of the HA devices to the StarWind VASA Provider as experimental functionality. HA devices presented as HA VVOLs. VASA Provider allows administrators to configure StarWind Virtual SAN storage resources as storage containers for virtual machines and enables storage policy-based management (SPBM) of virtual machines. Use WMI to configure VASA Provider. Documentation is available on the Web site.
Cache – Statistics for cache operations: cache hits rate, cache usage percent. This statistics is being accumulated starting from device creation or service start and can be reset for checking the exact time period.
Flash Cache – Added performance optimizations for flash cache module.
Synchronous Replication – Traffic priority management for sync channel has been reworked. Now it provides a more precise control of client traffic/sync traffic ratio on sync channel during nodes synchronization. For existing devices, this parameter will be re-set to 50% after a software update.
Tape Redirector – SPTD mode added for accessing physical tape device on the server. This mode bypasses user applications on the server. It suits the cases when the user software locks access to physical tapes for Tape Redirector module or breaks operations of remote clients that use an iSCSI connection to a physical tape device. SPTD driver installation is required for this mode. SPTD mode is used automatically as soon as the driver is installed.
LSFS – Long device initialization issue has been fixed. Initialization of LSFS device with data after service start could take too much time, even after clean shutdown. Now the initialization time for a device with data is significantly reduced. An experimental version of LSFS module included. This version contains a lot of performance optimizations and the capability to store metadata on Flash storage instead of RAM
Virtual Tape – Added integration with Windows Deduplication feature for volumes where Virtual Tape Files reside.
Added option for storing Virtual Tape files on a custom path.
You can download this updated version from the Release Notes page here at Starwind.
Starwind continues to innovate and adds more features to their product. We have some information on another cool project in the works at Starwind. They're working and testing Linux as an OS support for their software.
So far we're waiting to get further information but we know that It has a web management console which uses HTML5, so no plugins are necessary. Any HTML 5 capable browser is able to configure and the product. the product also has a StarWind vCenter plugin.
Starwind's 2 Nodes with a starter set packs all the essential components of the virtualization appliance in just 2 servers simplifying the configuration and minimizing the initial investment. When used with 10GbE switches the solution can scale up to 64 nodes!
Other ESX Virtualization Posts:
Stay tuned through RSS, and social media channels (Twitter, FB, YouTube).