NVMe is new standard which is slowly start to replace SAS/SATA by providing fastest/shortest/optimized data path. Associated to a software which does QoS at the VM level and supports VMware VVOLS, it gives you a quite powerful package. In fact all those features are present in the new storage array from NexGen Storage and we'll look at it in this post – NexGen Storage NVMe Ready with QoS at the VM level and VVOLs compatible.
NexGen's new QoS manager which is present within the 3.5 release, to be officially unveiled during VMworld 2015, is designed to allow predictable performance at the VM level. The UI now also integrated directly to the vSphere web client so you can manage the array's features through the same UI as you manage the whole infrastructure.
It's possible change VM performance on-the-fly based on QoS policy which guarantee the performance of that particular VM(s) so when contention does happens, the service level makes sure that the VM based on the let's say 'Gold' policy are prioritized, or rather the VMs to which this policy is not applied, are de-prioritized.
Note: I have seen a presentation of NexGen Storage during #VFD5 (Virtualization Field Day) event and all the expenses has been taken care of. The flight, travel, accommodation… However I do not receive any compensation nor am I required to write anything in regards to the event or the sponsors. This is done at my own discretion.
The main features:
New Qos Manager 3.5
VM level quality of service Per-VM based
NVMe Ready
There is five pre-built QoS policies are present within the system:
Mission-Critical Policy 1
Business-Critical Policy 2
Business-Critical Policy 3
Non-Critical Policy 4
Non-Critical Policy 5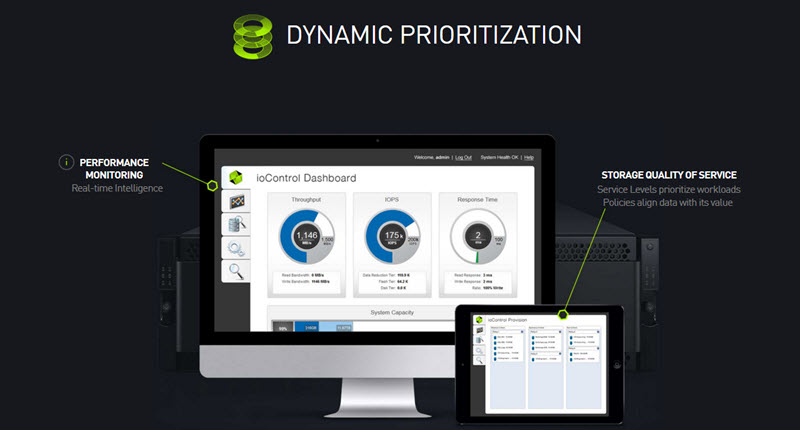 The ioControl 3.5 is the name of the QoS system which sits at the core of the NexGen Hybrid Flash Array. You can set a performance per VM or even per VMDK. A performance which is guaranteed. All possible without a Storage vMotion while avoiding the creation of multiple storage containers. NexGen and VMware worked together closely to integrate Storage QoS and virtual volumes (VVOL).
QoS Manager – built-in vSphere client. All the management or provisioning or troubleshooting tasks are done there. The storage provissioning is reduced to minimum. Where previously 6 steps were needed to provision a datastore, now all is done in single step.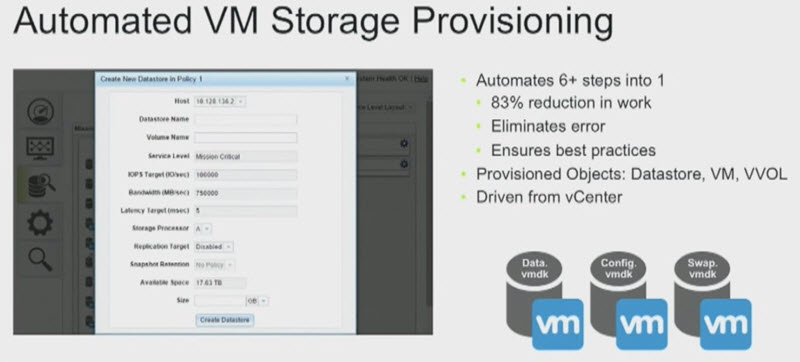 San Storage Metrics are exposed within the UI – you can see granular views and drill down to VMDK, real time or historical data. It's also available via API and export.
*********************************************************************
Shop for vSphere licenses at VMware Store:
*********************************************************************
When changing policy the datapath changes so the IO hits the cache or storage depending where the bits are located according to the policy. It's possible to relocate the data bits from flash to storage changes in real time, the data ratio changes in real time in order to achieve the QoS target. But it's only the policy which changes the internal data path, not the actual data. The data don't have to move from spinning tier to Flash tier as it's traditionally done.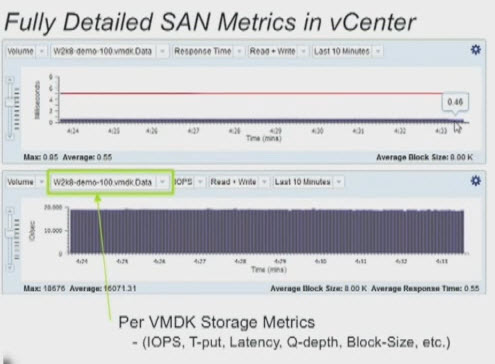 Storage Policy Based Management
Through vCenter and vSphere web client the storage capabilities (1) of the array are requested via Policy-driven control plane and those are exposed (2) as capabilities on NexGen storage and then those capabilities get filled through a VASA provider (3).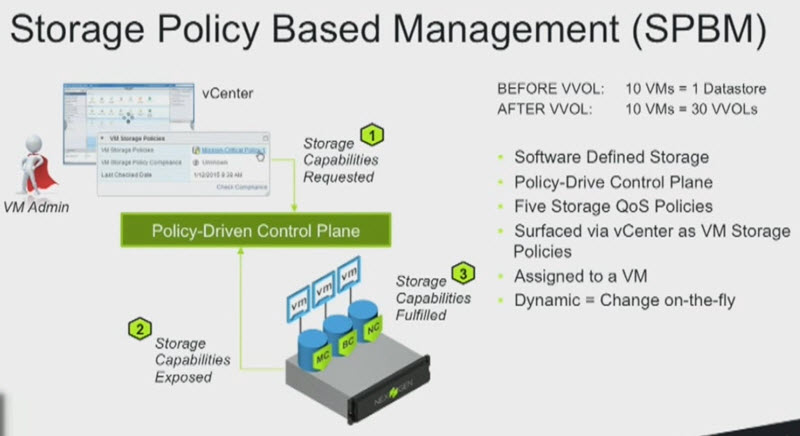 It's possible to assign the QoS to a VM or individual VMDK.
VM level quality of service Per-VM based

Prioritized Active Cache (PAC):
Prioritize Active cash – active data set is maintained in the PCIe Flash and RAM.
Higher QoS priority data in PAC
Data Warmth – Data stays in Flash/RAM
All writes goes to Flash, gets mirrored for redundancy and then only destaged to disk.
QoS dictates Read-Ahead and Read-Warm aggressiveness,  it means that by changing QoS policy the mechanism changes on the fly the POC which acts on the VM (more/less bits from cache).
NexGen VVOL Architecture
VASA provider has HA, with protocol endpoint on each SP. There is 2 storage processor pools.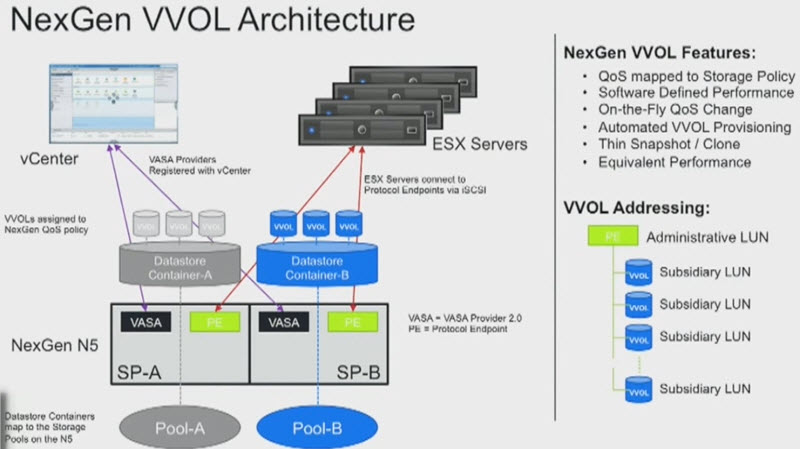 Note that Thin Snapshot/clone is one of the features.
The product will be demoed during VMworld 2015 so make sure to check it out!
NexGen Storage website link.