Nutanix has released version 4.5 of their software, previously named Nutanix Operating System (NOS) and now called Acropolis Base Software. The new release of Nutanix Acropolis Base Software 4.5 adds features that has been in tech preview, presented during the .NEXT conference held by Nutanix few months back.
Features like Erasure Coding (EC-X) are good addition indeed allowing to consume less storage. Note that VMware is working on their own Erasure Coding system for next release of VSAN too. Erasure coding and deduplication are the next big thing to look at when seeking or consulting for new virtualization solution.
Illustration photo from Nutanix Web site presenting the different Hypervisors and cloud offering they're able to integrate with: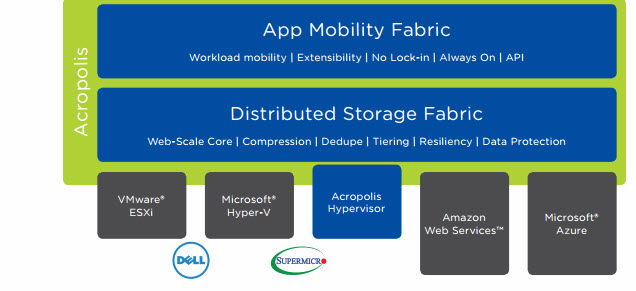 What's new in Nutanix 4.5?
MPIO Access to iSCSI Disks (Windows VMs) – this allows to have redundant paths to avoid a SPOF.(single point of failure)
Erasure Coding (EC-X) – allows less storage to be wasted. Note that Nutanix does not uses RAID but rather does copy of data stored on multiple nodes in the luster. It's called Replication factor (RFactor of 2 or Rfactor of 3). Previously the waste was up to 75% when using RF3. EC-X with a proprietary algorithms allows save space for cold data mostly, not for active datasets which constantly changing.
VM High Availability in AHV – (Note AHV is new name for KVM hypervisor) AHV stands for Acropolis Hypervisor.
Easing VM Migration from ESXi to AHV – possibility to migrate out of VMware ESXi as an underlying hypervisor.
Cloud Connect for Azure –
ESXi Patching – ESXi patches can be installed by using the VMware provided offline bundle and md5 checksum file.
Nutanix also released other pieces of software within the suite:
Prism Central 4.5 – (the vCenter of Nutanix).
Nutanix Cluster Check(NCC) 2.1
Foundation 3.0
Check more details about EC-X on Nutanix blog. Other Nutanix bloggers has covered the event in details too.