VMware has released VMware vSphere 6.0 U1 which contains VMware VSAN 6.1, part of the ESXi hypervisor, as a kernel module. This is already third major update of VMware VSAN which I follow with big interest and which I installed in my lab since its first release in vSphere 5.5. Since then my lab got completely rebuild, with new server hardware based on Supermicro Single CPU Board for ESXi Homelab – X10SRH-CLN4F.
The board has built-in LSI 3008 SAS 3.0 with eight 12Gb/s lanes and interfaces with an eight-lane PCI Express 3.0 link. Is compatible with both 3Gb/s and 6Gb/s SATA devices, as well as with 3, 6, and 12 Gb/s SAS devices. The LSI SAS 3008 is also on VMware VSAN HCL.
In this post I wanted to give you a few insights of how VMware VSAN 6.1 looks like. The patching/updating process is fairly simple. First upgrade vCenter, and then update ESXi hosts. I have documented in details different patching process for ESXi hosts in the past and the process is the same. Depending of your environment, if you run VUM (vSphere update manager) or if you just run standalone host. Any case, the cli method just works, no need to deploy a VUM for 3 hosts…
vCenter upgrade depends of the environment it's running on. It's obviously different in Windows or VCSA. I did not run into any problems from upgrading my vCenter server (on Windows) in the lab, or any of my 3 ESXi hosts.
Here are the different upgrade options if you want to check out the different options you have when it comes to patching ESX:
Screenshot from the lab showing the new functions of VSAN 6.1 – Stretched cluster functionality. As you can see there is a new icon which allows the stretch cluster configuration.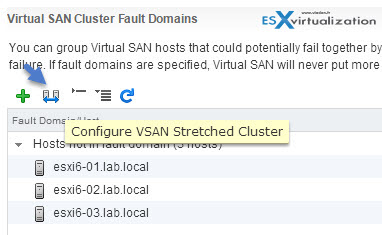 This starts the assistant …

The ROBO VSAN config needs 2 hosts where each one of those is in different fault domain. You can watch new video from VMware concerning the configuration of the VSAN in ROBO environments..
Let's continue with the visible enhancement of the VSAN UI, through vSphere web client, which is a bit faster in my oppinion…. ( Keep speeding it up VMware! )
New enhancements are done at the disk level where new functions were added for tagging disks and erasing existing partitions, which avoids you to jumping into the CLI and executing some CLI commands. It's worth to know them anyway….
If you don't here is how:
You can also use GParted Live ISO to wipe your disks and prepare for VSAN.
Here is a screenshot showing different possibilities you have when managing the local disks in ESXi host.

Things like this really help to get VSAN up and running faster.
For me the biggest thing I see in this VSAN release is obviously the possibility to run only 2 hosts (for ROBO deployments).
And for Homelabs too! Imagine a scenario where in the lab you could possibly only need 2 hosts and have the witness running in VMware Workstation (or as nested ESXi on one of those hosts). So Two hosts would be sufficient and leverage VSAN as a shared storage. No need to buy NAS…
VSAN has bright future!
You might heard the news from elsewhere, but It's finally good to know that VMware already works on next version of VSAN which will (of course) be better, more efficient, more robust….
Quote from the source:
there are two primary themes we are focusing on for the release: space efficiency and advanced data integrity.

With this beta version of VSAN, we expect to test inline deduplication that will be applied on a per-Disk-Group basis so that you can still enjoy the benefits of fine-grained, policy-based management. As with any implementation of dedupe, the impact of dedupe will vary based on the workload, but we expect VSAN deduplication to deliver up to 8x improvement in usable capacity.
and this:
Next, we plan to test erasure coding with RAID 5 and RAID 6 options. That means the 2x overhead from simple mirroring would drop to 1.33x when you want to tolerate a single failure (FTT=1). For FTT=2, the overhead would drop from 3x to 1.5x. That means that with no changes to hardware, you could see an increase of 50% or 100% in usable capacity with FTT=1 or FTT=2, respectively.
And also this!
end-to-end, software checksums in the beta as well. The goal is to protect against storage bit rot, network problems, software and firmware issues. The checksum will use CRC32c, which utilizes special CPU instructions thanks to Intel, for the best performance. These software checksums will complement the hardware-based checksums available today.
Some folks were disappointed after VMworld that there were no "big" announcements. I don't think so. Already the VSAN 6.1 is huge!
Links: