New Free Application – collects data and licensing information from multiple vCenters.
This Free application, which is multi-OS (Windows, MAC and Linux) permits to collect licensing informations (keys) accross multiple  vCenter servers. In fact you can add multiple vCenter Servers to the dashboard and display the licensing information on the screen or export in a CSV file format.
If we compare it to RV Tools? It's different in many ways and I would say… complementary, so it's definitely worth to look.
The application has been written by Anton Heyward from hyperadvisor.com.  It's a Free application (registration is required), which needs java installed on the system from which you'll be using it. The website of the tool can be found at onevirt.com
A quick quote from the author's page:
My intention for this application was to make my life easier by collecting licensing information during the recent and future times of renewals. Not to mention just keeping track of what license keys are out there because you might find duplicates. I haven't really seen anything in the wild that will do this in the same way that the tool does today
A small screenshot from my lab with 2 ESXi 5.0 hosts and one vCenter. The possibility to add several vCenters for large installations might be useful and to track your license numbers in the time with evolution of vSphere. The product suports vSphere 4 and 5 installations.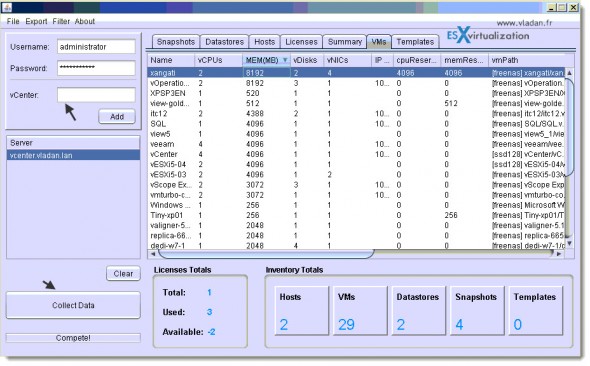 Collected information:
Licenses: vCenter, vSphere Edition, License Key, Qty, Used, Available, Licensed By.
Hosts: Name, Id, Build, Product, Version, vCenter, IP Address, Subnet Mask, Mac Address, MTU Setting, Maintenance Mode, Power State, CPU Mhz, Processor Qty, Core Qty, CPU Model, Memory, NIC Qty, HBA Qty, Hardware Model, Hardware Vendor.
VMs: Name, vCPU Qty, vRAM(MB), vDisk Qty, vNIC Qty, IP Address, CPU Reservation, Memory Reservation, FT Status, VM Path, Power State, vCenter, Host, Guest OS, vHardware Version, VM Tools Status.
Templates: Name, vCPU Qty, vRAM(MB), vDisk Qty, vNIC Qty, IP Address, VM Path, Power State, vCenter, Host, Guest OS, vHardware Version, VM Tools Status.
Snapshots: Name,Created, Id, Quiesced, VM Guest, and vCenter
Datastores: Name, Capacity(GB),Freespace(GB), Type, Maintenance Mode, Shared, vCenter
Summary: A summary or count of Licenses, Hosts, VMs, Templates, Snapshots, and Datastores is presented.
Source: Hyperadvisor.com
Enjoy… -:)