Is the number of URLs to manage your devices, virtual labs, vSphere product's admin pages or datacenter's starting to explode? Your browser bookmarks aren't adapted for RDP or SSH sessions? You want a single location to store your admin urls? New utility from Kendrick Coleman might be for you. It's available free at JumpSquares.net and allows you to create thousands of URLs online at Jumpsquares.net to access your devices, admin portals, or applications.
The look and feel is similar as with VMware Horizon Workspace admin portal where you can add new application to the catalog. But the the similarity stops here, not talking about price. I would have jumped on the occasion to do a post about the excellent service that Keny provides here already earlier, but I just wasn't able to do so. Here we goes, better a bit late than never. It's definitely worth the tour there and I will also add this utility to my Free VMware Tools page.
Different access protocols can be handled:
A SSH type access  (with FireSSh browser extension) – to handle SSH types URL's like this –  ssh://
A RDP type access –  Needs a small .JS and .reg script. If 'RDP' is selected, a 'servername.rdp' file is generated and available for download. Click 'open' from the download prompt and it will automatically open your RDP client.
IP or DNS name type urls – typical, and those days everything mostly is web based access, like vSphere web client, all routers, switches, SAN or NAS based admin pages… You can add tons of those and seek them fast through search or sort, or through tags.
VNC type access – typical for VNC based access. If 'VNC' is selected, clicking on the link will open up a new tab in your browser pointing to servername:5800. This method has been tested with TightVNC and RealVNC
A quick screenshot from the Demonstration video shows the look and feel. A 250 predefined icons for different applications is already "baked" in…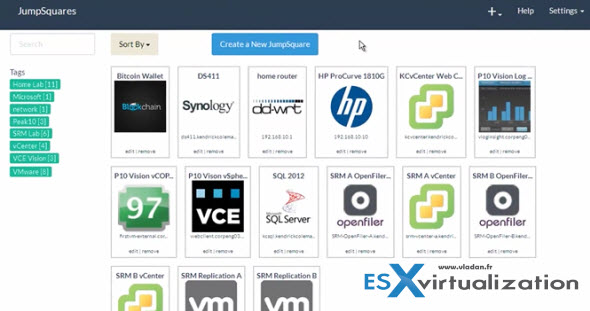 The login passwords are stored encrypted, but if you concerned about security and want to run the tool as an appliance internally in your organization, then you should know that it's possible too. Keny has even two version of the appliance:
Unrestricted – A wiki like, with unrestricted access, to be used by a whole team for accessing, adding, modifying the bookmarks. And the second one
A Normal one – with authentication. You have to create a login/password for each member of your team.
You can request a download after registration at jumpsquares.net through an online form, but any further updates or the application or security patching of the Debian Linux appliance will be done by you.
Look and Feel
The application is "mobile aware". You can change the size of the icons, to be visible better through your smartphone or tablet. Check out the help page at Jumpsquares.net. There are tons of options.
In fact to see the real benefit, Keny has recorded a video on how it works. See below:
Source: Jumpsquares.net