New release of Raspberry Pi 4 just a few days ago. The product has reached finally already 4th iteration and brings some significant upgrade to the table. As the title says, for $35 you'll be able to buy the lowest cost model which has 1Gb of RAM. I'd personally opt for the higher end model 4 Gb of RAM.
You have 3 versions in total where you'll need to add $10 for the 2 GB or $20 for the 4 Gb version). Pretty reasonable IMHO.  This is the first time that there are different RAM options for this device which is already the 4th release since its creation.
The connectivity with the outside world is assured via 1GBe port, dual-band wifi or Bluetooth 5.0. Impressive. You'll be able to hook up two 4k monitors which is simply awesome. And the presentation video goes into this direction to market this tiny device as a desktop replacement.
Other ports offered are 2 USV 3.0 ports, 2 mini-HDMI (used for those two 4k monitors),
The CPU is again, based on ARM architecture, and ships with a Broadcom 1.5 GHz ARM Cortex-A72 quad-core processor. While it is a 4core device it does not mean that it will replace your Windows desktop as such, but it can certainly replace an entry-level browsing station for kiosk computers or an educational computer for university classrooms.
Connectivity is very rich and very nice indeed…. Pic from the source.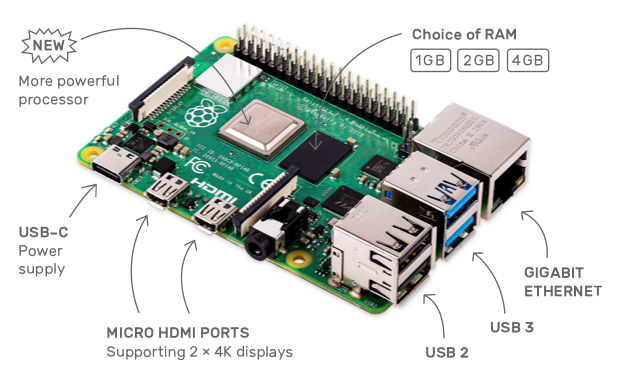 And it is still the main purpose of Raspberry Pi as they sold 1 million devices for mostly educational and industrial applications.
As for virtualization enthusiasts and tinkers, while the previous release of Raspberry was successfully tested with VMware ESXi, so you could, for example, use this device as a witness host in VMware vSAN 2-node setup, it is not a good choice for running VMs due to lack of RAM.
Let's have a look at some technical details.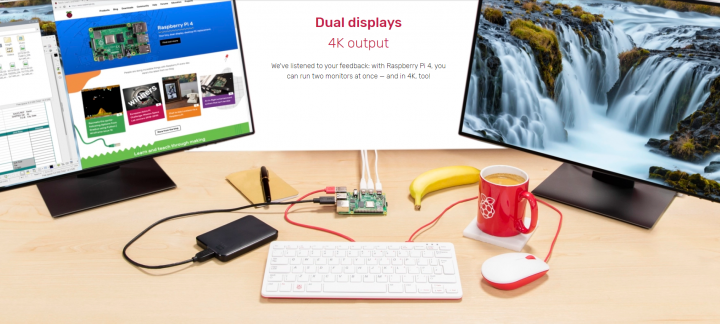 The desktop kit has regional variants, so buying the kit for different countries with different power supply adapters or different language keyboards isn't really a problem. Depending on your language needs or your country where you live, you can choose from pretty much any choice.
Here are your choices:
US: US Power Supply / US keyboard
UK: UK Power Supply / UK keyboard
DE: EU Power Supply / German keyboard
AU: Australian Power Supply / US keyboard
ES: EU Power Supply / Spanish keyboard
FR: EU Power Supply / French keyboard
IN: EU Power Supply / US keyboard
IT: EU Power Supply / Italian keyboard
EU: EU Power Supply / US keyboard
I really like what they say about the goal of the device:
A quick quote from Rasberry:
Our mission is to put the power of computing and digital making into the hands of people all over the world. We do this so that more people are able to harness the power of computing and digital technologies for work, to solve problems that matter to them, and to express themselves creatively.
Here are the details of the most "beefed" model with 4Gb of RAM. (And in fact, it's just the amount of RAM which really vary, the other specs stay the same across all devices).
Raspberry Pi 4 Model B details
A 1.5GHz quad-core 64-bit ARM Cortex-A72 CPU (~3× performance)
1GB, 2GB, or 4GB of LPDDR4 SDRAM
Full-throughput Gigabit Ethernet
Dual-band 802.11ac wireless networking
Bluetooth 5.0
Two USB 3.0 and two USB 2.0 ports
Dual monitor support, at resolutions up to 4K
VideoCore VI graphics, supporting OpenGL ES 3.x
4Kp60 hardware decode of HEVC video
Complete compatibility with earlier Raspberry Pi products
Video from the original site
You can obviously buy only the device itself, without a case, without any accessories, it's most likely preferable to buy the whole desktop kit (without monitors) where you'll get a mouse, keyboard, power supply, HDMI cables etc…
Raspberry Pi 4 Desktop Kit
The kit is priced at $120, and includes:
A 4GB Raspberry Pi 4
An official case
An official PSU
An official mouse and keyboard
A pair of HDMI cables
A copy of the updated Beginner's Guide
A pre-installed 16GB 

32GB

 [oops – Ed.] microSD card
Final Words
It is certainly a very nice product which is low cost, low power and educative. Raspberry Pi 4 is built around BCM2711, a complete re-implementation of BCM283X on 28nm, and it is about 3 times more powerful than the previous release of the device.
The fanless, energy-efficient Raspberry Pi runs silently and uses far less power than other computers using fans, larger power supplies or still even spinning hard drives generating heat…
I'm definitely a fan of this device.
Source: Raspberry Pi website
More from ESX Virtualization
Stay tuned through RSS, and social media channels (Twitter, FB, YouTube)