If you have just installed the latest VMware vSphere 6 for example and want to patch, but you don't know how? This guide is especially useful if your ESXi host is not connected to the internet. Many folks are waiting for VMware to "polish" the 6.0 release the latest patches which don't break things, but that's not always the case.
The latest patch is cumulative. Those of you who stepped in and runs vSphere 6.7, you might want to install the latest ESXi VMware patch. By having the latest patch, you're not only safe, but you might also be safe from bugs, which appears after major releases.
So in today's post, we look at the patching process. Where to download the latest patches and how to apply them to the host. We will focus on simple CLI method today for environments with single ESXi host. This can be the case for branch office or a test environment or simply a site without the resources to purchase a license package that includes vCenter.
Step 1: The patch download portal first (you need VMware login – create a free account if you haven't done yet).
Select the product you want to download patches (in our case ESXi 6.7)

Select the patch you want to download. (they are cumulative, download only the latest one).
Step 2: Download the ZIP file and upload it to a datastore (via VMware vSphere client or via WinSCP for example) that is reachable for the host you want to patch (it can be local or shared datastore) > Bring the host into the maintenance mode > Connect with SSH (via Putty for example or through Firefox and FireSSH) to your ESXi host.

To enable SSH go and select your host > configuration > security profile > services > properties > SSH.
Then connect via SSH and run this command:
esxcli software vib install -d /vmfs/volumes/datastore1/patch-directory/ESXi670-201901001.zip
So in my case, it was:
esxcli software vib install -d/vmfs/volumes/465/ESXi670-201901001.zip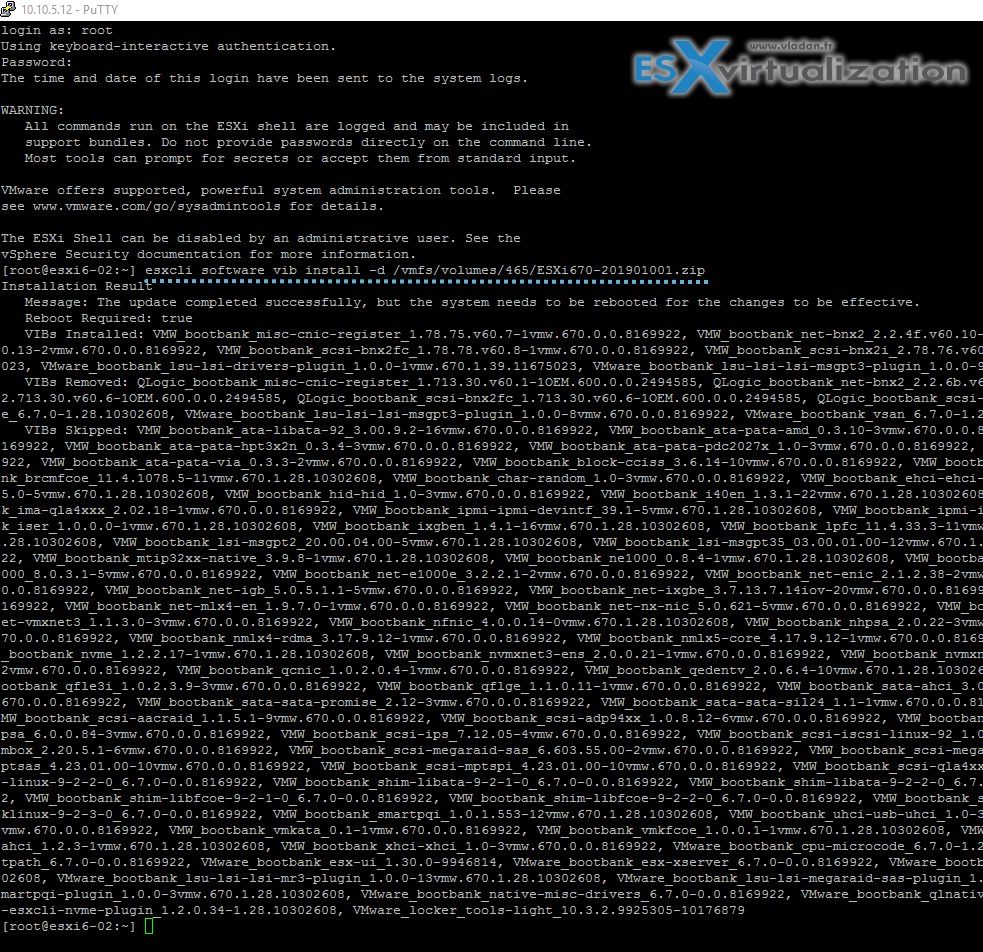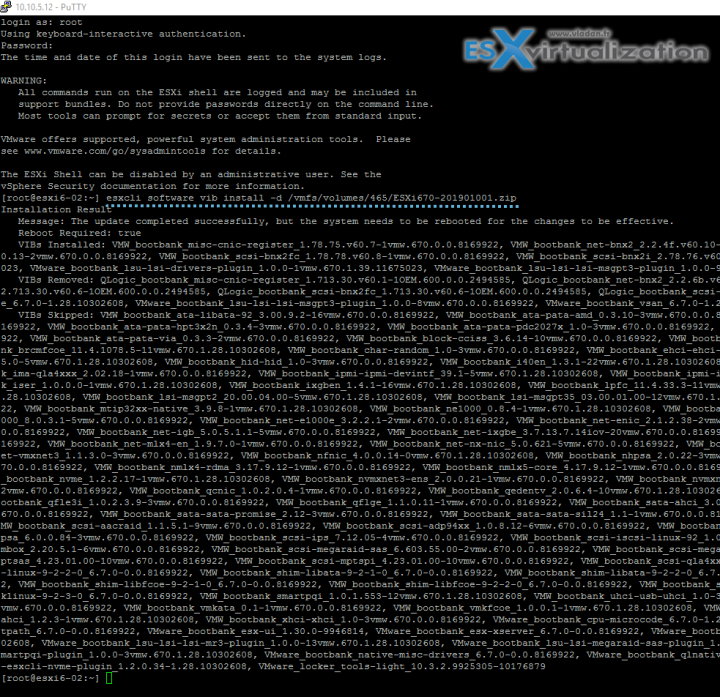 Reboot the host and leave the maintenance mode.
You're done. In case you have a vSphere cluster in place you can leverage VMware Update Manager (VUM) which can orchestrate the patching across your cluster where it goes and puts the host in maintenance mode and evacuates VMs via vMotion automatically each time a host within cluster needs to be patched. So you just attach a baseline which includes the latest patches > scans the cluster > remediate….
You will certainly not patch as I showed in this guide today. But today's post is certainly useful for isolated, lab environments, or environments where VUM isn't installed.
If you want to check on how to install VUM you can check my post on it. VUM still needs Windows VM (or physical box) to get installed… But can be installed with an included SQL express DB (in case you don't have a license of Full SQL server). It's quite fun. For other guides, how-to, videos, and news on vSphere 6 check my vSphere 6.7 page!
More from ESX Virtualization:
Stay tuned through RSS, and social media channels (Twitter, FB, YouTube). Liked this post? Don't hesitate to share, like -:) Twitter and Facebook