Rubrik is a new startup company which I have had first occasion to see during my #VFD event in Boston, where their presentation really surprised me (and I wasn't the only one) as they are giving a storage and backup completely different approach for today's hybrid environments based still mostly on on-premise deployments, with cloud as a DR. Rubrik Data Management focuses on data and data protection.
Rubrik's message is simple. We give you ultra efficient and scalable storage appliance with integrated backup capabilities which is simple to manage, based on SLAs concerning backup snapshots frequency and data retention policy. Hardware and Software, all bundled in. All data are deduplicated, compressed before written to storage. Efficiency seems to be one of the keys which by using global deduplication, allows to maximize the capacity savings across the stack.
Distributed file system – stores and manages versioned data. Everything is written to flash firs, then destaged to spinning media.
Distributed metadata service – provides a scale-out index of metadata across a cluster of Rubrik appliances. New nodes are discovered automatically by using Zeroconf multicast DNS, similarly like EVO: RAIL does)
Distributed task scheduler – backs up data, index the data, updating the distributed metadata servie and replicate the data elsewhere to provide resiliency.
Clustering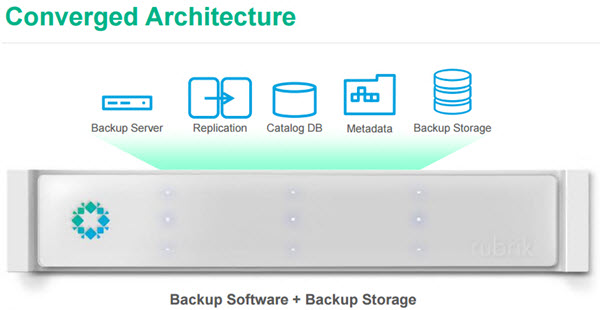 Their approach is not based on traditional backup architectures where you define backup job, backup repository, start time, end time, proxy selection, retention policy and all this, but rather you set a data-protection policy per VM (or group of VMs) and select for how long you would like to keep the data and let Rubrik to handle the rest.
A traditional CBT is used based on standard APIs. After a first backup only blocks that has changed are backed up. A global deduplication and compression is applied before the data is stored in the cloud-scale file system.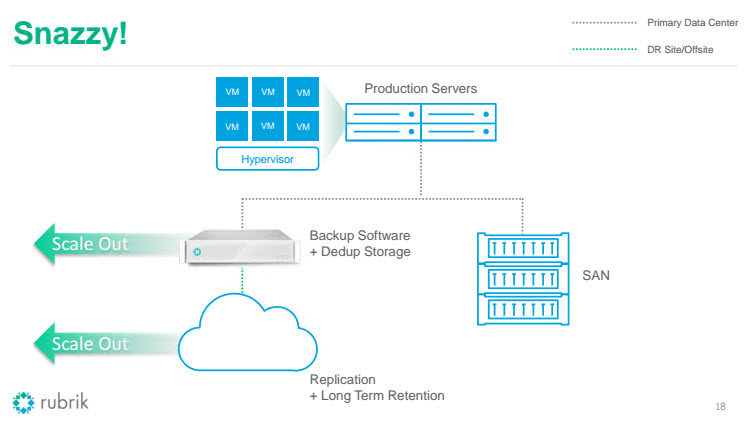 Note that I saw a Rubrik during Virtualization Field Day event and all expenses like flight, travel, accommodations, eats, and drinks are paid for. However I do not receive any compensation nor am I required to write anything in regards to the event or the sponsors. This is done at my own discretion.
I like products that are targeting a VM as first class citizen from the data management and recovery perspective and also think of simplicity for the end user. Set it and forget-it policy simplifies data protection management. Software products which are complicated to operate, need long learning curve are most likely the past …
When Rubrik first connects to the environment (needs vCenter connection and credentials details) all environment (with  hosts, VMs and applications that runs in those VMs) is dicovered.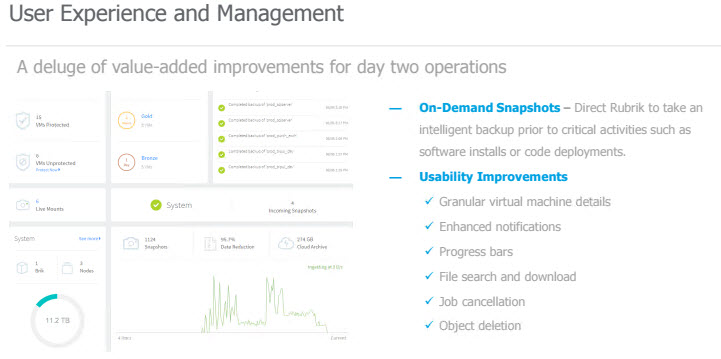 The user then selects which VMs he (she) desires to protect and what SLA policies to apply for recovery. There are some pre-configured SLAs, but users are free to create their own. Policy controls a snapshot frequency and data retention policy. The admin can select if he(she) wants to store the the data on-premise or in a public cloud service (Amazon S3)
Rubrik Cloud-Scale File System
Rubrik Cloud-Scale File System is a distributed file system allows to manage versioned data. The filesystem is fault tolerant allowing to lose multiple node and disk failures and still remain operational. Multiple copies are distributed through the cluster.
Flash-Optimized – The system is built for a hybrid flash/disk architecture to maximize I/O throughput.
Storage Efficient – The system utilizes zero-copy clones to make multiple copies of data from one "golden image."
Scale-out NFS server – The system exposes itself as a scale-out NFS server to any host when a snapshot is mounted.
Rubrik Distributed Metadata System operates alongside our Cloud-Scale File System, providing an index that can be accessed at high speeds. It delivers continuous availability, linear scalability, and operational simplicity with no single point of failure in the cluster. Our system is built to handle large amounts of data, distribute replicas of data across nodes (access to metadata is maintained even in the case of node failure), and provide low latency operations.
Global Deduplication – the Rubrik's file system does store versions of data where it uses a combination of full snapshot with forward incremental and reverse incremental copies. There is a built-in check for data integrity where they do multiple checks within the file system and data management layers.  Content-aware global deduplication and compression allows to reduce the capacity.

Individual Item Recovery?
You might ask (I did) on how about Individual item recovery, SQL server, Exchange, Sharepoint? Any tools you provide?
As for many other startup companies providing backup within the storage appliance, they do not really provide their own recovery tools, but rely on external tools which are capable for example to mount a Microsoft Exchange DB store in order to extract the e-mail of your boss that he deleted by accident 6 months ago…
Those third party tools are from Kroll Ontrack which specialize on application recovery tools. Rubrik however can restore individual files within a VM and that file can lay on the local Rubrik repository or in the cloud as the Rubrik's filesystem spans both environments and it's indexed with a global index.
So it's possible to pull that single file from Amazon AWS without the need to pull the whole VM (VMDK) as this costs you more money. Amazon S3 does charge on the volume pulled down, so if you only need to recover few files within a VM without the need to download the whole VMDK, it's rather costs-effective.
Below you can see the possibility to restore an individual file from within a VM. This file can be located on site or at the Amazon S3 cloud storage. You can also see different snapshots where you choose the date you want the file to be.

Rubrik – The Hardware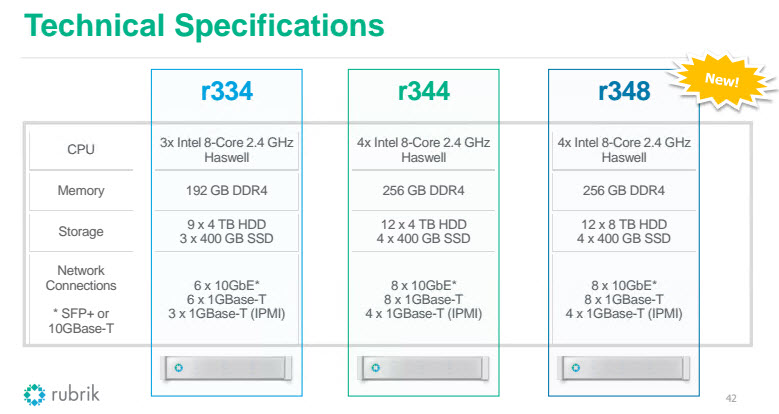 Wrap Up
Rubrik sells the backup data management software together with hardware. The product seems to be easy to manage and scale out if needed by adding additional nodes, without interruption or reconfiguration of existing backup architecture. New nodes are discovered automatically.
To recover full VMs or individual files, the built-in UI can be used. For Exchange, SQL, SharePoint or other DBs an external tools must be used to recover individual items. The system shall be very efficient thanks to global deduplication and compression used. The deduplication and speed to access the files seems shall operate for potential clients. Now it can be interesting to see at what price the appliance would be and the speed of the adoption by enterprises. In all cases, I definitely like the efficiency even if I'm aware that I do not know all details what's happening behind the scenes. Perhaps good idea would be to visit Rubrik at VMworld Barcelona where I'll be heading in October…. -:)
Check out Rubrik's website here.