VMware EVO:Rail is one of the newest and hottest news that is announced by VMware. It's a hyper-converged infrastructure appliance which consists of EVO:RAIL Software bundle and 2U 4-Node hardware platform. It's not VMware who provides the hardware, so the thoughts previously written elsewhere that VMware goes into a hardware business are cleared out. No, it's a hardware partners who will provide a EVO:RAIL compatible hardware and VMware will provide the software appliance.
Before going into details, I'd like to point out that the systems will leverage VSAN technology as primary storage for the vSphere infrastructure. VMware EVO:RAIL is the software appliance which allows easy install (15min install time) of everything (ESXi and vCenter) and easy administration.
The hardware consists of 4 independent nodes (4 servers) which are in the same chassis. Each node is dual CPU and 192 Gb of RAM. As concerning the internal storage, the final capacity will be 16 TB and it will consists of Flash and HDD. As VSAN's functionality is based on mix of Flash and HDD. I think that it's important to note that included in the price will also be the phone and HW and Software support and services (SnS). So you'll be buying single product where you'll have Hardware + Software + Support. A single SKU. The software package contains vSphere Enterprise Plus, which also has vCenter Log Insight product.
VMware EVO:RAIL is:
100% Powered by VMware
Highly resilient
100% compatible with existing vSphere infrastructure
Storage based on VSAN
Expandability is possible – It's possible to stack up to 4 hardware appliances in v 1.0.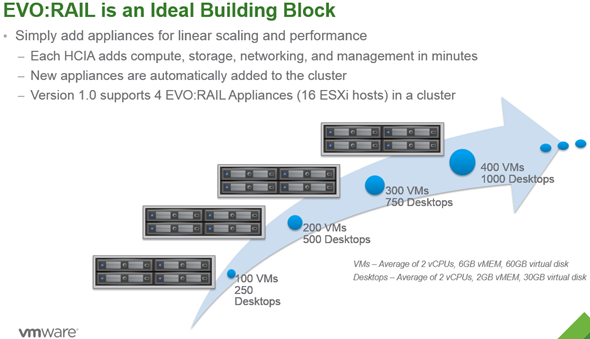 During the demo that I've assisted, we could see very nice and clean interface which was much more simple than vCenter for example when creating VMs through vSphere web client. But that's the goal actually as it would be possible to put such a blocks into production at remote sites, with just basic IT skills.
The Hardware Platform:
2U 4-Node hardware platform which is optimized for EVO:RAIL will be provided by OEM Partners.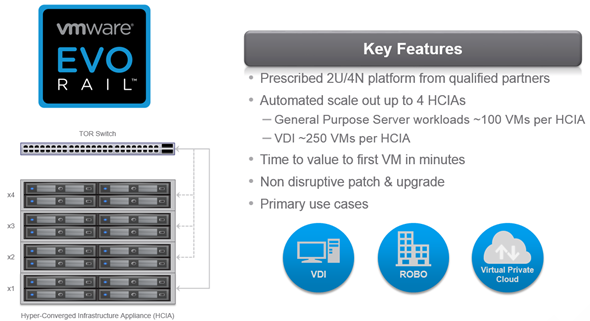 Per Compute, Storage and Network Node

Dual socket – Intel Xeon E5 2620v2 CPUs, 6-core
Memory – up to 192 GB
1 x Expansion Slots PCI-E
Disk controller with pass through capabilities (Virtual SAN requirement)
Internal Storage
1 x 146 GB SAS 10K-RPM HDD or 32 GB SATADOM (ESXi boot)
1 x SSD up to 400 GB (Virtual SAN requirement for read/write cache)
3 x 1.2 TB SAS 10K-RPM HDD (Virtual SAN data store)
External Interfaces
2 x Network – 10 GbE RJ45 or SFP+
1 x Management RJ45 – 100/1000 NIC
Possible Hardware Format will probably looks something like this…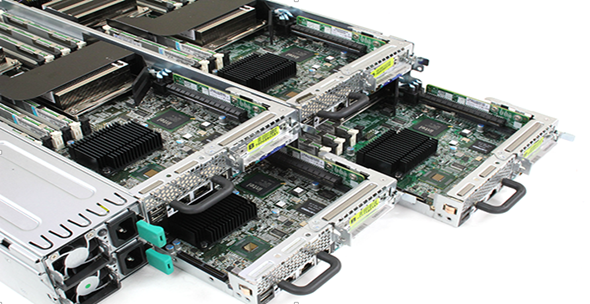 Note that the Top of the rack shall be a 10Gb capable switch which also be used with VLANs,  to be able to activate the different services like FT, vMotion, HA etc….
The Software
EVO: RAIL delivers the first hyper-converged infrastructure appliance 100% powered by VMware. The EVO: RAIL software bundle is pre-installed on the partner's hardware.
EVO: RAIL Deployment, Configuration, and Management
VMware vSphere® Enterprise Plus, including ESXi for compute
Virtual SAN for storage
vCenter Server™
vCenter Log Insight™
The Simple Configuration – EVO: RAIL supports 3 different configurations:
No more Flash. A HTML 5 is leveraged to configure and manage the solution. So its possible to use ANY device with HTML 5 compatible browser.
There are several ways that you can configure the solution:
Just Go – where all it's done automatically. IP addresses are picked up automatically, as well as hostnames. Possibly be used in "green field" deployments where no user intervention is required. However one still needs to configure the top of the rack switch (TOR) and plug-in all the RJ 45 cables…
Customize Me – this config need a user input where it's possible to specify the hostnames (vCenter and ESXi) networking (IP ranges, VLAN IDs, VSAN, vMotion, vCenter server, VM networks), passwords (vCenter and ESXi), globals (time zone, NTP server, DNS, AD, proxy, syslog logging or vCenter Log Insight)
Upload Configuration – this option allows upload config from for example an USB stick. The config file is a simple JSON file based on XML.
The EVO: RAIL software then process all those informations, installs the hypervisors, installs vCenter server and configures the cluster and activates different services (VSAN, HA, vMotion…). All this with just a few clicks…
Here is the initial config screen…. HTML 5 Please…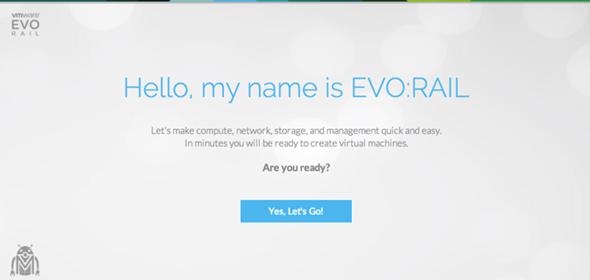 During the presentation, a video showing the installation process.
Manual configuration – entering host prefix, vCenter information and domain details :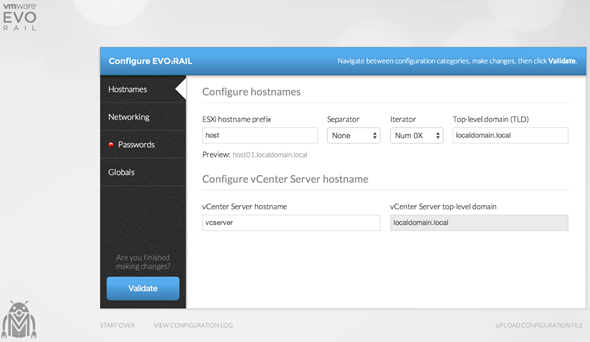 VM Networking config…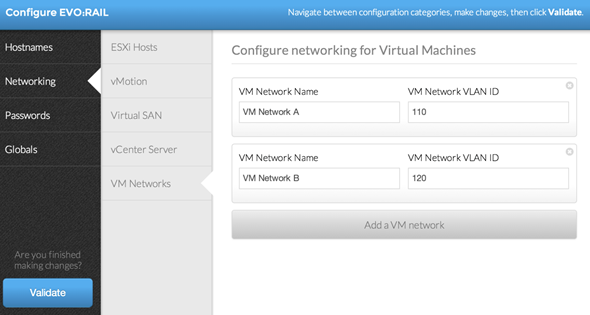 EVO: RAIL management
The EVO: RAIL software allows not only to install/configure the solution (ESXi and vSphere), but also the VM management where you can create new VMs and manage the infrastructure. However the UI is stripped down to minimum.
Screenshot showing overall health of the system – simplicity. If you want more information, then you can login through vSphere Web client into a vCenter…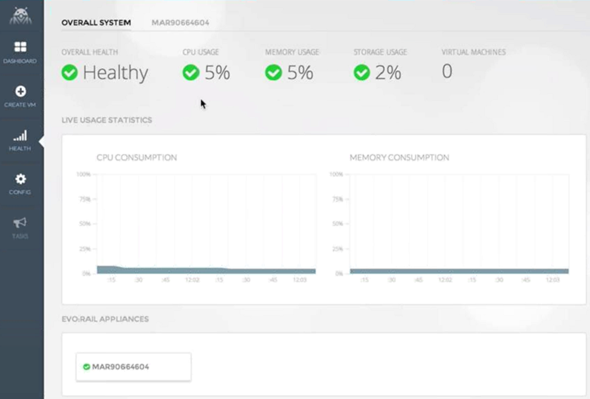 Here is an example of creation of VM. You're walked through a wizard which allows to specify size of the VM. Not much where you can go wrong… -:) It looks like about anyone can create a VM with this UI.

When the VM created, then its manageable through the UI as well, where you got few options, including cloning.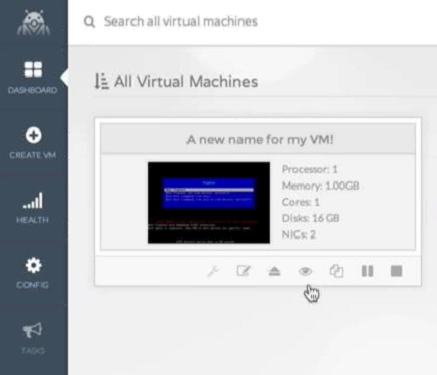 Here is a screen showing the licensing screen and the options for Internalization… A single license key is necessary! You can also download logs from the ESXi hosts, vCenter or from the underlying hardware.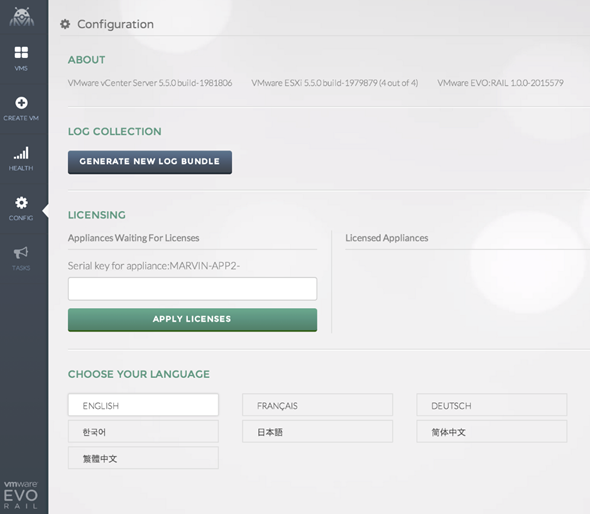 Concerning the evolution, it's simple. The initial configuration for v 1.0 is limited to 4 appliances (16 ESXi hosts), but shall be lifted in near future.
Resiliency is a key
Based on VSAN technology, the distributed RAID of EVO:RAIL can tolerate hardware failure without losing data or experiencing downtime. If any of the nodes goes down, then VSAN will start to rebuild the VMs that were running on the failed node.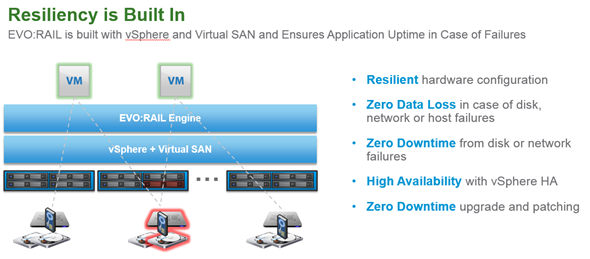 Networking Requirements
As mentioned above, the Top of the rack switch has to be 10Gb switch.
VMware recommends to isolate all types of traffic via VLANs. VSAN requires L2 multicast (IGMP Snooping + IGMP Querier). IPV6 has to be enabled as well.
Update: Thanks for Erik's comment I googled a bit concerning the IPv6 and VSAN 1.0.
You'll need:
IP ranges and VLAN IDs for Management, vSphere vMotion,
Virtual SAN networks Meets Virtual SAN networking requirements
Layer-2 multicast
IGMP Snooping + IGMP Querier
IPv6 enabled!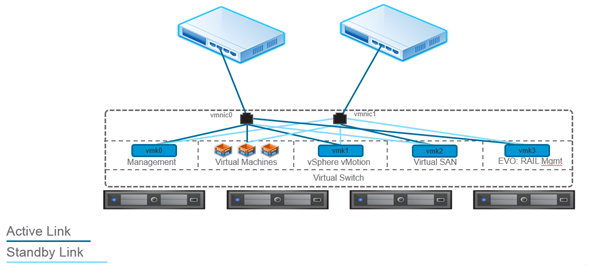 New nodes are detected automatically..
Screenshot showing how the system handles errors within configuration…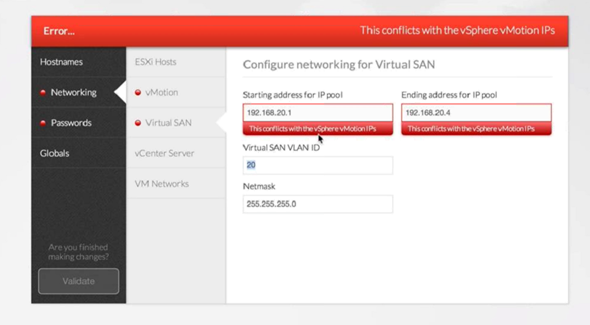 And here another screenshot showing the integration with vCenter Log Insight.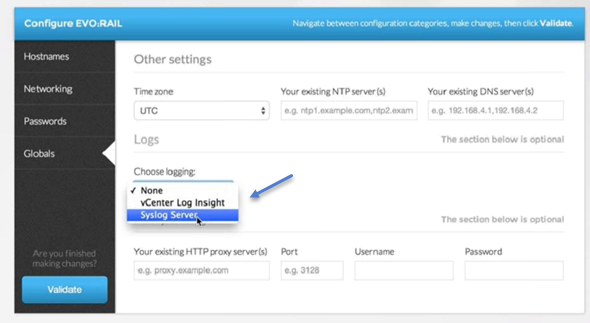 The configuration progress screen… The configuration of 4 hosts and vCenter installation takes roughly 15 min, treatin over 200 different configuration options. It's faster than you and me… -:)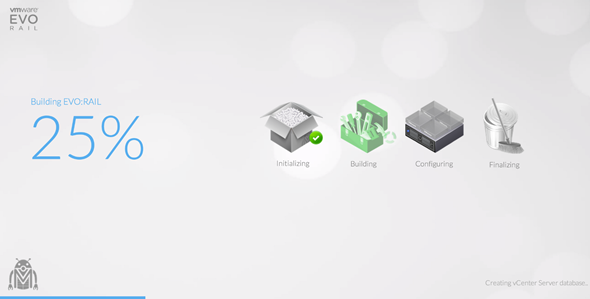 And the final screen showing the IP of the management interface…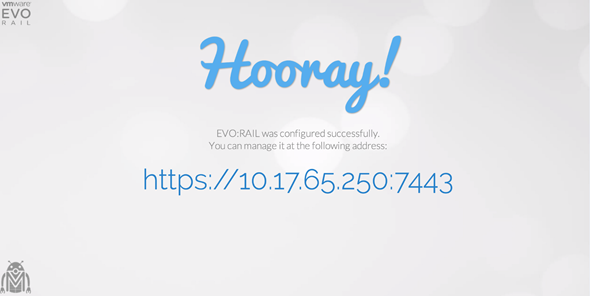 Adding another hardware to the existing EVO:RAIL appliance is a real fun…
The system automatically detects that you have plugged-in and powered-on another appliance… Clicking the green button you see on the image bellow, just brings in another window.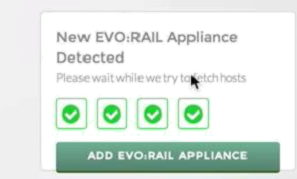 And this window needs just 2 things:
ESXi password
vCenter password
The IP address informations are taken from a pool of IP addresses which was created during the configuration of the first appliance. Very simple and very fast indeed.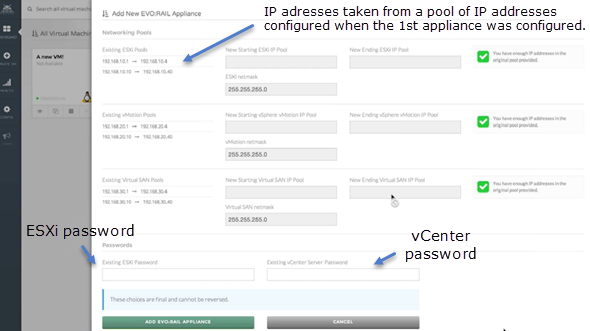 Project MARVIN previously mentioned on the Internet is actually the EVO:RAIL. The project started in January 2013.
EVO:RAIL will be available in Q4 2014 through selected partners.
How does it compete with others? Time will see as the hyper-converged market is full of other players like Nutanix, Simplivity, ScaleComputing, Maxta or recently Atlantis Computing. So the question is who will be the winner? Nutanix is in this space since few years and they do very well as they leverage global deduplication and compression out of the box. After looking at Atlantis Computing's webinar last week, their USX 2.0 has those features as well, and in addition they support VVoLS and VSAN by creating an independent layer providing different storage services on the top of VSAN.
VMware EVO:RAIL community forum.
Video from VMworld US by Eric Sloof
VMware and VSAN in its first version does not have deduplication and compression. But it's only a question of the time when those "efficient" features will make it in. Probably in the next release… Exciting times ahead!
If you're not present at VMword San Francisco, you can still register for VMworld Barcelona.
Special Report:
Stay tuned via RSS or Twitter.