Runecast Analyzer does not have to be presented to our readers anymore. We have covered many of the product updates in the past and this time is no different. Another feature which we'll present today has been released with the recent update of Runecast Analyzer 5.1 and it's called remediation. What is Runecast remediation and how it helps vSphere customers to maintain their infrastructure on the highest security and performance will be the topic of today's post.
As you might know, Runecast performs a health check across your infrastructure and shows you which issues you have. Some of the issues are flagged as Red, some of them are yellow, to show basically the importance of fixing them. Until now, to fix those issues, you had to basically go and manually fix them on a per-host or per cluster basis. With Runecast remediation this will allow you to automatically fix those issues from within the Runecast UI. As an example, we can have hosts with SSH access open within our infrastructure and have Runecast detect it and fix it.
Here is a screenshot from my lab after the Runecast scan. Note the little R letter next to the result. R as Remediation of course. All those can now be fixed automatically…. Hey, that's great, isn't it?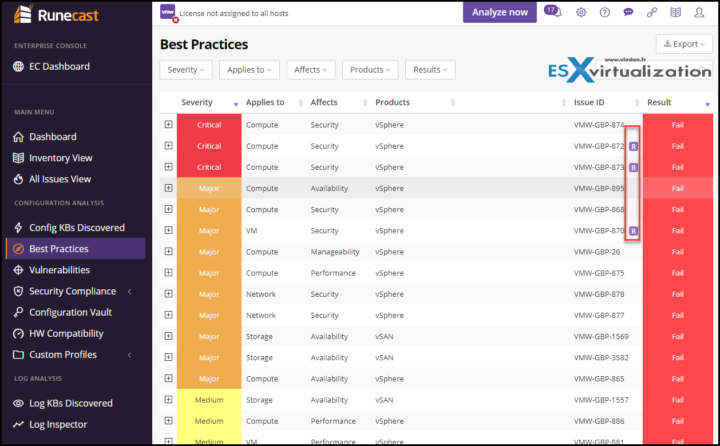 The rules available for remediation are marked with an R label next to them in all available issue views.
Then when you expand the issue, you have the Remediate button.

Runecast is able to detect which hosts of your infrastructure are affected and remediate (fix) the issues by stopping the SSH service on those hosts. Runecast basically generates a script for you that you can execute against your infra.
Other hosts who do not have the SSH service started, are not concerned.  You can select which objects you want to remediate, review the remediation summary and at the end download the customized script that you can run to perform the reconfiguration.
Some rules offer more than one remediation option, for example, PowerCLI and Ansible for VMware ecosystems, or PowerShell and AWS CLI for AWS ecosystems.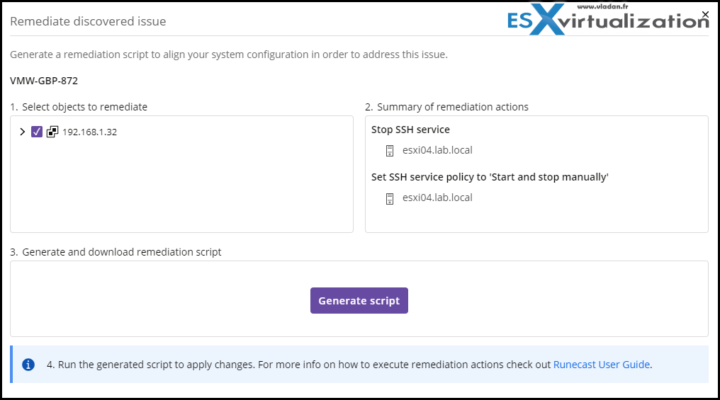 When clicked the Generate script button, it will open that bottom window and shows you the possibilities. As you can see, we can either copy the script to the clipboard or download the script.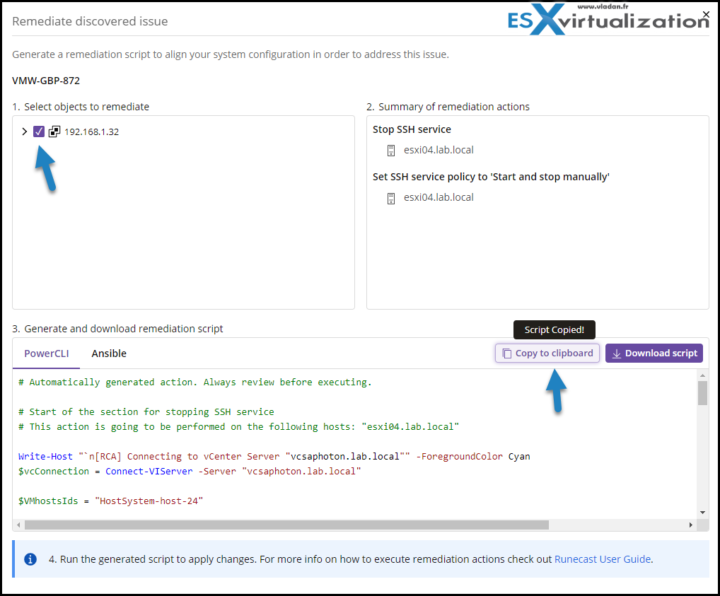 make sure to have the VMware PowerCLI module installed.
note: Easily check whether you have the module installed with this:
Find-Module -Name VMware.PowerCLI
Install-Module -Name VMware.PowerCLI -Scope CurrentUser
Import-Module VMware.PowerCLI
Then you can either run the script via Powershell or paste it to PowerShell ISE and save it for later.
It is a significant and helpful feature from Runecast. The Remediation is not active for everything so you still will need to check whether you have the R visible or not and have to manually fix the issues. But overall it is a step in a good direction saving significant time for vSphere admins.
Imagine your large infrastructure which can be selectively corrected on affected hosts by Runecast's Remediation. Pretty good stuff my friends here, from Runecast. I invite you all to read a detailed blog post from Runecast or consult the online help which has further details.
While it is very flexible for vSphere admins to have the script generated for them, some of the admins (lazy admins, I mean) might like to have a fully automated button present. It might be a suggestion to Runecast to give users the choice to either activate automatic remediation, on a per-issue found (or per type of the issue found) or have it fixed automatically by Runecast with a one-click-button! Who knows, perhaps we'll find it in the next release of Runecast?
Final Words
Runecast Analyzer is a very dynamic product that grows in every release. In this post, we have touched only on the Remediation feature, but of course, there is more than that. There is also a configuration vault, but we'll focus on this feature in our next post.
I see this product becoming more and more important for VMware and cloud ecosystems as it allows us to focus more on day-to-day tasks instead of tracking performance. Let the automatic scan run on a daily basis, get alerts when config changes, get alerted when you drift from VMware best practices or security compliances, and then fix what's necessary. With Runecast remediation, things go a bit easier from now on.
Do you have PSODs often?
A Technical paper which might be your interest. Will teach you what is PSOD, how to get the core dump, and hand it to VMware support for an investigation. You'll learn how to decipher the error and which logs to checks.
Why we're here
What is PSOD?
Why PSOD happen?
What is the impact of PSOD?
What to do when PSOD happens?
How to prevent PSOD
Runecast Analyzer
Download How to deal with PSOD Whitepaper here.
Download the Latest FREE Trial of Runecast Analyzer which is 100% compatible with VMware vSphere 7.0.
More posts about Runecast on ESX Virtualization: