Runecast is a very dynamic company. It has product updates very often. The product has been redesigned in July so the UI has a nicer and cleaner look. In this release, Runeast Analyzer 4.5 adds Kubernetes to already quite a few products supported. (NSX-T is coming).
Runecast Analyzer works with vSphere, AWS, NSX-V, VSAN, Horizon View, Kubernetes… While the product has started with the only vSphere, there are many new products supported now. The vSphere eco-system is getting different for each customer too. The times are longtime gone where only vSphere environments could be found.
Many customers have jumped into VDI (finally), with vSAN as a Hyper-Converged Infrastructure (HCI) so it becomes really obvious to add more of those products into Runecast and have a single console for a view.
Kubernetes is another big addition to Runecast, and we'll have a look further, what's has been added or what we have missed in our previous blog posts.
Runecast And Kubernetes
As you know, VMware vSphere 7 U1 allows running Kubernetes without the need to deploy NSX-T and without the need to have vSphere Cloud Foundation (VCF). I think there will just be an add-on to the vSphere license, to allow you to "activate" the Kubernetes within vSphere 7.0 U1 once you update your installation.
Runecast can give you recommendations concerning your Kubernetes clusters so you can see what's wrong, what's best practices, or if it is running within security compliances.
The connection to the Kubernetes cluster via API server. You'll need the API address and SA Token.
Screenshot from Runecast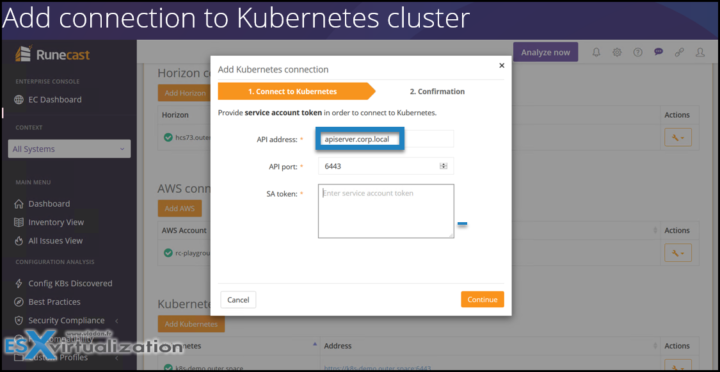 Then we can see a view of the Kubernetes cluster with the namespaces, pods etc…. Each time you select a node on the left, you'll get the recommendations. You can filter by severity and profile (NEW, read on….).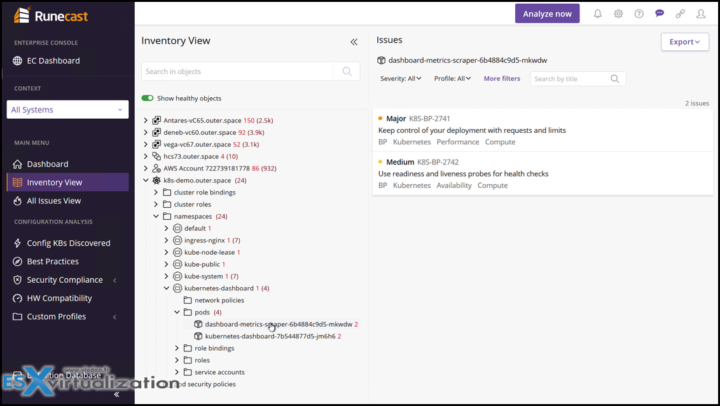 So when you go to the All Issues View and Select Kubernetes from the drop-down list (2), You'll get the issues that are related only to the Kubernetes and in your environment.
Here is the screenshot of this.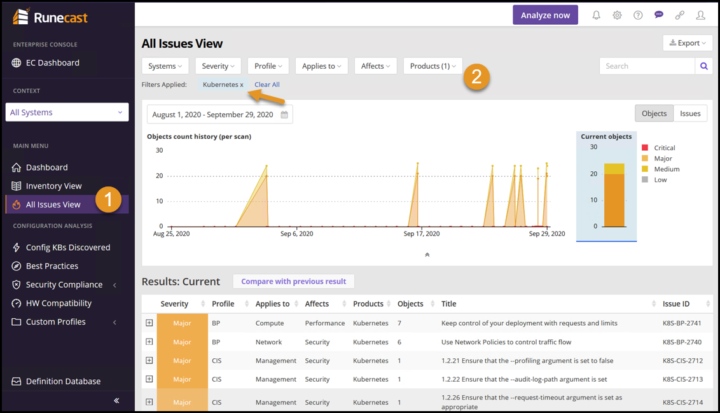 CIS Security Compliance
In the Security compliance node, when you expand, you have newly added CIS Security compliance. Here again, you can see, related to Kubernetes, the issues and recommended actions to follow the problem resolution.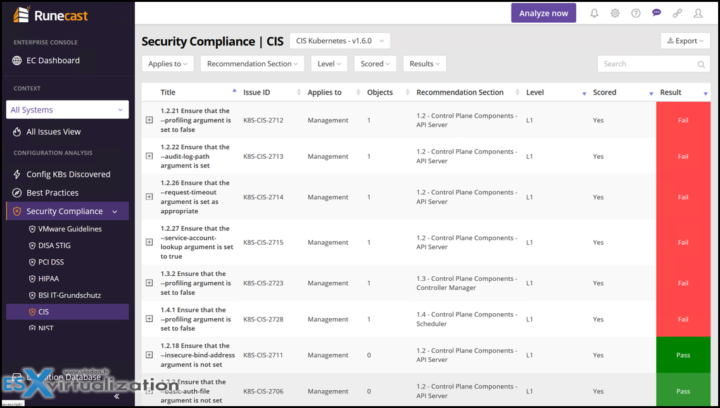 The problem resolution is visible when you click the PLUS sign next to each topic. In an example here we can see some details about the auditing on the Kkubernetes API server and settings for the desired audit log path.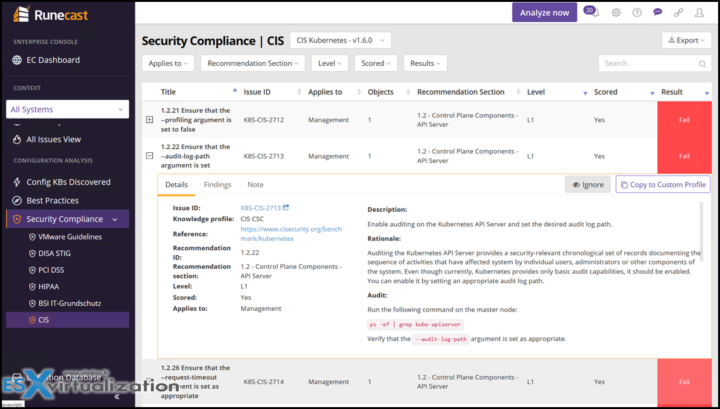 New in the Runecast 4.5 Release – Custom Profiles
The 4.5 release of Runecast brings also Custom profiles that are useful for organizations willing to have their own profile and have only some checks specific to their environment. This is now possible, even if when you create the custom profile, it's empty. You can't clone the default profile, to delete checks.
So you have to add the checks you wish once the profile is created. You only include the checks which are important for your business unit or your organization. (Example credit card processing info etc…).
You can customize the severity and Title, when adding the checks to the custom profile.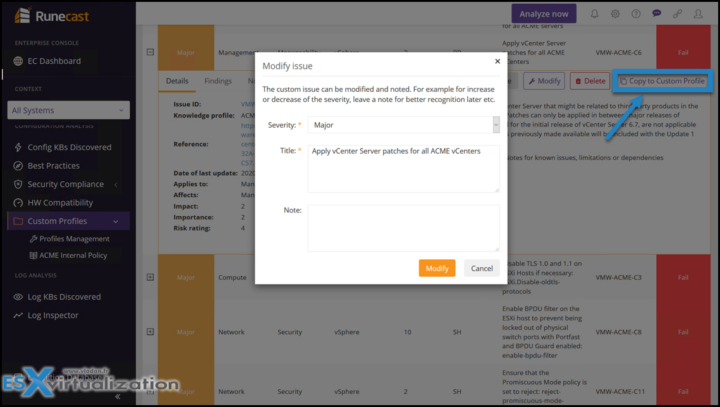 Enterprise Console
One of the updates I haven't blogged in detail is also the Enterprise Console, which can be activated (or not) from within the UI (via a single click, yes). Once activated, you can add other runecast appliances to the view. Imagine vCenter linked mode view. Same here.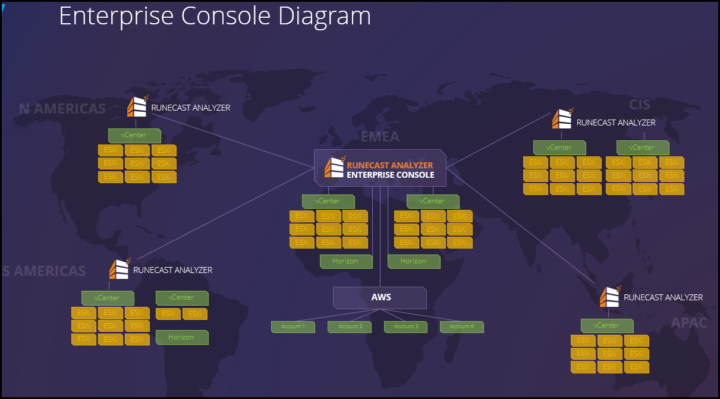 If you're a service provider, government with a large number of remote sites, a large enterprise with many remote sites, you can add the installations of your clients or your remote sites to a single view. Or you have several data centers, each running Runecast locally. All this is manageable from the central console, The Enterprise Console. Neat….
Here is the view from the Enterprise Console. Certainly nice addition for Managed Service Providers (MSP) or large organizations with multiple remote sites.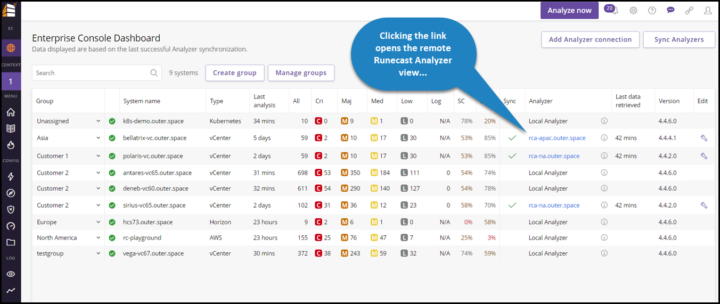 Enterprise Console puts data from connected child Runecast Analyzer appliances/agents into a single dashboard – for an all-in-one central appliance. In parallel, this compiled data enables admins to build groups of systems with customized access levels. Each Runecast Analyzer instance can be turned into a fully functional Enterprise Console with a single click.

Admins can then seamlessly dive into any connected Runecast Analyzer instance from the Enterprise Console dashboard to investigate root causes, while authentication is handled automatically in the background.

The console is designed for enterprises needing to coordinate operations, role-based access control, and teamwork spread out over varied locations with limited connectivity. For MSPs, it simplifies oversight of multi-tenancy environments. This brings significant improvements in network performance, scalability and role-based access control to users of the Runecast Analyzer.
One of the latest updates earlier this year has added best Practices for SAP HANA deployments on VMware vSphere, NIST (VMware) compliance profile to support federal agencies or ability to include/hide healthy inventory objects (hosts, devices, etc…) from the inventory view.
Download Latest FREE Trial of Runecast Analyzer which is 100% compatible with VMware vSphere 7.0.
Other recent features Added to Runecast
GDPR Compliance for AWS – Added GDPR compliance profile for AWS.
Pure Storage Flash – Added official best practices for Pure Storage Flash Array.
VMware Hardware Compatibility: New override functionality enables that particular hardware can be marked manually as compatible, and the information will be applicable in all areas of Runecast Analyzer.
Enterprise Console: New dashboard to monitor a network of Runecast Analyzers and all connected systems, added new public API endpoint for group management. Added search/filter functionality for connected systems. The increased loading speed of local systems by 70%.
Added NIST security profile compliance scans for native AWS environments.
Possibility to deactivate VMware HCL checks for any socket number configurations via public API of Runecast Analyzer.
CIS Benchmarks – Automated compliance checks for CIS Benchmarks have now been expanded to VMware and AWS environments. Center for Internet Security (CIS) is an industry-standard for secure configuration guidance.
Runecast is also able to detect misconfiguration for AWS:
Detects Misconfigurations
Alignment with AWS Best Practices
Alignment with AWS Security Hardening.
Download Latest FREE Trial of Runecast Analyzer which is 100% compatible with VMware vSphere 7.0.
Check the latest Runecast Whitepaper
7 Areas which cause pain for the infrastructure teams:
Technology complexity
Interdependence
Aggregated rate of change
Volume of Knowledge Base articles
Ad-hoc changes from troubleshooting
Long time to resolution
Reactive fault resolution
*************************
Do you have PSODs often?
Another paper which might be your interest. The technical paper will teach you what is PSOD, how to get the core dump, and hand it to VMware support for an investigation. You'll learn how to decipher the error and which logs to checks.
Why we're here
What is PSOD?
Why PSOD happen?
What is the impact of PSOD?
What to do when PSOD happens?
How to prevent PSOD
Runecast Analyzer
Download How to deal with PSOD Whitepaper here.
Download Latest FREE Trial of Runecast Analyzer which is 100% compatible with VMware vSphere 7.0.
More posts about Runecast on ESX Virtualization:
VMware vSphere 7.0 coverage on ESX Virtualization
You might want to check our Free Tools page where you can find VMware utilities, but also utilities for Microsoft systems or other "Swiss Knife" software there.