Starwind iSCSI SAN software is innovating with another new feature  – Synchronous Data Mirroring with Active-Active Automated Failover and Failback.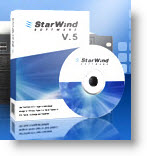 My recent blogpost about Starwind Entreprise iSCSI SAN software with a connection to the ESX 4 host was just a preview of some other news from Starwind Software. In fact, Starwind Software is preparing Starwind 5.0 where we can expect new features to be available.
This technology permits you to configure an Active-Active 2 Node storage cluster which ensures a highly reliable and fault tolerant storage.

StarWind Enterprise HA manages synchronous mirroring and active-active automated failover on a per-volume basis. Because the volume's identity never changes, even in the event of a node or a site failure, your server applications will maintain continuous data availability without a single point of failure.
You can have a look at this video below coming from Starwind Website. The final release was not announced yet, but I'm sure that in one of my future posts you'll get a full review of the new upcoming Starwind 5.0. Stay updated – subscribe via RSS