StarWind Virtual SAN has been discussed on this blog quite a few times in the past, but today we'll talk about the main benefits for customers willing to use StarWind Fault-Tolerant Storage. The product is evolving with every release but it's core features and architecture stays simple and flexible for many scenarios.
The fact that compared to solutions which need at least 3 nodes to start with, StarWind only needs two nodes. The iSCSI mirror uses synchronous replication to maintain two copies of data so in case on a node fails, there is still the second one to handle the load.
StarWind as a storage vendor provides 'shared nothing' architecture without shared backplane and which can tolerate 4 disk failures in the group without losing the uptime. It uses distributed RAID61 where other vendors use only RAID6 (2 disk failures). It can expand and scale up or scale out. You can scale up adding individual disks and flash modules, or JBODs, while adding ready controller nodes allows scaling out.
Worth to note that their pre-configured appliances are build-on-demand. The solutions are bundled with Hypervisor of choice (VMware or Hyper-V), StarWind Virtual SAN, Data protection (Veeam), Management 5Nine Software (for Hyper-V).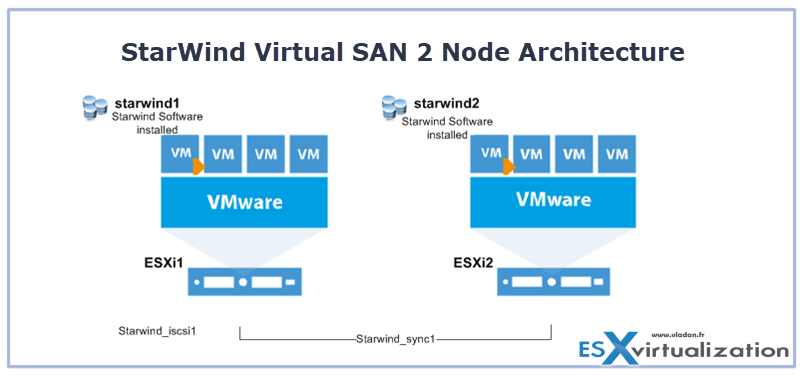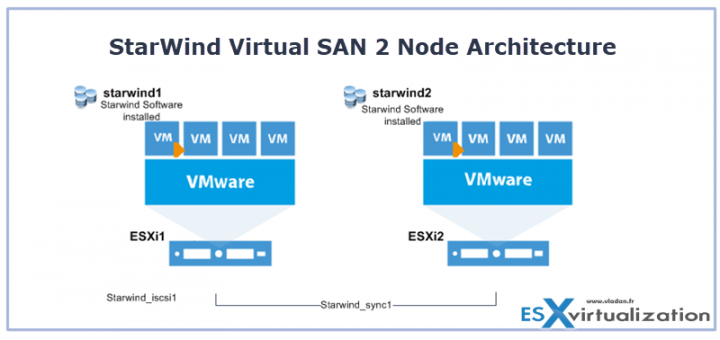 Starwind provides Customized installs for clients depending on the needs they have. Often it is 2-3 nodes, but the largest solution can scale out to 64 nodes. The hardware appliances are pre-assembled at the factory and pre-installed at Starwind. Then shipped to the customer where a StarWind engineer finishes the configuration.
TIP: Check the recent news – StarWind Virtual SAN Free vs Paid New Offer for 2017
The local storage can be a mix of SSDs, HDDs where the SSDs are configured for level 1 caching. StarWind uses conventional RAM as a write buffer and Level 1 cache to absorb writes. StarWind exposes SMB3 with SMB Direct and SMB Multichannel, NFSv4.1 and iSCSI, but also the latest technologies such as VMware VVOLs on iSCSI.
So What are the main StarWind Fault-Tolerant Storage and Benefits?
Two nodes – this solution does not use Witness component as the sync work at the storage layer. Scale out and scale out is possible.
Flexibility – it's possible to tailor for almost every situation/hardware.
Windows or Linux based – This year StarWind released long-awaited Linux version which can save an additional license of Microsoft Windows server.
Multi-Hypervisor support – as you'll be able to check below, StarWind now supports multiple hypervisors. Whether you'll need NFS, iSCSI or SMB v3 for Hyper-V, StarWind can be your choice.
StarWind virtual storage appliance (VSA) is a Linux version, compatible with multiple hypervisors:
Microsoft Hyper-V
VMware ESXi
Xen
KVM
 StarWind Requirements
There are some system requirements from your underlying infrastructure. The requirements are not very restrictive or demanding:
Minimum 4Gb of RAM
4 vCPU
3 NICs (management, iSCSI traffic, Sync traffic)
20Gb of disk space (note you'll need more storage afterward as this is only the system disk).
Resources, both for vSphere or Hyper-V:
More From ESX Virtualization about StarWind
More From ESX Virtualization:
StarWind uses RAM for caching (fastest), where SSDs are Tier2 caching and can ba cheaper MLC as the writes are reduced due the fact that most of the writers go to RAM. This approach turns Flash into Level 2 cache, reducing the number of write cycles going through it, prolonging its life.
The option of StarWind Appliances (Hardware + software) is a good option as you don't have to scratch your head to size and configure anything.
Having the possibility to leverage Linux for the underlying OS frees more budget for things such as paid support from Starwind or purchase of Full StarWind license.
Check out StarWind.
Stay tuned through RSS, and social media channels (Twitter, FB, YouTube)