Starwind Software has a new version of their flagship software – StarWind® Virtual SAN™ V8. The product is available for both virtualization platforms. VMware vSphere or Microsoft Hyper-V.  I already blogged about the features that are present in this version, but I quickly recap:
Massive Scale-Out storage architecture
Creates fault tolerant shared storage with unlimited number of nodes
Asynchronous WAN-replication
Ensures efficient disaster recovery plan
L2 Flash Cache
Works with RAM as a L1 cache to boost the efficiency
In-line deduplication and thin provisioning with space reclaim
Reduces storage expenses dramatically and accelerates VM storage performance
Simplified and improved GUI
Provides Windows Server 2012 style, step-by-step wizards and support of PowerShell scripting
Support of SMI-S interface for integration with Windows System Center R2
Makes cloud storage administration easier
Log-Structured File System (LSFS)*
Eliminates random writes for VM storage
Minimalistic Hardware Footprint. Only two hypervisor nodes are needed: no SAN, no NAS, no SAS JBOD, no voting third node, and no Ethernet switches. As there's less hardware to buy and maintain, both CapEx and OpEx are reduced, resulting in improved ROI.
Simplicity. Neither advanced SAN management skills nor special training is required. StarWind's Virtual SAN is a native Windows application that's easy to setup and manage for any Hyper-V administrator.
Uncompromised Performance. A less expensive solution that brings even better performance.
You can download 30 days trial, or at Starwind they also have free (more limited) version. Last but not least, they also have Free NFR for IT professionals. See bellow.
Free NFR license for New StarWind SAN V8 is available for IT certified professionals.
Update: Here is the correct link for Free NFR of Starwind V8
I quickly downloaded the product (33 Mb download). Here is a screenshots from the installation process. As you can see, the software comes now also with V2V conversion utility built-in.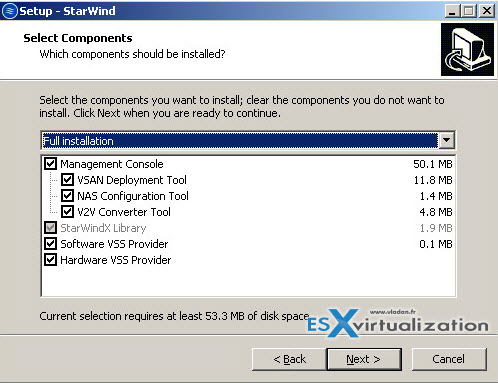 Here is a completely new launching window too…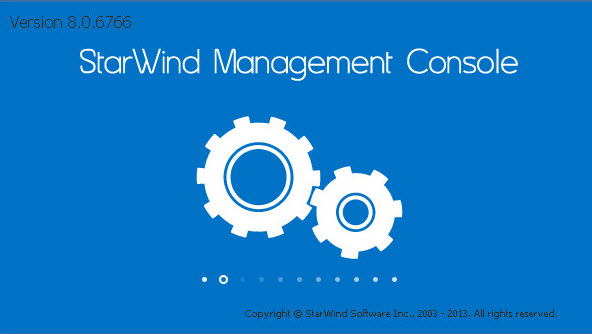 And another screenshot from the UI, which got a nice face lift too…
*********************************************************************
Shop for vSphere licenses at VMware Store:
*********************************************************************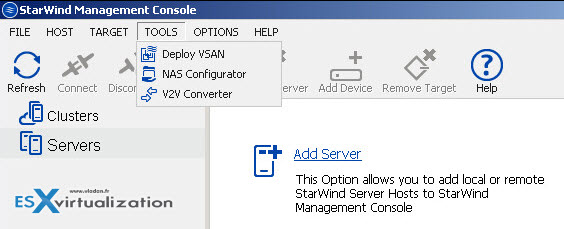 Here is the full press release from the launch:
StarWind Software Represents the New Generation of Shared Storage
Minimum Hardware Footprint. General Simplicity. Agility and High Performance.
Wakefield, MA – 12 May 2014 – StarWind Software Inc., the leading provider of software defined storage for Microsoft Hyper-V and VMware vSphere, announced today the immediate availability of their 8th generation software – StarWind® Virtual SAN™.
The NEW generation of the product comes with several revolutionary improvements and makes StarWind Software (which just secured $3.25M in the Round B of VC financing) a true leader in its niche. The solution enables businesses with virtualized environments to further cut the OPEX by deploying top-notch storage scenarios and effectively utilizing existing hardware infrastructures.
"Today, we introduce to the Windows and vSphere community the next generation of the virtual storage that is going to change the storage industry," said Anton Kolomyeytsev, CTO of StarWind Software, Inc. "We sought to develop the shared storage that could be radically simple, cost-effective, and, of course, fault-tolerant and high performance. Since it is a pure software solution you can download and try it right now."
About StarWind® Virtual SAN™
StarWind® Virtual SAN™ is entirely software-based hypervisor-centric virtual machine storage for Microsoft Hyper-V and VMware vSphere. By providing high availability through two- or three-way synchronous mirroring and asynchronous replication to a remote disaster recovery site, StarWind delivers data security and business continuity to the main data center and ROBO environments.
About StarWind Software Inc.
StarWind Software provides storage virtualization solutions to customers in over 100 countries. The StarWind Software Defined Storage solution delivers the benefits of high-cost hardware-based Storage Area Network (SAN) solutions, but at a much lower Total Cost of Ownership (TCO). StarWind's flagship iSCSI SAN software solution allows any industry-standard server to deliver fault-tolerant and highly available storage. StarWind fully supports virtual environments, including VMware, Hyper-V, XenServer and Linux.
Since 2003, StarWind has pioneered the iSCSI SAN software industry and is the solution of choice for over 30,000 customers worldwide in more than 100 countries and from small and medium-sized companies to governments and Fortune 1000 companies. For more information on StarWind Software Inc., please visit www.starwindsoftware.com.
For more information on StarWind Software Inc., visit: www.starwindsoftware.com