Welcome to ESX Virtualization blog. This post will try to talk about backup products supporting Microsoft Hyper-V virtual infrastructures. Basically, we will list Top 5 Backup Software For Hyper-V whether they're already supported or there will be in the upcoming release.
The news is coming too fast and to keep in touch with each backup vendor about their releases and features updates becomes slowly a full-time job. As what we have done with our previous article listing TOP 5 backup software for VMware Infrastructure, and also Part 2, we will not privilege an order. From best to worst, from first to last, but simply a list of vendors which are well known to the virtualization community, which is actively seeking to be seen on highly visited virtualization blogs and VMUG presentations.
Our future article might be about physical backup products and possibilities. Why? Because there are still use cases for very small customers which need to back up their servers, their critical application stored on the accountant's PC or on the laptop of the Boss…
This post is only a high overview post of backup solutions with some of their features and functions. Not exhaustive listing. Without further wait, let's start with Nakivo 7 we have just mentioned, and which v7 will bring Hyper-V 2016 support.
Nakivo 8.5 Backup and Replication
What's new in Nakivo Backup And Replication 8.5
Windows Server 2019 Support: NAKIVO Backup & Replication v8.5 stays up to date with industry releases and can be installed on Microsoft Windows Server 2019.
Nutanix AHV Support: In addition to supporting VMware, Hyper-V, and AWS EC2 environments, NAKIVO Backup & Replication v8.5 can now protect Nutanix Acropolis-based infrastructures. By using a single pane of glass, customers can perform application-aware, image-based, incremental backup across VMware, Hyper-V,  Amazon EC2, and Nutanix AHV environments.
You can do an incremental, application-aware backup of either full Nutanix VMs or of separate disks. Network Acceleration and LAN-free data transfer can ensure high performance of your Nutanix backups. You can also save storage space with the help of global data deduplication and variable compression options.
Nutanix AHV backup in NAKIVO Backup & Replication is application-aware. This means that all application data is captured in a transactionally consistent state.
Per-machine subscription licensing: Customers can now purchase a per-machine annual subscription for NAKIVO Backup & Replication at an unprecedented price starting at just $17 per machine/year. A machine is either a VMware VM, Hyper-V VM, or a Nutanix AHV VM. The new licensing model removes vendor lock-in and enables customers to switch between virtualization platforms without extra backup fees or license changes.
Replication from Backup: Advanced data protection strategies require creating both backups of critical VMs for long-term data retention, and replicas of the same VMs for instant disaster recovery. Performing both VM backup and replication for the same VM doubles the load put on your production environment. Nakivo can create VM replicas from existing VM backups, eliminating the need to read the same data twice from the source VM. Such VM replication jobs can be chained to a backup job and run automatically every time a backup is created.

Once you launch a new replication job wizard and select VM backup as the source, NAKIVO Backup & Replication proceeds to read the data from the repository and inject it in the replica.
Ransomware-Proof Mini Backup Appliance Based on Raspberry Pi: Given that it is exceptionally lightweight, NAKIVO Backup & Replication v8.5 can be installed on Raspberry Pi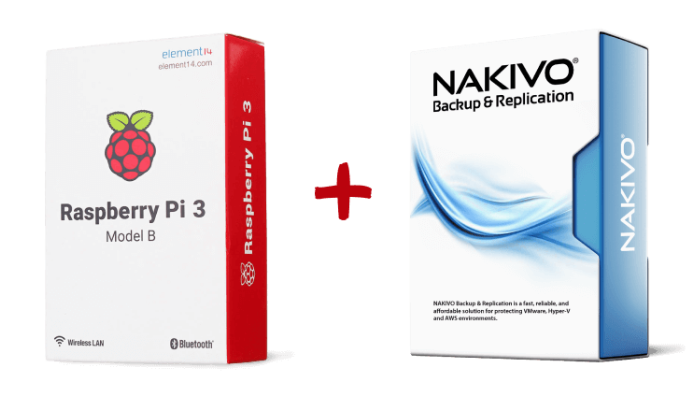 Backup of Hyper-V VMs – the product supports Hyper-v 2019 and 2019 of Microsoft's hypervisor.
Replication of Hyper-V VMs – creates identical copies of Hyper-V VMs on a target server. The copies (called VM replicas) remain in the powered off state and do not consume any resources
Forever Incremental support – First full backup is followed by incremental backups which are faster as only what's changed gets backed up.
Application consistent backups – consistency of DB backups, applications using DBs, AD, Exchange….
Compressed, deduplicated – backup files are deduplicated and compressed across the whole repository.
Individual Items (Individual files, Exchange objects, AD objects) can be recovered from within the Hyper-V VMs directly from backups by using Instant recovery. This feature simply mounts the VM directly from the backup repository, and you have the option to browse for those objects and (or) files, then launch a recovery operation. Further, the Nakivo software has:
1-click installation, easy-to-use web interface
Instant file recovery
Instant Exchange objects recovery
Instant Active Directory objects recovery
Up to 1,000 GFS recovery points per VM backup
Full VM recovery to the same or a new host
Automated backup verification
Backup copy offsite and to Azure/AWS clouds
Support for Hyper-V Cluster Shared Volumes
>>>>>> Get 30 Days Trial of Nakivo Here <<<<<<<.
Altaro
Altaro has a great backup product for VMware and Hyper-V. The main product is called Altaro VM backup and comes in two commercial editions. In order to give back to the community, they decided to offer a free product.
Take your first Hyper-V VM backup in under 15 minutes
Manage and access backup jobs for all your Hyper-V hosts through a single management console
Replicate backups to an offsite location (or through drive swapping) easily and reliably
Verify your Hyper-V backups data with automated data verification, for peace of mind
Compatible with all Guest OS supported by Hyper-V including Linux VMs
Backs up all applications compatible with Hyper-V VSS Writer such as Exchange Server and SQL
The free version is limited to two virtual machines. Backup features you will love support for Hot and Live backups.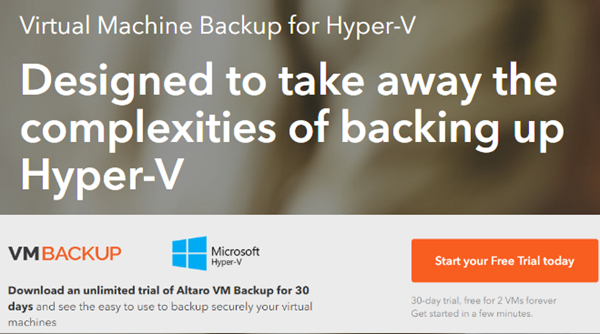 The full version is one of the least expensive backup solutions on the market.
Get Altaro VMBackup 30 Days Free Trial
Note: They have recently released v7 fo their backup software. Check my post – Altaro VM Backup 7 Released – What's New?
Veeam Backup and Replication
No one has to introduce Veeam anymore. Market leader of Datacenter protection, Veeam has been around for many years and if their product "Just works" it is because they're managed to assure the basic of what virtualization admin is asking for – An easy to use product which doest not throws in a bunch of errors when backing up or when restoring.
Veeam Backup & Replication is an agentless solution, which means that you can save hours of time with it. No need for installing, managing and updating multiple agents in your Hyper-V infrastructure.
With 50+ recovery scenarios on board, Veeam ensures that you always get exactly what you need — VM, file-level and application-item recovery or eDiscovery. Instant VM Recovery® restores a failed VM in less than two minutes, running it directly from a compressed and deduplicated backup file.
Side by side, VMware and Hyper-V. Screenshot from my lab.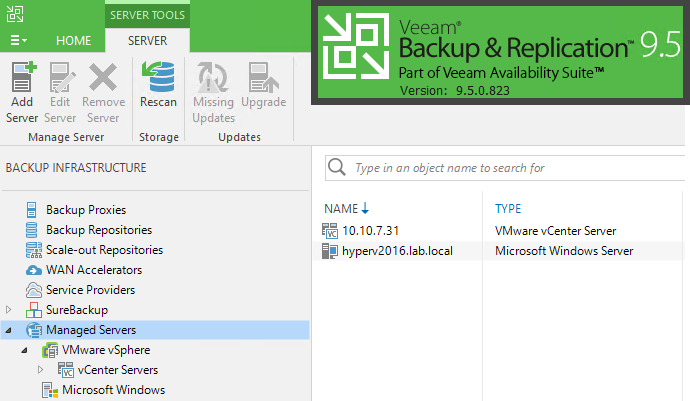 Get Veeam Backup 30 Days Free Trial (the trial transforms into Free version after 30 days).
Unitrends
Unitrends has also a Hyper-V backup. We have reviewed Unitrends Virtual Backup for VMware, a while back. You might want to check it out. They also support a Hyper-V, as a hypervisor. One particularity is that they have a host agent which needs to be installed at the host level, on each host within your cluster. You don't have to install the agent within your VMs.
Unitrends currently supports VMware vSphere 6.5, ESXi 6.5 and also a Hyper-V (not sure if that's already the Hyper-V 2016).
Image-level protection.
Granular recovery: Virtual disks, Files, Folders, Exchange, and SharePoint items.
Rollback Recovery: Incremental data restore over existing VMs.
Single-step, Instant Recovery for VMs.
Integrated rotational archiving.
Archiving to Amazon S3, Google Cloud Storage, and Rackspace Cloud Files.
Protection of VMs running on SMB3.0 shares (Hyper-V Server 2012 and higher).Deduplication across all backups.
Protection for VMs in CSV cluster configuration.
WAN-optimized replication of VMs offsite for fast failover.
WAN-optimized replication of backups to multiple locations for long-term retention or offsite copies.
Encryption.
Detailed storage and compliance reporting.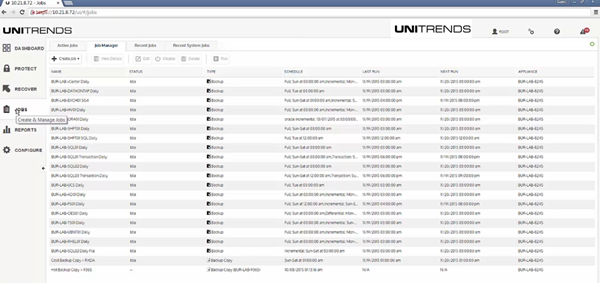 HPE VM Explorer
VM Explorer previously created, updated and managed by Trilead Software (Now part of HPE) is another Backup software which supports Hyper-V. In my latest post, I was getting to all settings options within the UI and showed pretty much every single option there. Check it out.
The product has a very small and lightweight installer, and the UI is fast and responsive. It is a low-cost, easy-to-use and reliable backup solution offering fast virtual machine backup and granular restore, replication, and verification of VMware vSphere and Microsoft Hyper-V environments.
ESXi standalone servers, vCenter virtual datacenter, Microsoft Hyper-V server as well as a Hyper-V Cluster on all operating systems supported by VMware ESX/ESXi and Microsoft Hyper-V server. VM Explorer also supports the free version of ESXi. (full backups only).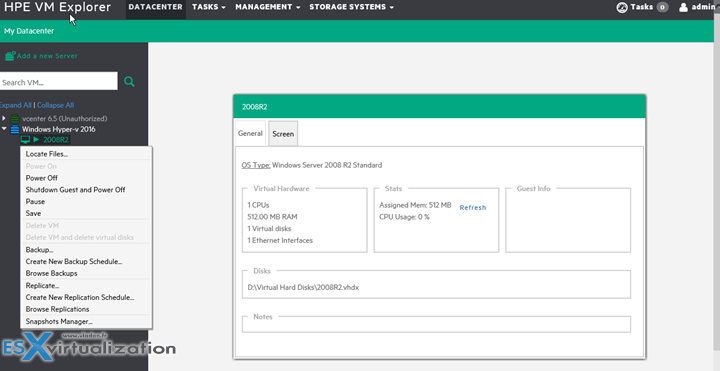 Wrap-UP
There is more, much more products on the market which can backup VMware, Hyper-V or other hypervisor's platform. In this post, we just scratched the surface. Again, don't blame me if your solution is not listed or not in the first place.
Enterprise-class backup software sells itself with ease with one condition – that it just works. Easy to say you might say? But how else to judge if the particular backup product is full of bugs and throws plenty of errors. Enterprise admins have to be aware of products which will satisfy all the time shrinking backup windows or storage capacity to backup increases.
And also we haven't even talked about products which do provide the backup/replication options out of the box. It means you buy the hardware with the software. One of them is, for example, Rubrik, which we have talked about here.
Check more articles from ESX Virtualization:
Stay tuned through RSS, and social media channels (Twitter, FB, YouTube)