I'm sure you know this program, but some people might not. WinDirStat – Windows Directory Statistics. This free software helps you to find out where all your disk space has gone. It is free and open-source graphical disk usage analyzer for Microsoft Windows. We have previously reported on a different, but similar, software called Tree Size Free which has also a paid alternative. WinDirStat was re-programmed for Windows from Linux by Bernhard Seifert. The original program is based on Stefan Hundhammer's program KDirStat. The software is distributed as GNU General Public License v2.
Depending which user you are, your Windows OS can become slower and slower over time and is eating more and more disk space. One day you might wonder Where all my disk space is gone? The files can be literally anywhere, usually hidden in sub-directories. To check all different sub-trees and folders manually and see if there are some high capacity files, it's impossible. One would have to open and collapse hundreds or thousands of directories.
Imagine you have a small 128 Gb SSD drive for your OS. As time goes by, Windows installs new patches, Windows defender antivirus definitions or you might add some new applications and create some files from time to time. The OS root partition keeps growing day after day. Hence the need to check (visually) your drive for bigger files eating your disk space.
WinDirStat – The Features:
Presents a directory list – which resembles the tree view of the Windows Explorer but is sorted by file/subtree size
Has a treemap – shows the whole contents of the directory tree straight away
An extension list – serves as a legend and shows statistics about the file types.
When you first start the product it asks you if you want to scan all disks, or if you want just select individual disks. In my case, I just picked the C: drive. The utilization is kind of "No brainer". You have the graphical map of your disk presented below the tree structure so by clicking one of the tiles you select a file which shows through the directory tree.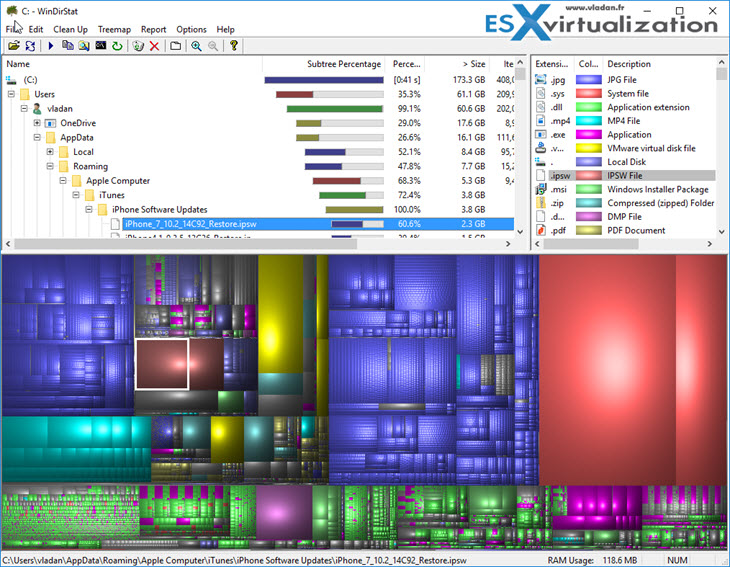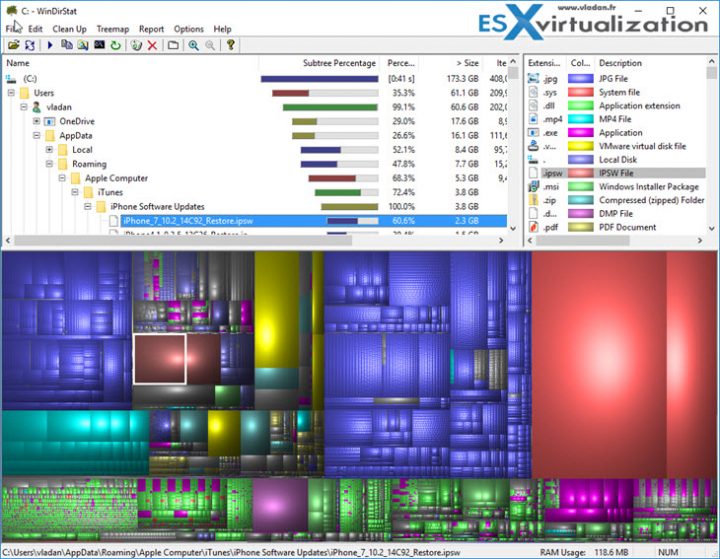 Then it is up to you what to do with those files? Does it make sense to keep them on your C: drive? Does it make sense to keep those files there at all?
In my case, it is an iPhone backup file. On Windows workstation. Well, I swapped to MAC few months back. Got a Laptop with Mac OS so I basically do not have a reason to keep another backup on this Windows box, and in the C: drive which is backed up by Veeam Agent to my external USB drive…
What else can this program do for you?
Scan and show you network drives. (You know, when you connect to shared folder over a network and map the drive as network drive. Sorry, it is for newbies)…
Selecting via File extension
You can go to the right-top window and select one type of file. This shows all the files having this extension (in my case I picked up MKV for example) within the map. Check the image below.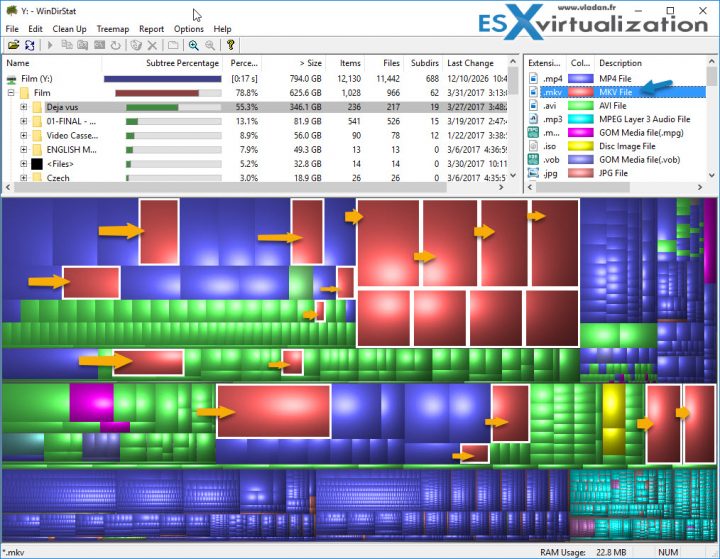 Cleanups
Serveral clean up actions can be applied to a selected item. The cleanups are accessible through the main menu, the tool bar and through keyboard shortcuts.
You can define up to 10 custom cleanup actions. The cleanups are specified by command lines. You can select an entry in the list an set it to "enabled". Choose a title, the title appears in the menus. Compose a command line. Use the "MSDOS prompt" (Windows 9x, command.com) or the "Command prompt" (NT, cmd.exe) to get help about the available commands and to test the command line.
Examples
dir /b > dir.txt

List the filenames to the text file dir.txt.
Note: The command prompt cannot chdir to UNC paths.
Note 2: this feature is for advanced users as it is easy to make a mistake.
Wish List anyone?
I think one of the features that shall be included is a duplicate search function which would be a natural extension of what most folks use WinDirStat for anyways. It would be a great thing to have duplicates highlight on the treemap…. -:)
How about other Operating Systems?
As being said, the original Linux version exists. You can check KDirStat (apt-get install kdirstat or apt-get install k4dirstat on Debian-derivatives). But there is also an iOS version  for MacOS X called Disk Inventory X or GrandPerspective.
Wrap Up:
Another piece of software to have. Whether you're VMware admin or just a home user, you'll like this software as it provides you a visual view of your hard drives and shows a map where the biggest blocks represent simply the biggest files stored on the disk. A very easy way you can eliminate or move those files elsewhere (backup location, another drive). Coupled with programs like CCleaner or other file system maintenance tools, this software is certainly nice to have. That's why I'll add it to my Free Tools Page I'm actively maintaining.
Download Page of WinDirStat.
More from ESX Virtualization:
Stay tuned through RSS, and social media channels (Twitter, FB, YouTube)