VMworld 2021 is behind the corner. Register now. In this post, we'll highlight some security-based sessions. Security and Ransomware are hot topics and must be taken more than seriously those days. In the past, security was not so important as today as there were much fewer ransomware attacks.
Ransomware encryption is able to do big damages and if you're not prepared, bye bye your company's data and perhaps bye bye your job as well -:(.  It's not to make you scared the hell out, but to become aware of the threads and aware of possibilities of reasonable protection.
See the Content Catalog and REGISTER for VMworld 2021 Here.
VMworld is free to register, but there is also a paid option that gives you access to "meet the experts", live interactive sessions, certification and exam reviews. Also, there are hands-on-lab guided workshops. The upgrade gives you also automatic 50% discount to pass your VCP and VCAP (voucher must be purchased through registration).
Every major software vendor today is trying to protect via software, but a lot of work can be done by educating users, admins for best practices on ransomware protection.
Here is the first session I'd like to highlight.
Good security goes a long way toward preventing the next ransomware attack. Leveraging advanced VMware vSphere security and data protection features helps protect you and your organization from breaches, ransomware and malware attacks. Learn how vSphere security features (such as confidential containers for vSphere Pods, VMware ESXi configuration encryption, and key persistence) can help lock down your security posture and provide peace of mind while reducing operational costs with vSphere Native Key Provider. We will review new security features in vSphere, and discuss where the industry as a whole and vSphere in particular are headed.
The presenters:
Ken Drori, Product Line Manager, VMware
Bob Plankers, Sr. Technical Marketing Architect, VMware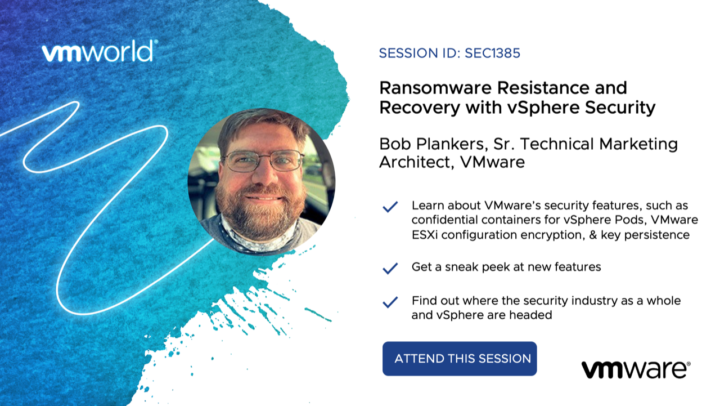 A second session is from Chris McCain.
With the expansion of VMware's portfolio of security products, it is now time to learn how to bring all the security tools and technologies together into a cohesive multi-cloud enterprise design. This session will cover key design elements of enterprise design and how to resolve conflicts by establishing organizational priorities. With priorities on solid ground, the design discussion will go deeper into how the VMware NSX Service-defined Firewall provides flexibility and scale to an intrinsic security fabric.
This session will showcase how cyberattacks occur, including a look into the most famous attack of all time. You will leave this session with a better understanding of how to design a policy-driven, defense-in-depth strategy for the modern enterprise.
Chris McCain, Technologist Director, VMware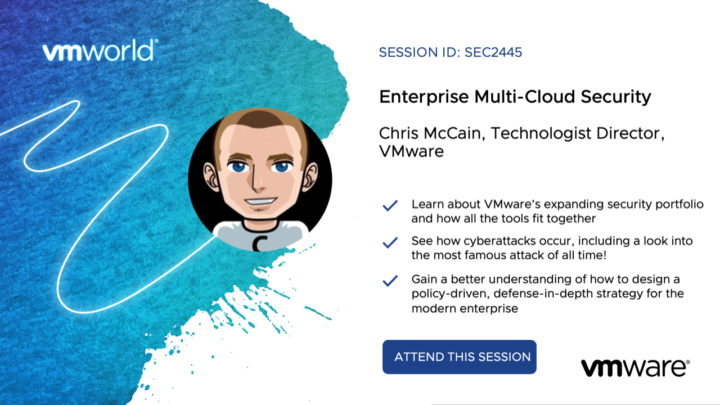 More from ESX Virtualization
Stay tuned through RSS, and social media channels (Twitter, FB, YouTube)