How to solve black screen and error message saying "Unable to connect to the MKS"
I had this issue the other day when I was trying to connect to the vCenter at my lab at home and then open a console to one of my VMs.
"Unable to connect to the MKS: Failed to connect to the server (1010828)"
In fact, the VMware tools were running fine in the VM as I could see on the summary tab, but the screen was black on the console window and also in the console tab.
Symptoms:
–  You cannot open a remote console to a virtual machine.
–  Virtual machine console is black (blank).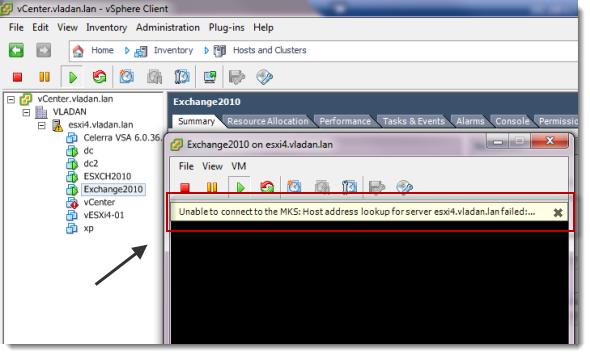 01. Make sure that your esx(i) server is correctly registered in your DNS and that you have a correct name resolution.
02. You can also try editing your host file on your management workstation….. (C:WindowsSystem32Driversetchosts) and add your ESX server there….
Have a look at those KB from VMware too…