The post today is entitled VCP6.7-DCV Objective 7.6 – Configure and use vSphere Compute and Storage cluster options and will teach us all the compute and storage options we have when creating a vSphere cluster. If you're preparing to pass VMware VCP datacenter exam, you'll certainly need the VMware blueprint which we follow and which is necessary to pass the Professional vSphere 6.7 Exam 2019  – ( PDF Online at VMware 2V0-21.19).
The whole study guide page can be found here and it seems that soon we'll completely finish all objectives. This does not mean that you should not use other study material. Not at all. It's is absolutely necessary to get the whole documentation set which is needed for the exam, use vSphere lab (if you don't have the latest version of vSphere at work) and also use other study resources you'll find.
After you create your first datacenter object in vSphere client you can start adding more objects inside. You can add hosts, clusters, resource pools, vApps, networking, datastores, and virtual machines to the data center.
To enable your cluster for vSphere HA, you must first create an empty cluster. After you plan the resources and networking architecture of your cluster, use the vSphere Web Client to add hosts to the cluster and specify the cluster's vSphere HA settings.
Note: A vSphere HA-enabled cluster is a prerequisite for vSphere Fault Tolerance.
The best for configuring cluster options is to use the Quickstart wizard which is new in vSphere 6.7.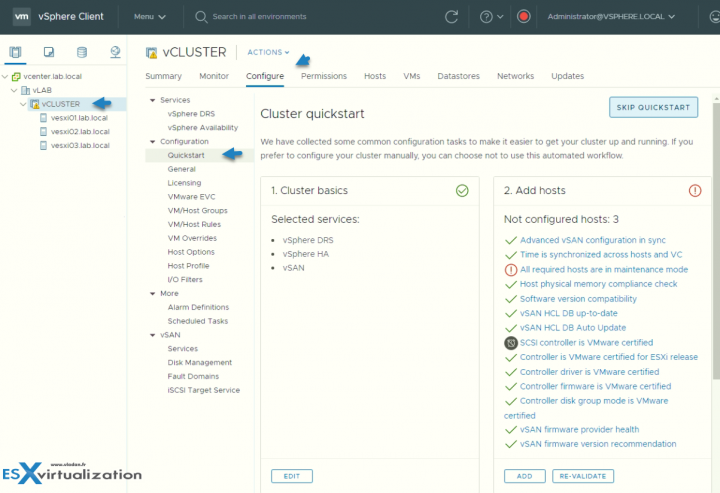 However, you should check whether you have enough permissions to create a cluster.
Verify that you have sufficient permissions to create a cluster object.
Verify that a data center, or folder within a data center, exists in the inventory.
Verify that hosts have the same ESXi version and patch level.
Obtain the user name and password of the root user account for the host.
Verify that hosts do not have a manual vSAN or networking configuration.
You can have several clusters, each active with different services (DRS, HA, VSAN …. ).
This guide is available as Free PDF!
Free Download at Nakivo – VCP6.7-DCV Study Guide.
In the vSphere Web Client, browse to the data center where you want the cluster to reside and click New Cluster > Complete the New Cluster wizard > Do not turn on vSphere HA (or DRS).
Click OK to close the wizard and create an empty cluster.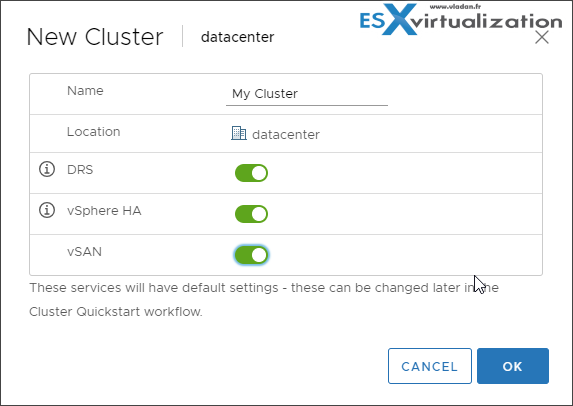 After activation those services, you'll need to configure the appropriate vSphere HA settings for your cluster.
Failures and responses
Proactive HA Failures and Responses
Admission Control
Heartbeat Datastores
Advanced Options
Based on your plan for the resources and networking architecture of the cluster, use the vSphere Web Client to add hosts to the cluster. Browse to the cluster and enable vSphere HA. Click the Configure tab > Select vSphere Availability and click Edit > Select Turn ON vSphere HA.
Select Turn ON Proactive HA to allow proactive migrations of VMs from hosts on which a provider has notified a health degradation. Under Failures and Responses select Enable Host Monitoring
With Host Monitoring enabled, hosts in the cluster can exchange network heartbeats and vSphere HA can take action when it detects failures.
Host Monitoring is required for the vSphere Fault Tolerance recovery process to work properly.
If you're using HA with DRS you basically getting automatic failover with load balancing. You get your cluster more balanced after HA moved VMs to a different host.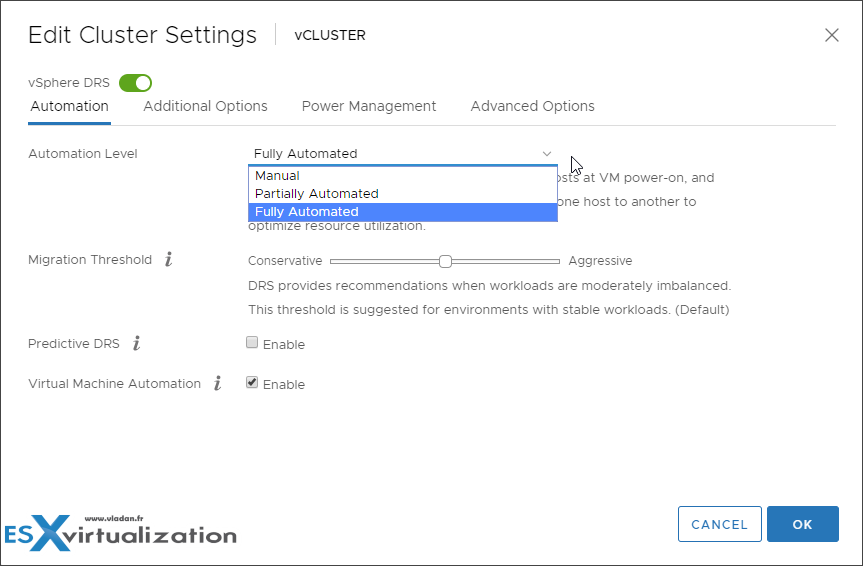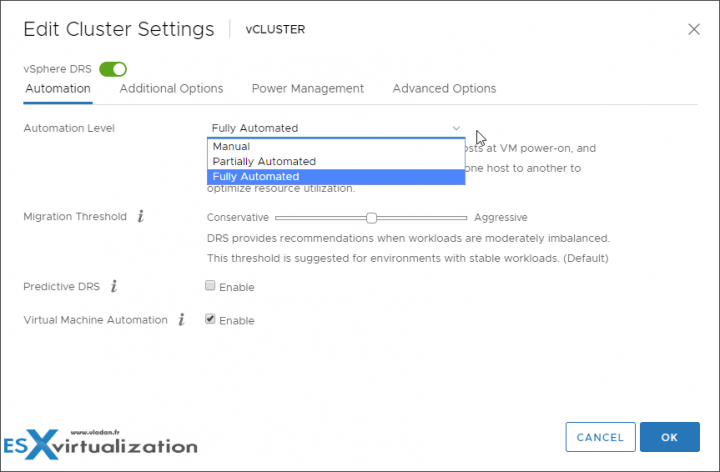 After you have configured your cluster, you can scale it out by adding more hosts.
You specify the network configuration for the new hosts in the cluster. If during the initial configuration of the cluster you have postponed configuring the host networking, no configuration, as for the existing hosts, is applied to the newly added hosts.
This post has taught us a little bit about how to Configure and use vSphere Compute and Storage cluster options, but you should check other sources and do a lab to see all configuration options as well.
Check the VCP6.7-DCV Study Guide Page for all objectives and the whole documentation set.
Also from ESX Virtualization
Stay tuned through RSS, and social media channels (Twitter, FB, YouTube)