In this post, we will talk about Veeam Availability Suite 9.5 U4 and also about an online event, Online conference (with technical sessions, vExpers, and Veeam Vanguards) called VeeamON Virtual.
It is a free VeeamON Virtual conference online which will be held on the 5th of December. If you want to interact with Veeam experts, Veeam employees directly or with some of Veeam Vanguards, you have a unique opportunity, because the event is free and it's online. No need to travel.
It's an annual event which allows you to get the latest news and announces from Veeam. About their new partnership with NetApp, Cisco, and Nutanix, about their latest innovations concerning Office 365, Azure and AWS, or to learn about their future roadmap.
During the event, you'll also get the latest information concerning Veeam Backup and Replication Update 4 which is scheduled to be released in December 2018 as well.
The U4 will brings a long-awaited compatibility with vSphere 6.7 U1 (currently, U3 doesn't support vSphere 6.7 U1 because of changes in VMware's APIs).
Register for VeeamON Virtual Here.
Quote:
Annually, VeeamON Virtual brings together more than 2,500 industry experts to showcase the latest technology solutions providing the hyper-availability of data. Join us on our virtual journey to explore the challenges of data growth and inevitable data sprawl, the threat they pose to data availability and protection, and the steps you can take to achieve Intelligent Data Management.
There will be Business tracks, Technical tracks, and Cloud tracks. So a live session. Personally, I put my name on the list, but not sure I'll have an availability due to my professional duties on-site with one of my local clients.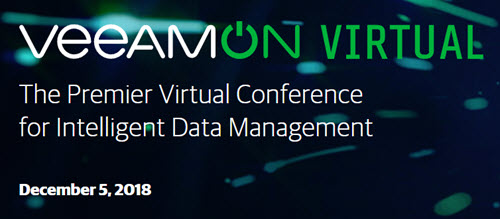 Register for VeeamON Virtual Here.
Veeam Availability Suite 9.5 U4
More and more we'll hear Veeam Availability Suite, as the Veeam's product portfolio is getting larger and besides Backup and replication, there is VeeamONE (which will also have a U4), and also Veeam Availability Orchestrator (VAO), Veeam's Agents for Windows, Linux, AWS, O365, IBM AIX….. Plus other products.
During VMworld Barcelona 2018, I passed by Veeam's boot to have a demo of an upcoming feature from Veeam Backup and Replication U4 called Veeam Cloud Tier. This will be one of the highlights of the U4 and which will allow you to "offload" old backups to a cheaper cloud storage and free space on your local storage.
I was talking to Benoit Henriot from Switzerland who works as a system engineer for Veeam.
In one of my future posts, I'll go more into details of Cloud tier, and also on other features coming up in Update 4. The U4 shall be out in December
A photo with Benoit Henriot, who's technical explications about Veeam Cloud Tier was very good and you'll certainly like this video.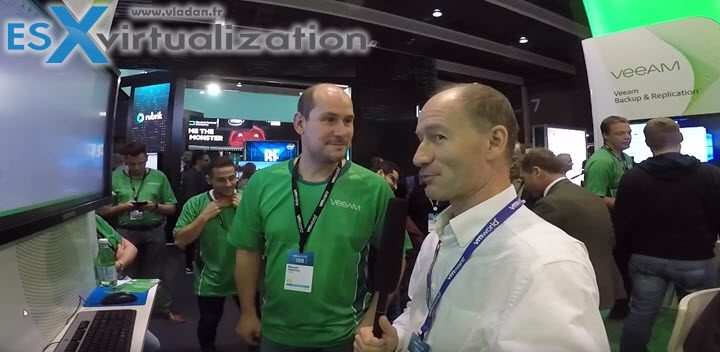 Here is a video from the event.
Veeam continues to innovate and confirmed another successful VMworld.
Veeam Cloud Tier
Veeam Backup and Replication will integrate directly with Azure Blob storage, Amazon S3 or other S3 compatible storage.
You'll have a policy which you can personalize, and which I can say for example, that I want to upload my restore points older than 30 days, I will be able to do that. When the data are uploaded, the metadata which stays locally on our repository.
You can have a local backup job to do daily restore points of let say 1-30 days on fast, local storage but also storing it in your archive tier in the same backup job for restore points which are older. Because before that the option you had was a separation. You had to set up a copy job which would achieve that. Now, it will be one step operation, so simpler.
Instant VM Recovery directly from AWS is also possible from this new Capacity Tier.
You can:
Move backup files – will now have this option for data that ages out of the operation restore window, to a cheaper storage – public cloud, or on-prem object storage solution.
Immediate copy – this option which is also a valid data management use case (creation of backup copies)
It will be able to move files to Amazon S3 and S3-compatible object storage. Microsoft Azure will like come in the later update, then other as requested.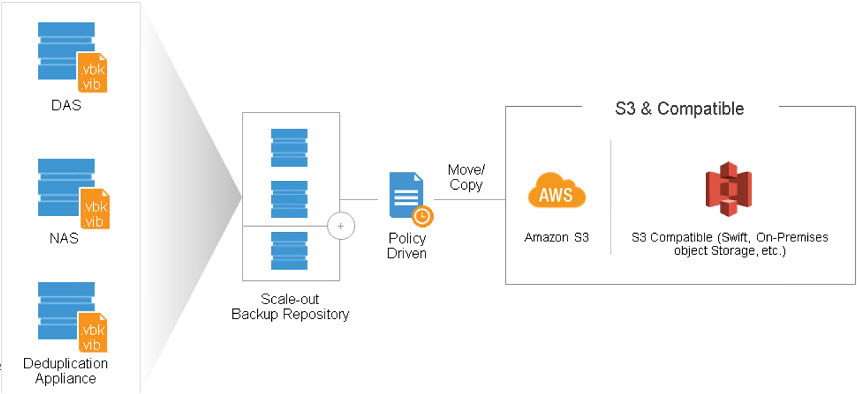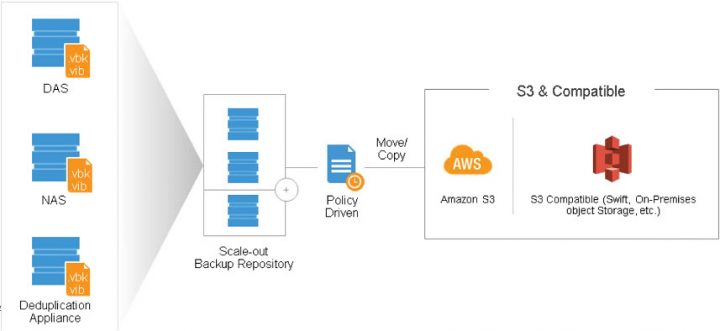 I'm looking forward to doing a more detailed post with an Update 4 finalized. Stay tuned. It won't take long and we'll have the RTM bits soon I hope. It's another evolution of Veeam's product which we are closely following since quite a few years now. The software vendor keeps listening to its customers and is able to grow the list of features and number of users.
Lastly, don't forget to check O365 "Community Edition" allowing to backup to up to 10 users for Free. This post is detailing the Veeam Backup for Microsoft Office 365 Community Edition. Enjoy…
More from ESX Virtualization
Stay tuned through RSS, and social media channels (Twitter, FB, YouTube)