I was playing with the latest beta of Veeam Backup and Replication v9 in the lab, and did the installation, including the separate install for the console. I thought that you might want to check out the video that I recorded. I must say that I like the UI. It's clean, fast and responsive. But today I'd like to talk about another feature which comes useful when having a VM and want to exclude some of the files stored inside your VMs, like videos or music files, or even some log files which might become very voluminous. It's easily done through in-guest processing and I'll show you how.
Veeam did not release the v9 just yet. The release is planned for Q4 so I don't have to tell you that this release is highly awaited. We have already had closer look at Veeam Scale-Out backup repository and its maintenance mode.
Veeam comes as Single ISO. Veeam makes the v9 install even more easier than the v8. The requirements like Microsoft Visual C++ SP1, SQL server system CLR Types, SQL server 2012 Management object or PowerShell 2.0, all those got installed with a single click very easily … But let's talk about a feature which allows something that isn't possible in v8 of Veeam Backup product – A Guest Files or directories exclusions.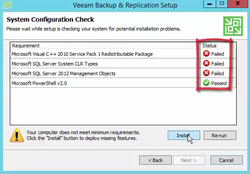 Veeam Backup and Replication v9 in Guest File Exclusion
Previously you could exclude VMs disks or other VMs objects, but that was it. Now, with file exclusion, you can exclude certain files which you not need to backup. So Let's say I want to exclude a folder where there are stored videos and another folder where there are some MP3 files. You have to specify the path to the folder where the files are located on the VM, like C:\videos etc….
Where do I configure the exclude files list?
You must go and edit the job properties > click Guest Processing > Click Applications Button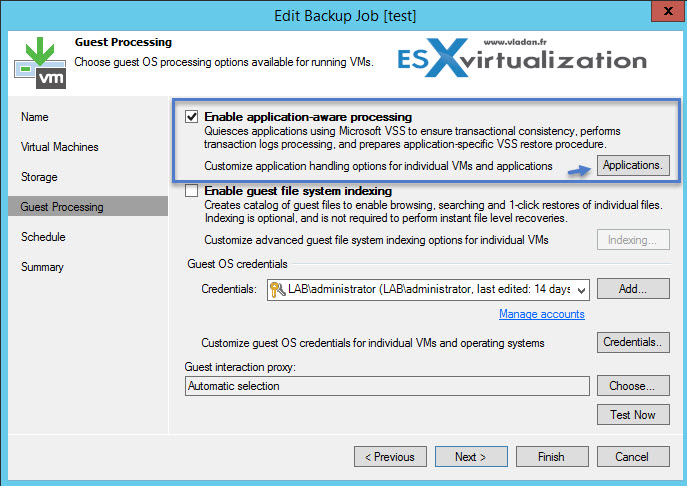 It brings an additional window.
There you click the Edit button > File Exclusions TAB > Add , where you'll put the path to the folder where are located the files which you do not want to include in your backup. In my case it's the c:\video folder located at the root partition.
You can use wildcards (  *.tmp, *.log or "?"). Be careful with those because those can be time consuming !!!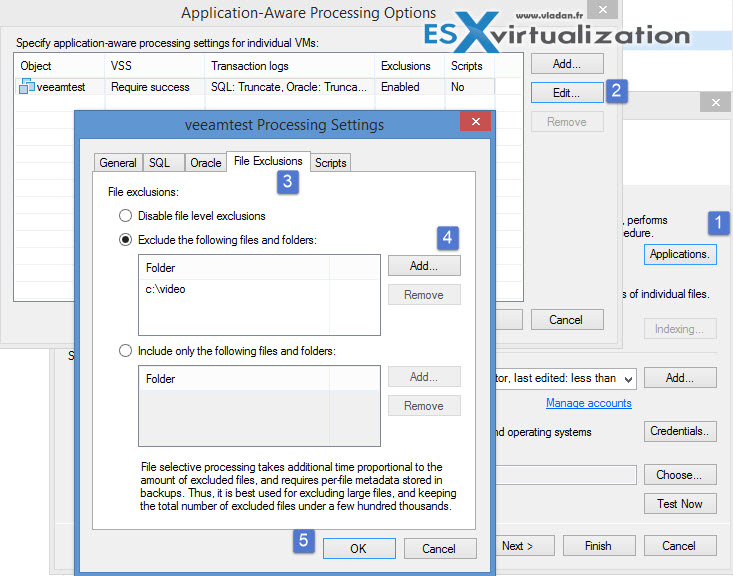 As a result you should save more space on backup repositories.
In my case where my sample video folder had 9.74Gb of videos, the backup file went from 17.1Gb to 7.7Gb…

There is certainly a drawback too as the in-guest processing takes more CPU power and backups takes longer to proceed. But it's certainly a minority of jobs (VMs) which will need this "treatment".
Here is a screenshot from VeeamOn session presented by Mikhail Cherkazyanov, which gives you a rough idea on how much overhead you might expect: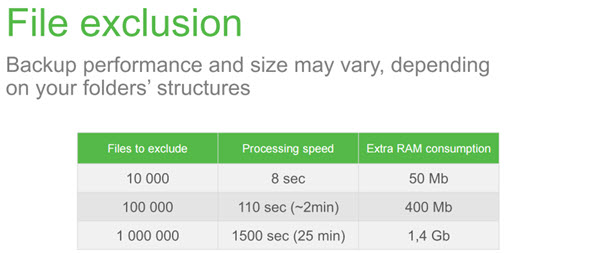 Veeam Backup and Replication v9 in Guest File Exclusion allows:
Exclude Files and directories
Application logs
Shared folders with some installation programs for example
As you can see, by selecting only what you need in your backup, you can definitely save a lot of space on your Veeam backup repositories. This per-job configuration allows selectively configure jobs for VMs that needs some file exclusions over those who do not need this settings. Stay tuned for more v9 features. For now, get the Veeam 30 days Trial.
I documented the feature in short video:

Enjoy… -:)