Veeam backup Free edition offers great compression ratio. The free version of Veeam product in fact takes only the blocs that are used for the creation of the compressed .vbk file. The whole VM is actually encapsulated (VMDK disks + VMX configuration file) into single .vbk file. The swap file isn't backed up either. Veeam Backup Free Edition can be used to backup up running VM.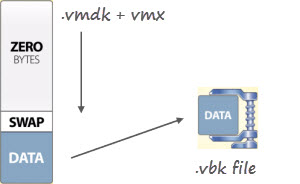 While playing with Veeam Backup Free edition in my lab, I was actually quite curious what would be the final size of a VM backed up by Veeam Free. In fact my test VM had single disk with size of 12.28 Gb and when the backup proceed with Veeam, the .vbk file had only 4.7 Gb .
So in this video I do installation of Veeam Backup Free Edition on my physical workstation (Windows 7 x64), and then I'm connecting to my ESXi 5.1 host where I have some running VMs. One of them is backed up to the local disk of my workstation. Could not do simpler. And working in my lab I thought that it might also be a good idea to shoot a video of the installation process, the connection to the ESXi host, backup of my test VM etc… It's  been a very long time I haven't done any videos, and I thought that it might be usefull.
The product does not need a key to function, but can be activated with a valid license key to unlock the advanced features. Or the other way arround! Just download the trial and play with full version during 30 days. After 30 days it transforms itself into a free version…
Veeam Backup Free Edition video – what you'll see?
Full installation of Veeam Backup and Replication
Connection to an ESXi host
Backup Single VM
Details on VMs size and the size of the .vbk backup file
Best way to watch is in HD and full screen….

Veeam Backup Free Edition allows you to backup single VM at a time only, but for my test this wasn't a problem. The free edition can provide those additional functions:
FastSCP – to download/upload large files to and from your ESXi
Veeam Explorer for Exchange
Full Backup/restore of unlimited VMs (single VM at a time)
Restore Individual files from VM
VMware vSphere and Microsoft Hyper-V
The Veeam Backup Full edition (trial) allows you to test the full version which then fails over to "free" limited edition after 30 days. But you still have 30 days to play with the full version….