Finally, Veeam has released Veeam Backup for Office 365 yesterday. After a long time being in beta (and 1.0), we can see this product going GA, in it's version 1.5. While many users are still running Exchange On-Premises, organizations with hybrid deployments and full cloud deployments are able to use this product for backing up and restoring user's Individual Exchange objects or full mailboxes.
Office 365 allows you to use hybrid or "full-cloud" exchange deployments. So whether you'll need just to back up the PST's, restore individual e-mails, calendar items, tasks or even the whole mailbox, you can use Veeam Backup for Office 365 to restore those items.
The product is labeled as v1.5 and in we already know that v2.0 will have SharePoint Online and OneDrive for Business support. The product uses the same format of backed up data as native Exchange Server engine – Extensive Storage Engine (ESE).
Features of Veeam Backup for Office 365 (v15)
One-Click restore….. Img from Veeam Backup for Microsoft Office 365 User guide PDF.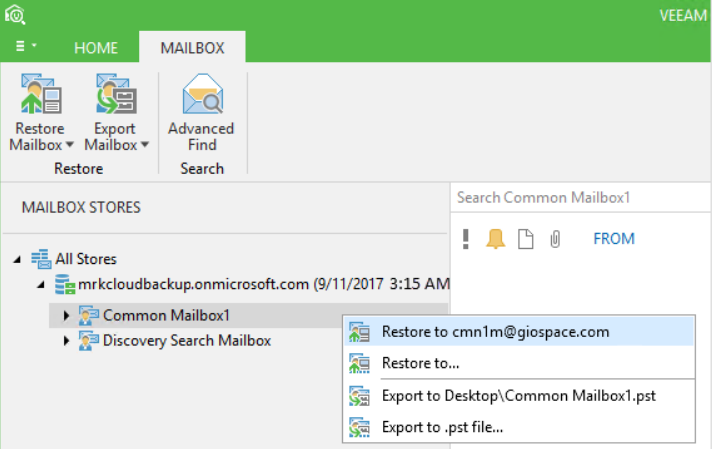 Distributed, scalable architecture – for enhanced scalability in distributed environments with several Remote Offices/Branch Offices and in service providers' infrastructures:
Backup proxies take the workload off the management server, providing flexible throttling policy settings for performance optimization.
Support for multiple repositories streamlines data backup and restore processes.
Support for backup and restore of on-premises and hybrid Exchange organizations – allows you to choose from a variety of configurations and usage scenarios and implement those that meet your particular needs.
Increased performance for restore operations allows for up to 5 times faster restores than in v1.0.
Restore of multiple datastore mailboxes using Veeam Explorer for Microsoft Exchange simplifies workflow and minimizes workload for restore operators, as well as 1-Click restore of a mailbox to the original location.
RESTful API and PowerShell cmdlets will be helpful for automation of routine tasks and integration into existing or new portals.
Support for backup and restore in Microsoft Azure Germany and Microsoft Azure China regions.
Many enhancements were made to the UI, including main window, wizards, dialogs, and other elements, facilitating administration of the solution.
Veeam Backup for Office 365 – The Architecture:
(Img from the User Guide).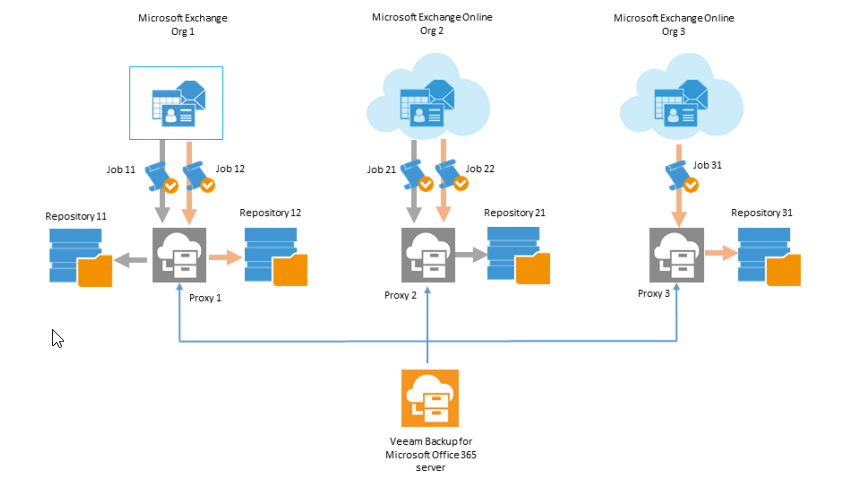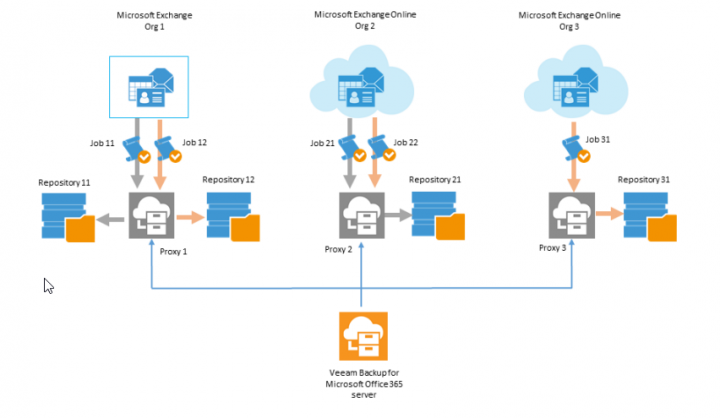 What are the System Requirements for Veeam Backup for Office 365?
Veeam Backup for Microsoft Office 365 – separate download from Veeam's website.
Veeam Explorer for Microsoft Exchange – for data restore. If installing to different computers, the OS version of the computer where Veeam Explorer is installed must be the same or higher than Veeam Backup for Microsoft Office 365 server OS.
PowerShell 4.0 – (2.0 required, or 4.0 recommended)
Update for Universal C Runtime (CRT) in Windows
Over view of retention policy window….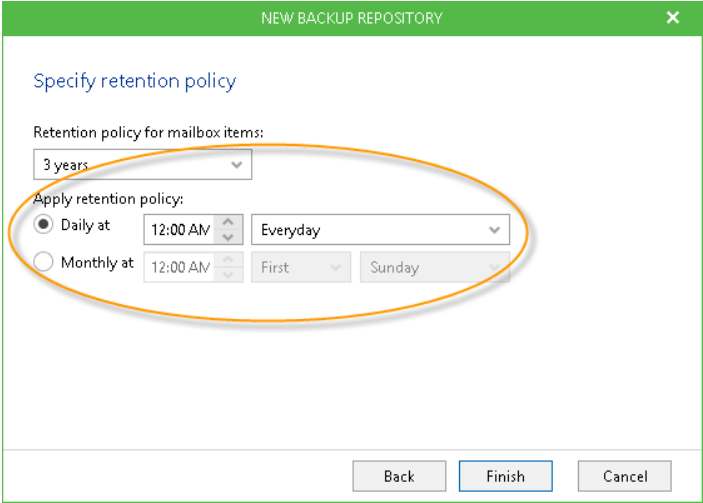 You'll need at least Windows Server 2008R2 SP1 to be able to install the product.
You'll need to open firewall ports manually (in this release). Check the user guide at Veeam's site.
Veeam Backup for Office 365 Licensing:
Quote:
The product is licensed per user – that is, by the overall number of Microsoft Office 365 end-user mailboxes in all Office 365 Organizations that Veeam Backup for Microsoft Office 365 is to process. A user mailbox can be a personal mailbox, an Online Archive mailbox, or both – in any case, you will need one license file (for that user) to archive mailbox data. Note, however, that shared or resource mailboxes do not need to be licensed.
The license can be Subscription (1 year or 3 years), Rental (expire at the end of the contract's date), NFR or Eval. Note that there is a grace period of 1month after when license expired so you don't find yourself in trouble in case you "miss" the end of the subscription or rental period.
Where to install?
You can install on a physical system or in a VM. While you can install it on two different systems, I'd prefer to have it on the same machine IMHO.
Options?
If you go to File > Options. You can limit the size of the repo (useful) via global settings of the program. Those settings apply to All Jobs.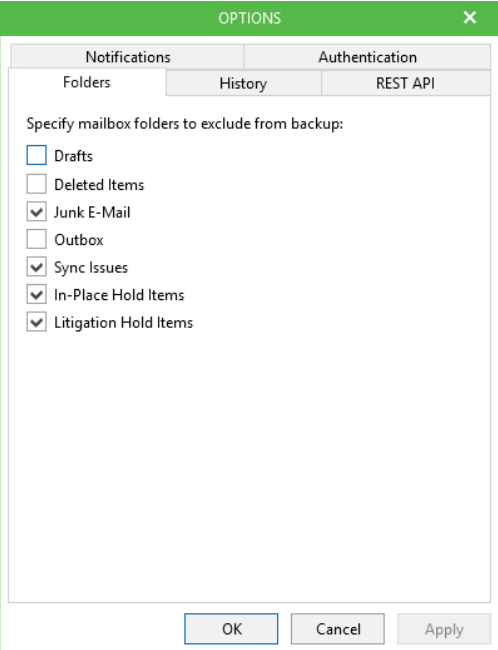 And there is more and more.
Wrap Up:
A completely new product from Veeam, which was in works since some time. You might remember my video with Clint explaining What is Veeam Backup for Office 365 during VMworld Barcelona 2016 (last year).? Check it out.
There was a gap after users started using Office 365. No real backup/restore options from Microsoft. Veeam has built a product which works and which assures the backup of those environments, with long-time retention of your data locally. I'm not against of having cloud environments with Office 365, not at all. Being able to have user's data safely backed up with a possibility of granular restore is worth gold. Check Veeam's website for more. Download your trial here.
Source: Veeam
More from ESX Virtualization:
Stay tuned through RSS, and social media channels (Twitter, FB, YouTube)