Have you ever wondered what is Veeam backup proxy? Veeam proxy is one of the main components of Veeam Backup and replication. In small environments when installation is "All-In-one" machine, the Veeam Proxy gets installed on the same box as the rest of the components. In larger environments, the backup proxy role is assigned to one or multiple Windows servers to share the load.
Veeam proxy sits between the data source and target and is used to process jobs and deliver backup traffic. It allows to offload the Veeam Backup Server and have better performance resulting shorter backup window.
Backup proxy takes care of the data traffic between VMware vSphere and Veeam Backup and replication during backup, replication, copy or migration jobs. The Veeam proxy is used also during restores. A backup proxy can be installed on a physical server or within a virtual machine.
Backup proxy is running a data mover service which needs to be deployed remotely when adding an additional Windows based server to a management console. This process is fairly simple and can be done remotely.
We can have a look at our lab environment where we have added one Windows server to do the role of a Veeam Proxy. As you can see, we kept the defaults for the transport mode – Automatic selection. But we will see further down within this post that this proxy can use different modes.
The overall backup process of a Virtual Machine (VM) looks like this: Veeam first takes a snapshot of a VM, then access the snapshoted disks and copies the data into a backup repository. This simplistic explanation might be enough, but worth to mention that there are different ways of doing it. There are different transport modes which the backup proxy can use.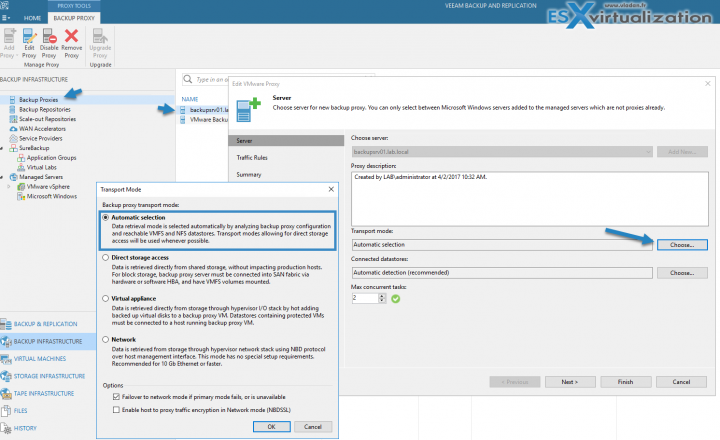 What's the role of Veeam Backup proxy?
The principal role of Veeam backup proxy is to select the best and optimal path for backup traffic and to provide as efficient data transfer as possible. The system will need to analyze the connection between the backup proxy server and the storage it will be accessing. And as you'll see below, there are three different transport modes (if we don't count the "automatic" option).
Transport Modes:
Automatic Selection – in this case, the data retrieval mode is selected automatically. It checks the proxy configuration and which VMFS or NFS datastores are within a reach, then it chooses the best possible transport mode.
Direct Storage Access (Direct SAN mode) – here we need a physical box which has a connection into SAN fabric via hardware or software HBA, and has VMFS volumes mounted. It can also be a VM with iSCSI). The direct SAN mode will directly access the storage and retrieve data directly from the storage by-passing the ESXi infrastructure. Fastest access but difficult to configure, with zoning and LUN masking.
Virtual Appliance – this mode allows retrieving the data from storage via hypervisor I/O stack by using hot-add. During this hot-add process, a VM's disk is mounted to a backup proxy VM.
Network – data is pulled from storage through a hypervisor network using NBD protocol using the host's management NIC. If you're on 10GbE or faster….. it is highly recommended. This mode is used as default failover option for other nodes. It uses the VMkernel NICs within vSphere environment. Can be deployed on physical or on a VM. No configuration is necessary when selecting this mode.
What are Veeam Backup proxy components?
Veeam Installer Service – it is a small service which gets installed remotely when deploying the proxy role to the Windows server machine. It does analyze the system and proceeds on installs and upgrades of all additional components.

Veeam Transport Service – Deploys the data movers services and executables which are doing the actual heavy work of Veeam jobs – copy, restore, backup, compression, deduplication etc…

VeeamAgent.exe process – this is the actual datamover which does the work. It can start several times on-demand if there are multiple data streams. The process works in pairs. reading data on source backup proxy and writing data on target backup proxy, gateway, or repository.
Install Veeam Backup Proxy (VMware) on Windows Server
The process is fairly simple. If you have already installed Veeam Backup and Replication within your environment as a single host, you can add another backup proxy to the backup architecture. Veeam backup server will remotely "push" some MSI packages to the destination server and installs the proxy components. (as per above).
First, connect to your Veeam Backup console and Select and Right-click Backup Proxies > Add VMware Backup Proxy.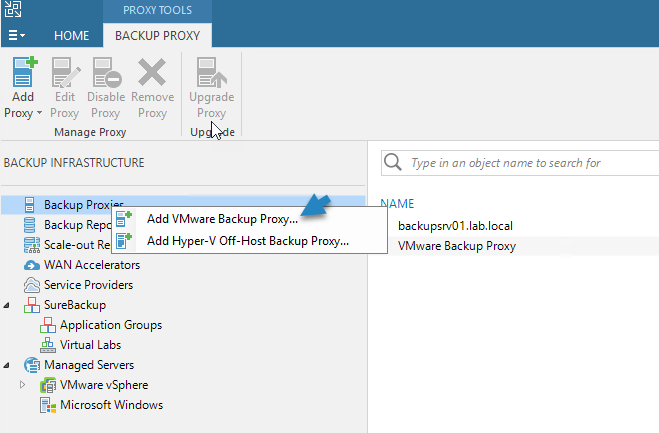 Then Click the Add New and enter the Fully qualified domain name (FQDN) or IP address of your server.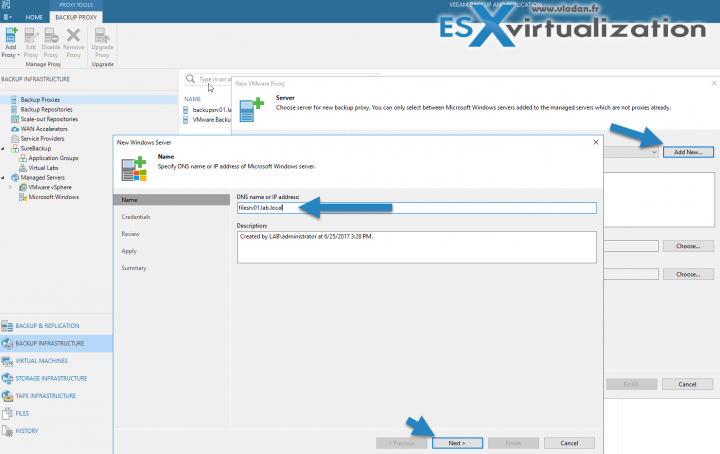 Then pick the credentials which do provides sufficient privileges for the installation process.

Next step is to review and launch the remote installation. The system will deploy the components to the remote system and installs the services and data movers.


And finally, you'll see the screen where the components are installing. You then need to click the next button to finish the deployment.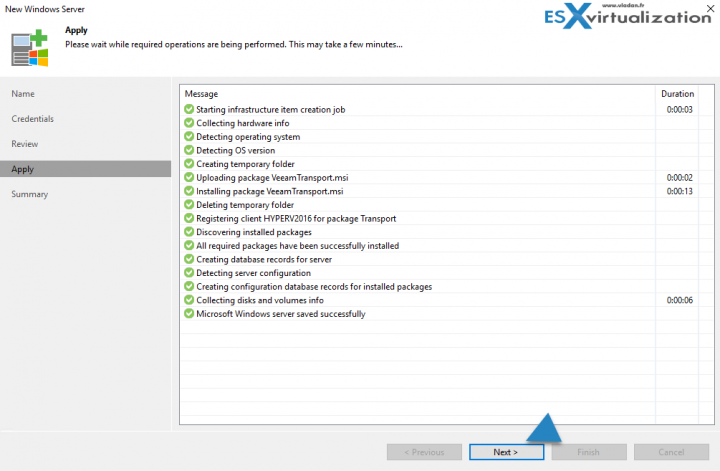 So the second window closes and you're back to the previous window where you were adding the Windows server to the Veeam Backup console. There you have the option to configure the Transport Node , Connected datastores and Max concurrent tasks. Or leave all by default.
If your system has less than 2 cores you'll get a warning….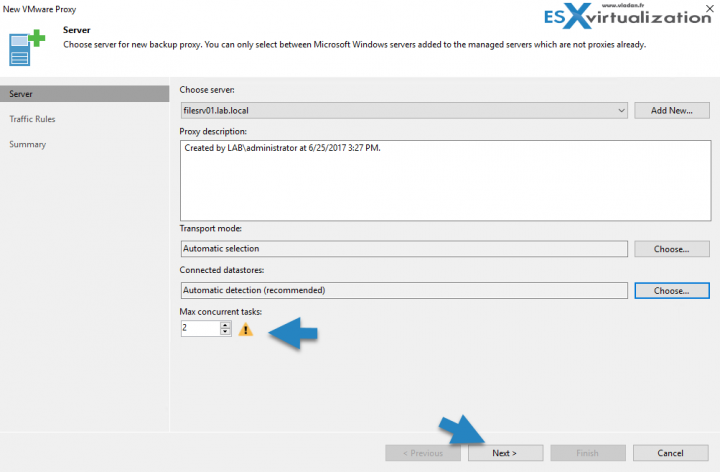 Wrap UP:
Veeam proxy is one of the critical components when scaling up a Veeam Backup and Replication. If you're interested in sizing a backup proxy you can follow this link at Veeam.
In large-scale virtual environments with a large number of jobs, the load on the backup server is heavy. In this case, it is recommended to use proxies to offload the backup workload to dedicated backup infrastructure components – proxies. The backup server here functions as a "manager" for deploying and maintaining backup infrastructure components.
In virtual environments with several proxies, Veeam Backup & Replication dynamically distributes backup traffic among these proxies. A job can be mapped to a specific proxy or you can let Veeam Backup and Replication choose the most suitable proxy.
Veeam Backup and Replication will check settings of those different proxies configured within the system and select the best one one for the job. The proxy server to be used should have access to the source and target hosts as well as to the backup repository to which files will be written.
Update: Veeam 9.5 U2 ISO is available. Get your copy.
More from ESX Virtualization:
Stay tuned through RSS, and social media channels (Twitter, FB, YouTube)