This tip is from Anton Gostev (Veeam) and his newsletter. If you're not subscribed, this is the only one you should. Except being subscribed to ESX Virtualization too -;). Yes, so Windows 10 users which have already installed the Anniversary Update from Microsoft would be possibly concerned. I say possibly because not all Windows 10 users use Veeam Backup and Replication, right? This post is about Windows 10 with ReFS For Veeam Backup Repository.
It might be interesting in case you're using Veeam Backup and Replication within your organization and you were willing to use a ReFS repository to benefit from some space efficiency and also speed increase for your backup jobs.
It basically saves you a Windows Server 2016 license, which, for small businesses, is certainly important. Instead of spending money just on MS license, you have more money to spend on hardware. This might be particularly useful for remote offices.
Windows 10 with ReFS For Veeam Backup Repository – How it works?
The first thing to do is to verify if you're running on the Creators Update or not.
Update: Veeam 9.5 U2 ISO is available.
You should have:
Wikipedia says this about the Creators Update:
Version 1703 (Creators Update) – Windows 10 Creators Update[326] or Windows 10 version 1703,[327] codenamed "Redstone 2", is the third major update to Windows 10 and the second of the four major updates planned under the Redstone codenames.[328] The first preview was released to Insiders on August 11, 2016.
When you first jump into the disk manager and look to format an unformatted volume through the UI, you don't have a possibility to format it as ReFS volume. At first, I thought that I wasn't running the latest Update, but after checking the version, I was….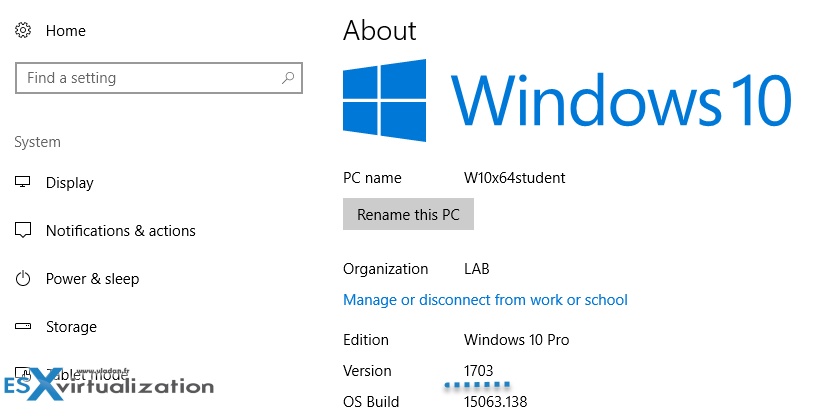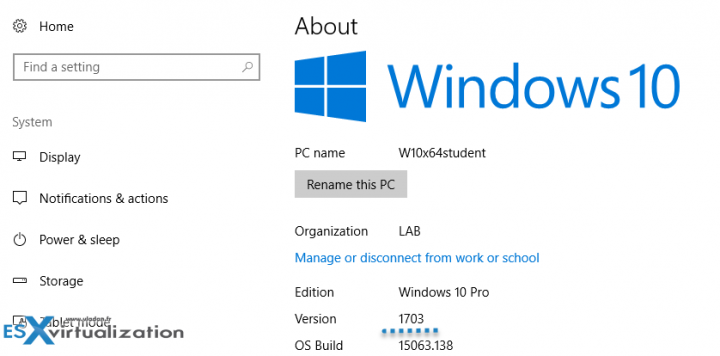 Here is the screenshot from the Disk manager. As you can see, there is no sign of a ReFS as a file system. Previously, there was a registry hack allowing to surface the option, but the latest Windows 10 Creators update has it made other way.
In fact, you must proceed in two phases:
Phase 1 – Format the volume with NTFS, and then.
Phase 2 – Format the volume with ReFS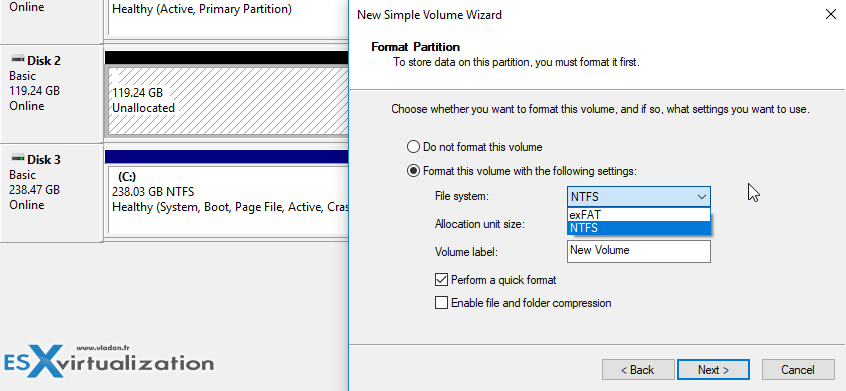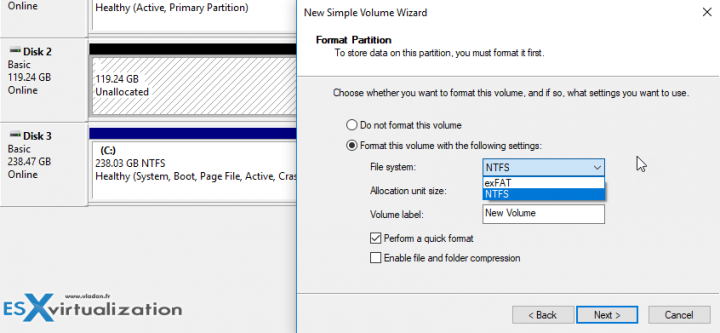 As you can see, when you finish the formatting the volume as NTFS, and you go back to the same volume, right click > Format, there you have the option for ReFS there …..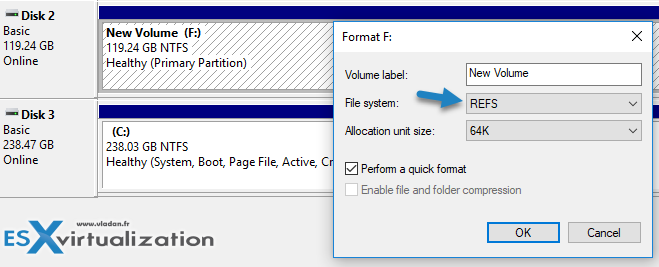 Pretty cool. You can avoid spending some $$$$ for Windows Server 2016 as a backup server.
And here is a view via diskpart utility….

Some sources have reported that the ReFS version coming to Windows 10 will be version 3.1, but when I checked on my system, the version was different.
You can check it out with this command:
fsutil fsinfo refsinfo "you_drive_letter:"
like this.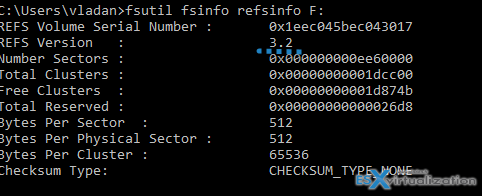 ReFS allow build-out files using storage pointers. Today, when using NTFS repository and when Veeam creates a synthetic full backup, it has to copy bits around to create this new synthetic full with incrementals merged into this. With ReFS as a backup repository, this is another story as Veeam is able to leverage APIs provided by Microsoft to create synthetic full by only create pointers to existing data.
Quote:
NEW Fast cloning technology enables up to 10x faster creation and transformation of synthetic full backup files, all without physically moving data blocks between files, for even shorter backup windows and lower backup storage load

NEW Spaceless full backup technology allows multiple full backup files residing on the same ReFS volume to share the same physical data blocks, resulting in reduced backup storage capacity consumption that rivals that of a deduplication appliance

NEW Data integrity streams integration leverages ReFS data integrity scanner and proactive error correction from Storage Spaces to protect backup files from silent corruption for more reliable forever-incremental archiving
Wrap Up:
We're expecting Update 2 for Veeam Backup and Recovery to be released soon. With VeeamON approaching (stay tuned I'm attending), one of the announces we'll hear might be the release of Veeam Agent for Windows 2.0 (currently still in beta). As a side note, this v2.0 will have an option to trigger an active full backup which will be able to leverage the above advantages of ReFS to speed up the job and save space
As a side note, this v2.0 of Windows Agent will have an option to trigger an active full backup which will be able to leverage the above advantages of ReFS to speed up the job and save space in the repository as well. And if your organization does not use virtual infrastructure you can
If you're not familiar with Veeam, you can download a Free Trial of Veeam Backup and Replication v 9.5 here: Veeam Backup & Replication 9.5 ISO With Update 1
More from ESX Virtualization:
Stay tuned through RSS, and social media channels (Twitter, FB, YouTube)