Special report: Veeam v10 unveiled at VeemON New Orleans and this is pretty exciting. The general session was good and the demos (for us techies) very useful to understand what's coming in Veeam v10. The demos started rather bad, but Clint Wyckoff has kept his calm to give a time to the Veeam's technical staff the time to replace network cable.
The new featured demos were five or six in total. What's one of them most interesting ones (to me) was the Veeam Continuous Data Protection (CDP). What is Veeam CDP? It is a protection for VMs which does not use snapshots but rather uses VMware VAIO framework to intercept the data stream and send it to replicas which are ready to be booted up. The default RPO is 15 seconds and can be modified to even lower value. The good news is that there are no snapshots involved adding pressure on your production storage and production workflows.
Expect this post to be modified when other higher resolution screenshots will become available.
One of the other new features which are interesting is a backup of NAS devices allowing you to specify the source of backup a network share (SMB/NFS). Not only this, but full versioning is supported. Also, you can specify short and long-term retention policies and out-of-place restore to easily restore SMB/NFS files to any target. (or completely different file server!!!!!). This is very good options for migration scenarios too…
We can see short-term retention during which time the IO journal stays available on the target before sending it to the delta disk. during this time you're able to restore to any point in time by using a slider (don't have a screenshot but I've seen it).
The long-term retention using Veeam Replication which creates a snapshot to create restore points on the target. (Limited to 256 restore points). Veeam creates delta disks at the target.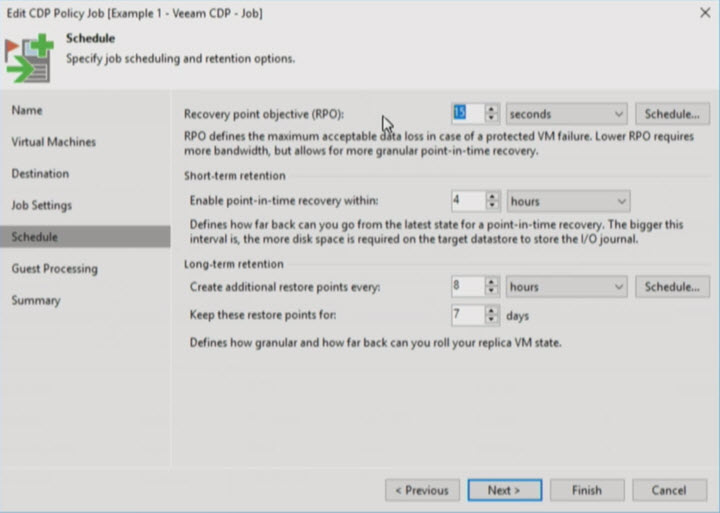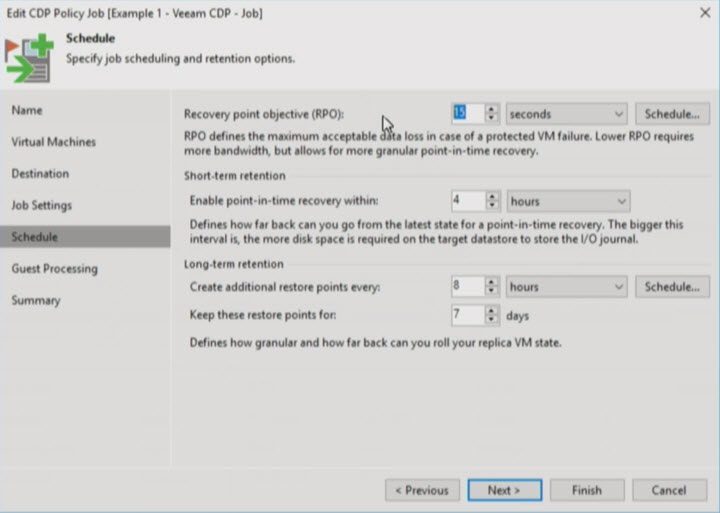 For Veeam CDP, we can first see where it starts. It is in the Backup infrastructure > VMware vSphere > Edit VMware Server.
Here we have the option to install a CDP filter at the cluster level (not supported for standalone hosts right now, but in the future, it shall be). The CDP filter is a component which allows tapping into the VMs data stream which runs on the host, it tracks all the IOs going on and sends them to a special daemon running on the host. The host then processes those IO data and sends the changes only, to a proxy (which can be virtual or physical) which then sends the IO journal stream to the destination. All this is very low RPO and especially, NOT using snapshots.
The RPOs can get as low as few seconds. All this is agent-less and especially, without using snapshots.
Image screenshot from Anton Gostev's session at VeeamON. Click to enlarge.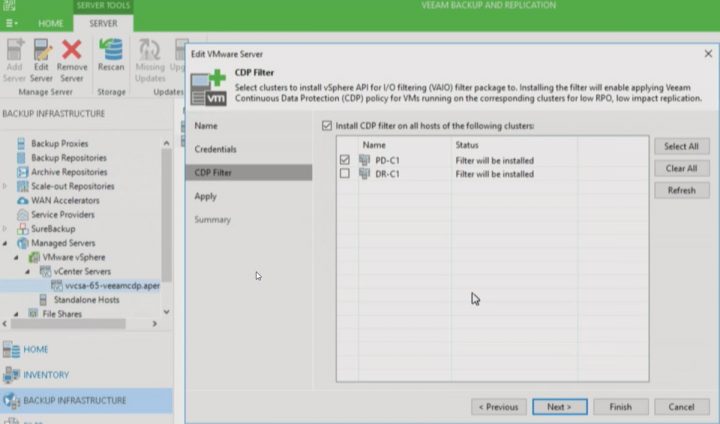 Veeam CDP filter installs a vib to the host and automatically attaches to every protected VM.
VMware Essentials and Essentials plus are excluded from this functionality as those editions do not have policy based management. Other editions, starting vSphere standard, are supported.
From the other new features which will be part of the Veeam v10 I can mention Scale-Out Backup Repository — Archive Tier.
Scale-Out Backup Repository — Archive Tier
This is new and will allow delivering storage-agnostic support by enabling the archiving of backups to any storage or media, deliver backup data management by automatically moving the oldest backup files from primary storage to archive extents and provide broad cloud object storage support. (Amazon Glacier cheap storage for example).
Primary Storage Integrations — Universal Storage Integration API
Allows extending the Veeam product through integrations with storage providers through a universal plug-in framework enabling select partners to build integrations with Veeam Backup & Replication. New integrated storage solutions based on the API include IBM Spectrum Virtualize (IBM SAN Volume Controller (SVC) and the IBM Storwize family), Lenovo Storage V Series and INFINIDAT.
Veeam Agent for Windows integration
This is another important part of the Veeam's puzzle. A single console for Virtual and physical backup management. According to Veeam, 25-30 percent of workloads in every company, are physical, so having the possibility to use the same product's management console is only another logical step in Veeam's development.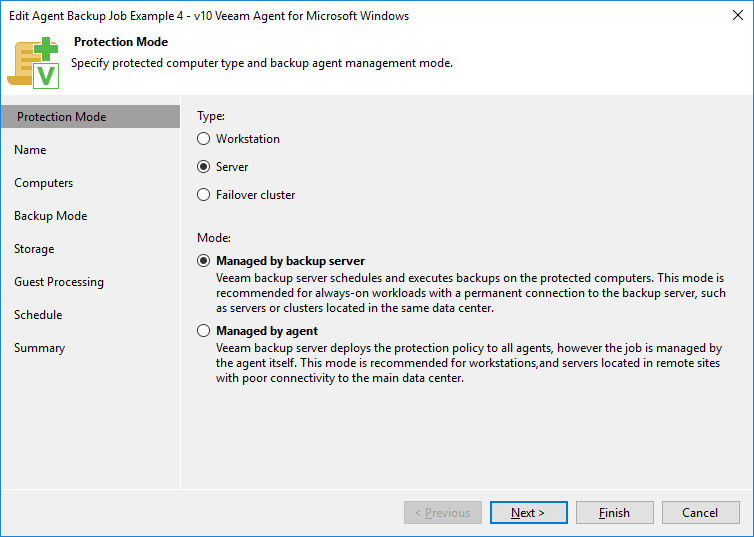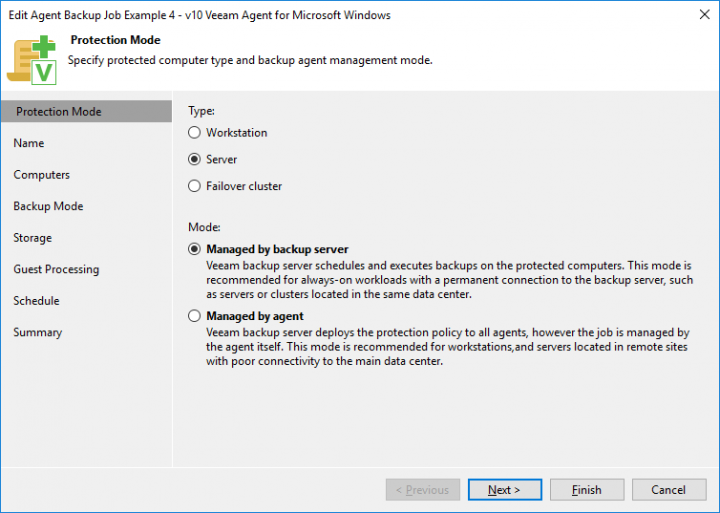 Veeam agent for Windows released last week allows direct integration of agent management, enabling users to manage virtual and physical infrastructures through the Veeam Backup & Replication console. Clint showed through the demo the possibility to fetch your Active directory information based on OUs where you can specify which OU to get those agents to be deployed to.
The Veeam Agent for Windows is destined to protect physical workloads such as workstations, laptops or physical Windows server. Many voices were also saying this usage was also deturned to VMs where users were using this product to protect VMs running on ESXi Free.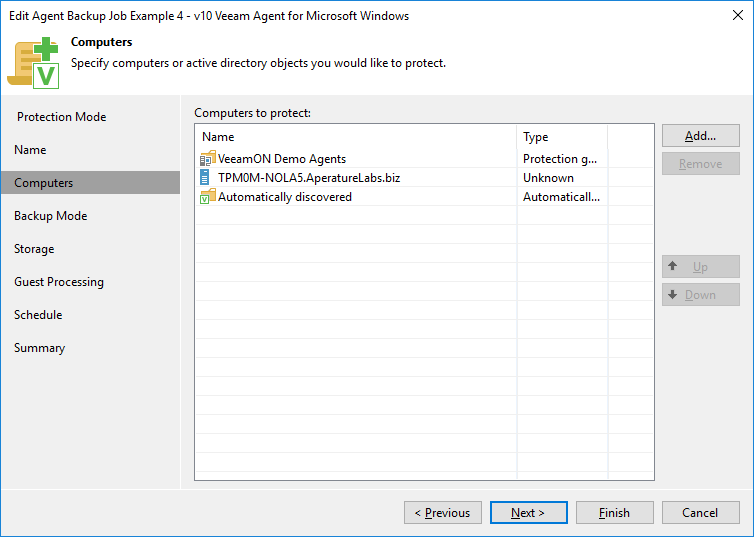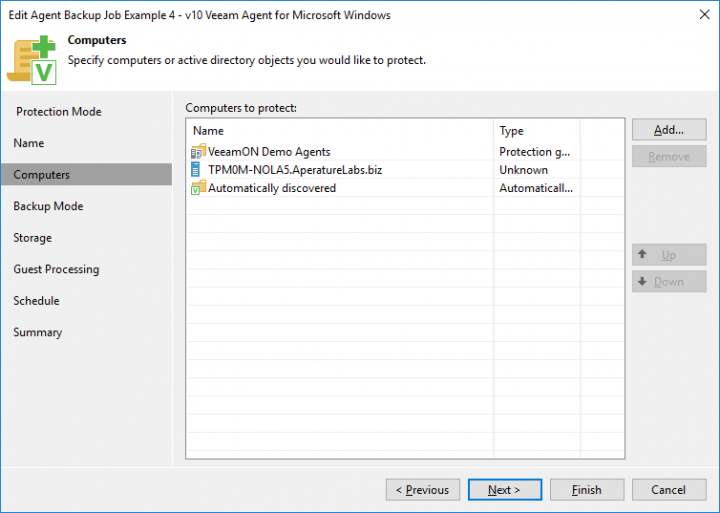 Objects storage as a Scale-Out Backup repository?
Yes, this will be possible in VBR 10 and to use that possibility for archiving options. From the supported remote cloud locations we've heard that AWS, S3, AWS Glacier, Swift, Azure Blog storage will be supported ones.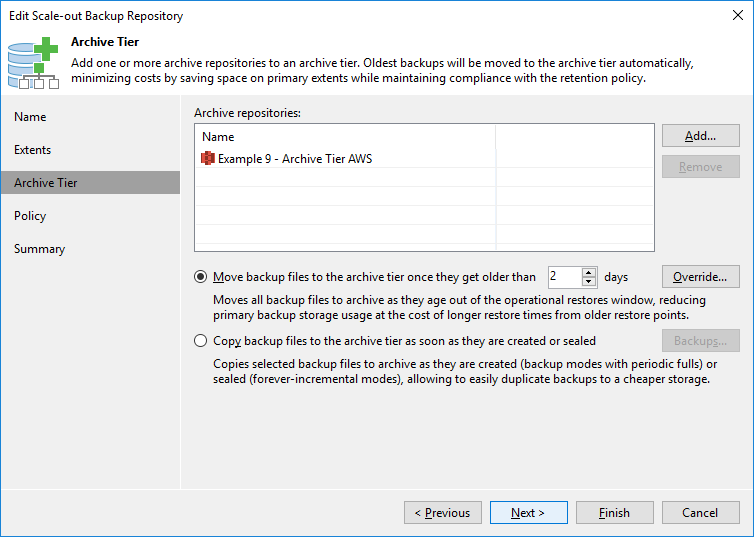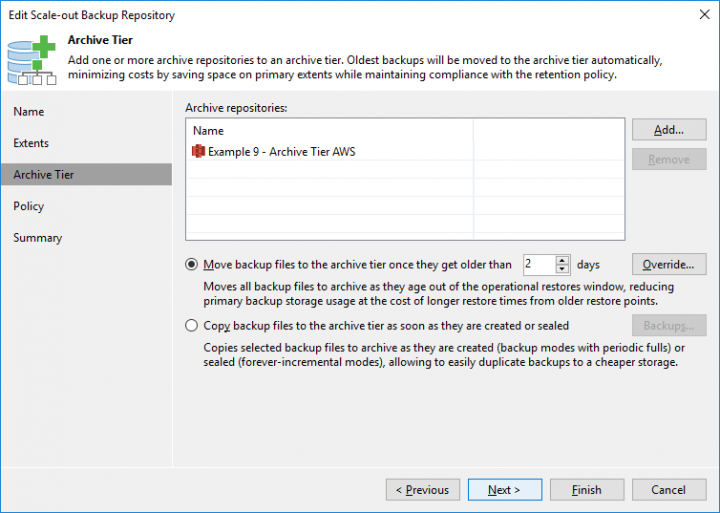 Veeam Backup for NAS
It will be possible to backup NAS appliances and fillers. Support for SMB/NFS backups.
Concerning restores, it will be possible to restore:
To another file server
Restore the full share (in case of crypto locker or ransomware attack)
Individual file/folder rollback
NAS backup retains file versions rather than time-based retentions.
The screenshots below shows possible versioning and retention history.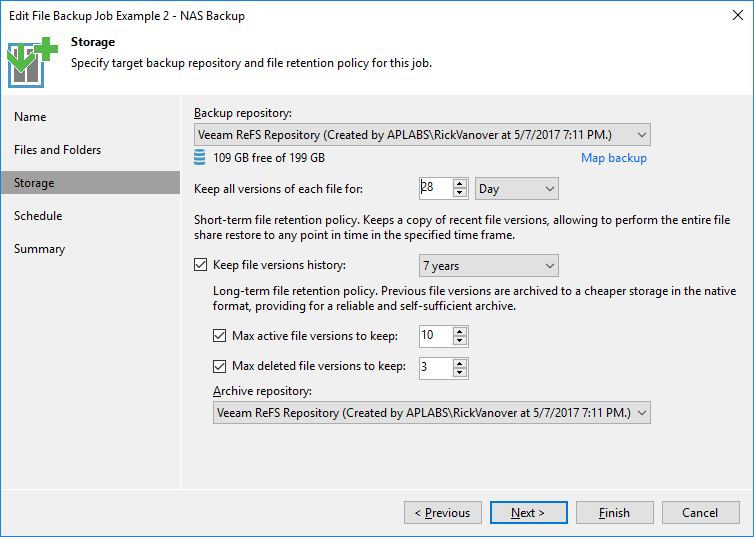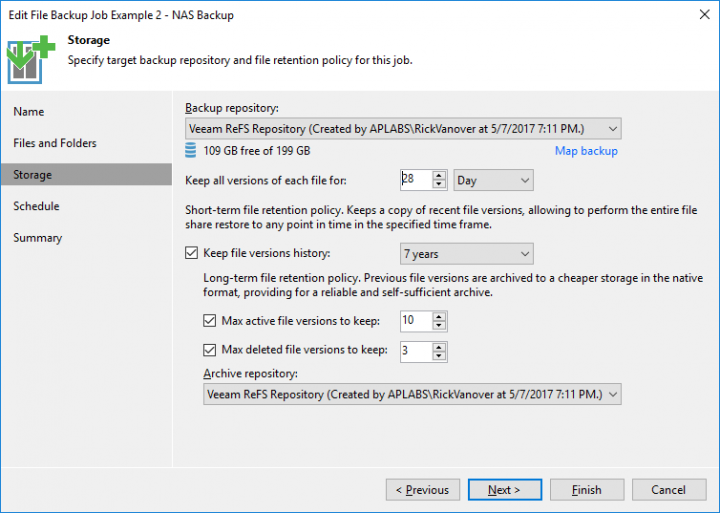 VeeamON conference 2017 is held in New Orleans this year. This year it has a particular flavor just after one of the biggest ransomware attacks in history. Even Microsoft has reacted quickly and released patches of old, unsupported Windows XP and Server 2003 systems, qualifying the vulnerability as the most severe of the vulnerabilities which could allow remote code execution if an attacker sends specially crafted messages to a Microsoft Server Message Block 1.0 (SMBv1).
VeeamON conference is 3-day event with 85 breakout sessions. Agenda is packed and for me as well as for the other Veeam Vanguards. Many people also participate in Veeam VMCA training which started already on Saturday (3days).
It's a particular time of the year where I can meet with other folks from within the industry and participate in sessions, labs, and discussions, together on the latest news about Veeam products. Apparently, all the demos here will feature the v10, which shall be uncovered. More on this later. I'll try to get as much info on this as possible as v10 shall be a huge release.
Sightseeng the day before the conference was fun with the weather playing nice with 29°C.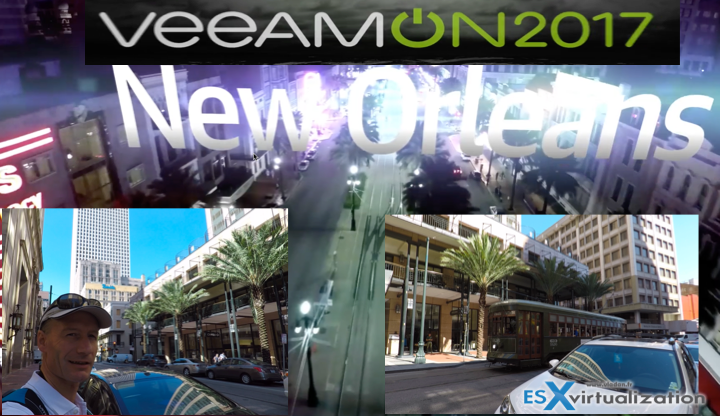 There will be again LabWars allows one successful winner to leave with $10.000 check… LabWarz returns to VeeamON 2017 with new, more challenging scenarios designed to test your knowledge of the new Veeam Availability Suite 9.5!
Update: A new video with Michael White from Veeam. We discuss some of the new features which will bring Veeam v10. Especially the new backup for NAS and Continuous Data Protection (CDP) which is really cool and a game changer.
The backup for NAS allows also to use versioning.
Veeam Backup and Replication v10 is next. Be prepared to have more detailed posts focusing on other details of the upcoming Veeam v10.
More posts from ESX Virtualization:
Stay tuned through RSS, and social media channels (Twitter, FB, YouTube)