There are some cool utilities in the upcoming Veeam Endpoint Backup (currently in beta). I wrote about the product during VMworld Barcelona but now I had the beta access so I could test in my lab a bit further. I installed it on my laptop.
While the Bare metal restore is certainly one of the highlights, the product has some "recovery goodies" when you create your bootable ISO. You'll find for example an utility to reset Windows local admin password there (in 2 clicks please) or you can load a drivers (storage controler, NIC or other) which you can inject into the recovery image so the system can work with a certain types of peripherals.
UPDATE: Check out the Veeam Endpoint Recovery 1.1 which adds compatibility to W10 and more…
The recovery image is an utility which is used in case you cannot boot your system, so it's quite important to create one as you can include the drivers present in your system. The recovery image is created by you and it's burned into a CD/DVD or USB. The system is then booted via CD/DVD or USB (needs to select the boot option in BIOS obviously or hit some hot key during start up).
If you haven't created recovery image when first started the program (you'll see the notification), you can create the recovery media (an ISO file) via start menu and launching the Veeam Endpoint Recovery Media. You'll be able either to include hardware drivers from your computer, which is recommended or you can un-check the button.
The utility is based on Windows PE Windows RE components (see Dmitry's commend on more details) bootable environment from Microsoft, and personalized by Veeam.
Here is the shoot from the first screen after the recovery tool finishes the boot process: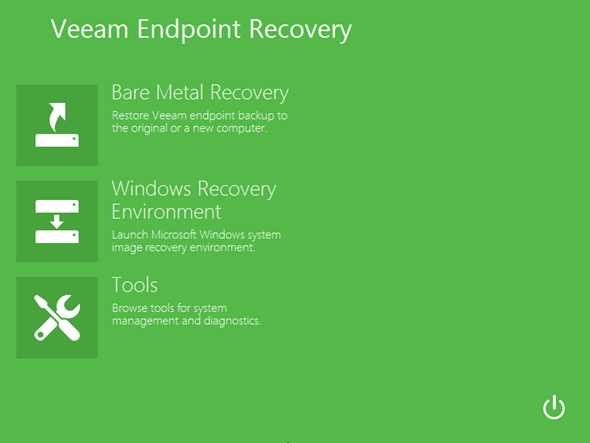 And when you click the Tools button you'll end up on the second screen…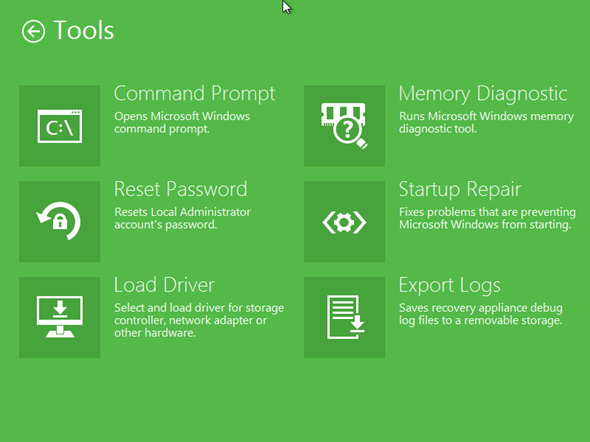 Veeam Endpoint Backup
Veeam Endpoint Backup product shall be out in about a week and will allow to backup physical computers/server on regular basis where schedulled backups will allow to proceed with three different types of backup:
Bare metal backup of entire computer
Volume backup allowing you to choose individual volume
File level backup – backup individual files (filter by mask)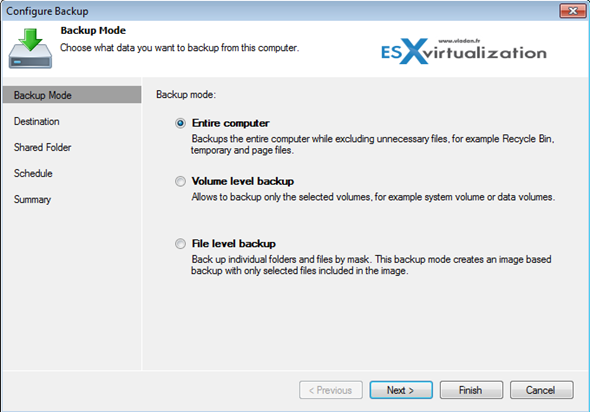 The destination of backups can be either local or via network based:
USB drive connected to the system
Another internal disk
Via network – Network attached storage, shared folder on another server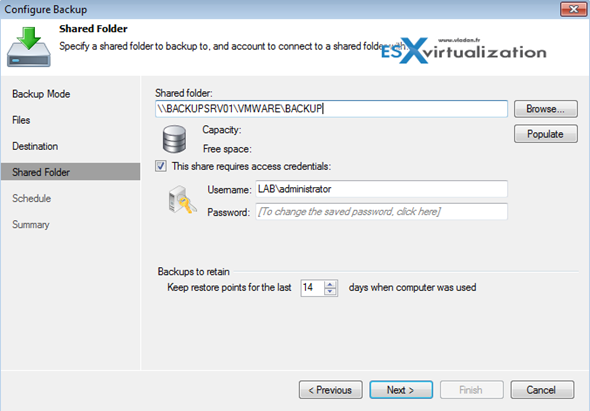 The built-in scheduler options allows you to keep recent restore points. Note the option to initiate backup during:
Storage attach
At Log off
At Lock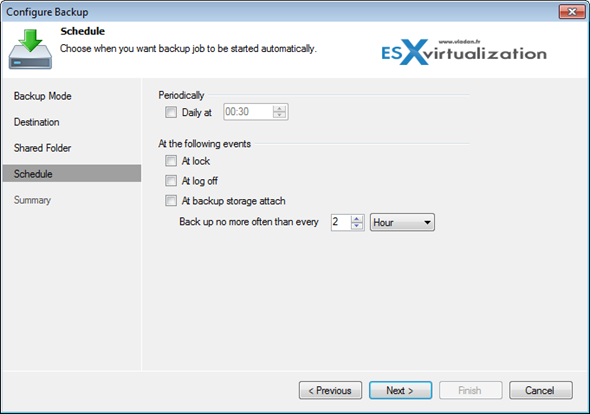 First backup is full and then there are incremental which finishes faster.
Here is an example of backup of my laptop where about 60 Gb of data were backed up in about 40 min (over wifi network connection to a network share).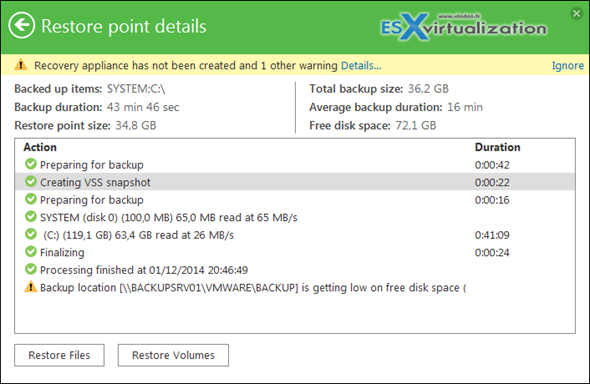 Also note the notification message, as a reminder to create the recovery appliance. Lastly you can see the time difference between the first full and the incremental backups.
My  first backup failed because I did not specified the network credentials to access to that share. -:)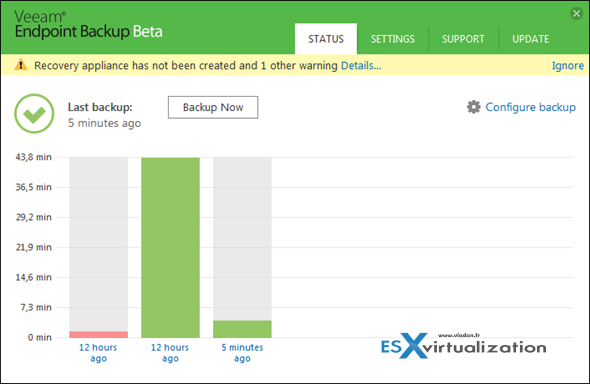 So far I'm impressed with the quality of the product.
It's intelligent – gives you:
Notification when you destination storage is getting low on disk space
Notifies you that you haven't created recovery appliance for your system yet
Gives you detailed reports when clicking the job
Very Good job guys!
Oh, did I mentioned that the product will be released as Free? You can register to be informed about the availability of the product here.
I've recorded a quick video showing how to build a recovery media (USB stick in my example) so you can use the Bare Metal Restore and boot an unbootable system or system where you want to restore a system disk.
Best to watch in HD and full screen…
Note that you'll have to use some kind of bootable media, CD/DVD or USB stick in order to boot an unbootable system or a system that you want to restore to a different point in time.
If you boot the system with bootable media, then only you can chose a restore point from backup.