It has been a few weeks since Veeam has released their latest release and many people were thrilled with this release. Not only because it brings again some good new features and innovations, but because Veeam's updates were always smooth and without trouble. At this point, Veeam is working hard to deliver Patch 1 which will make the v9.5 compatible with VMware vSphere 6.5, but those of you who are still on vSphere 6.0 or even lower, you perhaps might be interested in this post where we'll walk you through the upgrade process – How-to Upgrade To Veeam Backup and Replication 9.5 is today's post.
We have detailed the v9.5 release in our in-depth post here. There is a lot of innovation again in the 9.5 and we're quite impatient to be able to test the backup product with the latest release of VMware vSphere. The lab is currently running AF VSAN 6.5 and vSphere 6.5.
Veeam v9.5 packed in some good stuff:
Windows Server 2016 and Hyper-V 2016 support
ReFS integration (Check my post)
Direct Restore to Azure (details)
Nimble Storage integration
vSphere infrastructure cache make the life of a backup admin even faster. vSphere infrastructure cache keeps inventory in memory. No longer you'll have to wait until the list of inventory expands and also for a "Building VM list" message. Veeam is introducing a new component called Veeam Broker Service which acts as a cache. This service collects and caches vSphere infrastructure hierarchy in RAM for access at Memory Speed.
Advanced data fetcher for enterprise storage. The feature does not penalize your production workloads, not putting more pressure on your primary storage. Basically, it reduces load from backup and replication jobs on primary storage.
The 9.5 of Veeam is GA (including also Update 1 within the same ISO) and you can download it now !!!
Veeam 9.5 Requirements:
I'm assuming that you're running one of the supported version of Veeam which 9.0 (any update) or at least 8.0 Update #3. Also, make sure that Veeam runs on any of the supported OS. If not, you'll have to migrate to a supported system first.
Download latest v9.5 Iso:
Perhaps you're running the 9.5 from earlier ISO. In this case first:
Confirm you are running version 9.5.0.580 prior to installing this update. You can check this under Help | About in Veeam Backup & Replication console. After upgrading, your build will be version 9.5.0.711.
If you're running an older build and the above is not the case, please update your system with Day 0 Update which you can download here. (login first)
How-to Upgrade To Veeam Backup and Replication 9.5 – the steps:
SQL backup – Take a backup of the Veeam SQL database (via SQL management studio)
Configuration backup – Do a configuration Backup (via the menu on the Veeam Backup product)
Take a snapshot of the VM (if the product is installed in a VM)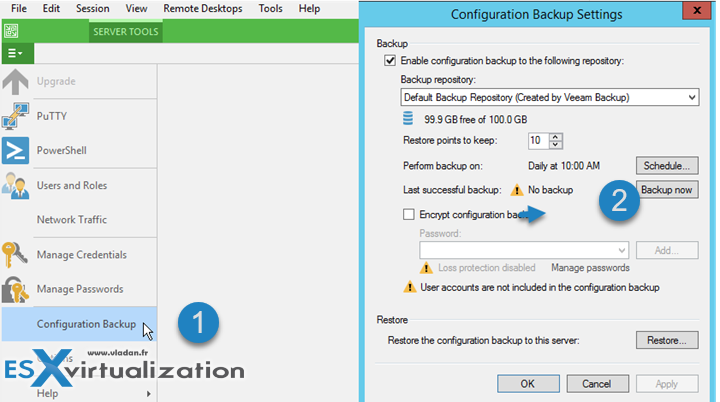 Make sure that no jobs are running. (

including restore sessions, Instant VM Recovery sessions, and SureBackup jobs) Do not stop running jobs but let them complete successfully. Disable any periodic and backup copy jobs temporarily so the will not start during the upgrade.

Mount the ISO and launch the setup.exe , then hit the big upgrade button to start the upgrade process.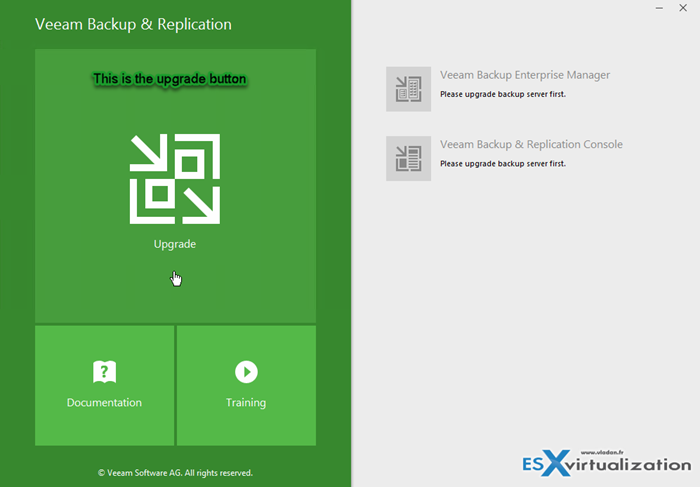 Then acept the EULA and hit the next button…

Then check you have your license already installed (my case) and Install the required features.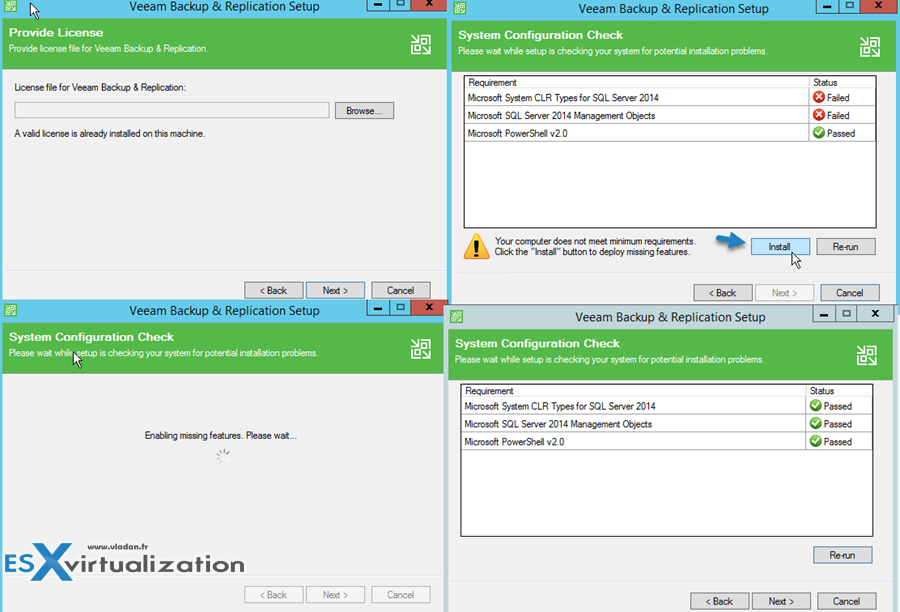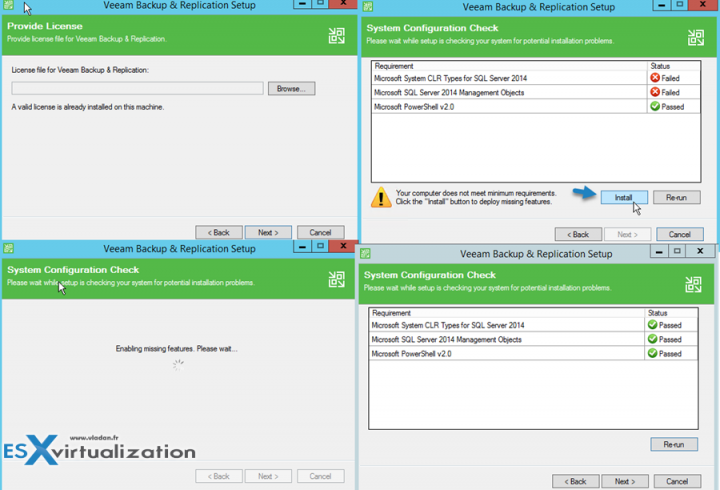 Choose an account to be used for Veeam Backup and Replication service. (I use the LOCAL SYSTEM account by default) and specify which SQL  instance you're upgrading.

Confirm and start the installation process. After it finishes, click the Finish button.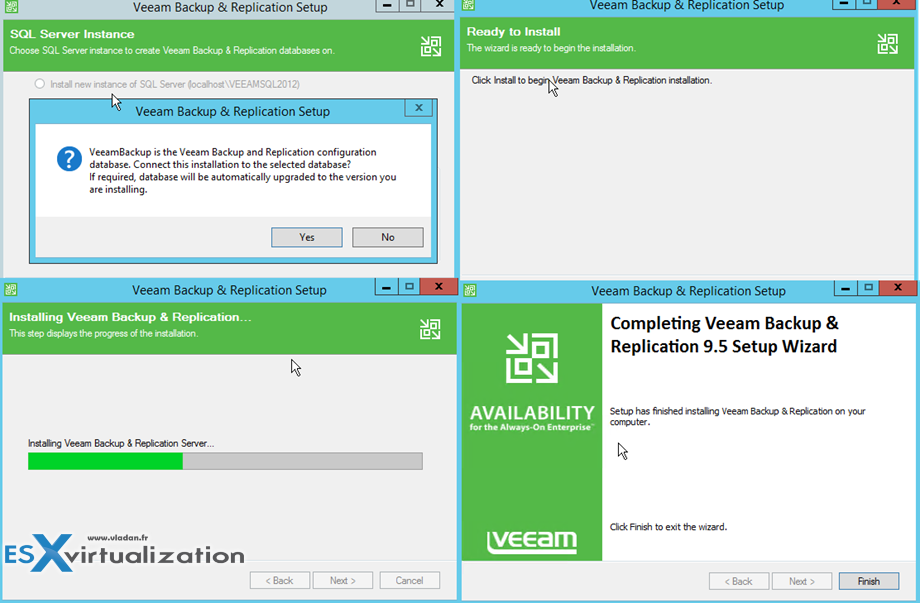 You'll see this console appearing again. You can install Veeam Backup Enterprise Manager. If you willing to do so I'd recommend restarting the Windows server.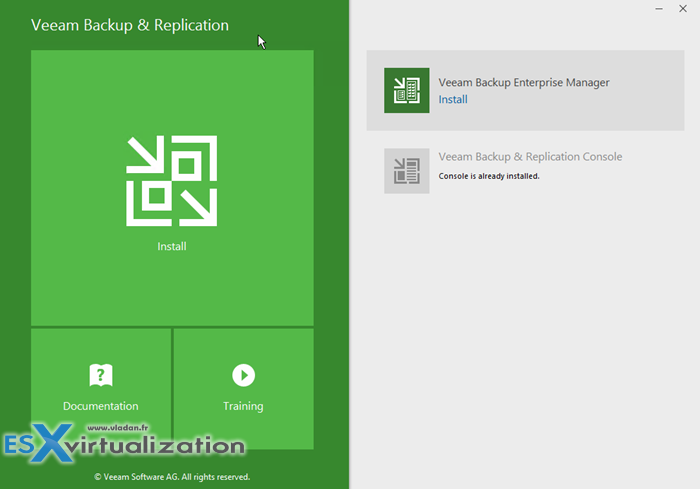 Then you can also watch a video I've recorded. Enjoy in HD 1080p and in Full Screen!
Update: Veeam released new ISO. This new ISO from Veeam that has been announced by Anton Gostev includes the latest unannounced feature – Integrated Updates.
From now on, you no longer have to download and install the latest update separately – it is included on the ISO and is installed automatically as a part of the product installation.
Check it out Veeam Backup & Replication 9.5 ISO With Update 2  – Get Your Copy!
Download 30 days trial of Veeam v9.5 now !!!
More:
More general VMware posts from ESX Virtualization:
Stay tuned through RSS, and social media channels (Twitter, FB, YouTube)