Veeam Backup and replication v 9.5 Released and available for download! Veeam Availability Suite 9.5  is here !!! The 9.5 has been RTM (released to manufacturers) since about 2 weeks, and it means that before the actual release to the general public, service providers have about 2 weeks to upgrade their infrastructures in order to provide Veeam Backup portal functionality for clients which will upgrade their on-prem infrastructure with the Veeam 9.5 Release. If you were lucky and attended VMworld US or Barcelona and saw a Veeam Availability Suite 9.5 Deep dive, then in this post you won't learn much more than you saw in that session (SDDC9461).
Update: Get Latest ISO from Veeam with ALL patches INCLUDED
Veeam released new ISO. This new ISO from Veeam that has been announced by Anton Gostev includes the latest unannounced feature – Integrated Updates.
From now on, you no longer have to download and install the latest update separately – it is included on the ISO and is installed automatically as a part of the product installation.
Update: Veeam 9.5 U3 is available.
Veeam Backup v9.5 brings some significant enhancements to the performance of backup and restore operations. A backup directly from storage snapshots, Hot add with proprietary transport or Direct NFS, all those 3 features brings more speed to backup operations to the limited backup window you usually have. But v9.5 brings another enhancement – Advanced data fetcher for enterprise storage. The feature does not penalize your production workloads, not putting more pressure on your primary storage. Basically, it reduces load from backup and replication jobs on primary storage. The feature, in addition, goes hand in hand with Backup I/O control (dynamically check for the datastore and check the latency. If the latency is above a threshold, then the backup job will not start. It's automatic load balancing. Existing tasks are throttled (slowed down) if target latency is exceeded to bring storage latency back to acceptable levels.) so your SLAs aren't affected.
Another increase in speed has been achieved with operations with vCenter server. Veeam reviewed all the interactions and queries that are done against vCenter, via API, but they introducing a new component called Veeam Broker Service which acts as a cache. This service collects and caches vSphere infrastructure hierarchy in RAM for access at Memory Speed. It means that the system does not need to do periodic cache refresh because it's kept up to date with real-time incremental updates via subscription to vCenter server events. Veeam jobs will fetch the vSphere topology from RAM cache instead of from requesting the information from vCenter on regular basis. It allows to start jobs almost immediately, and also puts less pressure on the already very busy vCenter server.
Veeam ReFS Integration – I have already posted about this my favorite feature, but let's add some interaction as well. As you know Windows Server 2016 is available for download since few weeks. Part of the release is the ability to use ReFS file system to format volumes. You now have a choice of using NTFS or ReFS. The ReFS has built in scanner which is used for auto-healing. This proactively running scanner called scrubber scans the volume for errors periodically in a background and allows proactively monitor the volume for errors and correct them. You can't use removable media and format them with ReFS, or USB attached hard drives.
Veeam integrated ReFS and are able to create In-place synthetic full backup files via BlockClone API (no copying of blocks around). As a result, you'll get space-less synthetic full and GFS backup files.
Advantages:
Space Savings
10x Faster than traditional
Reduced pressure and better performance of primary backup storage
Here are a traditional v9 Backup and creation of synthetic full backup (by copying blocks around). As a result, there is an increase of capacity on the repository…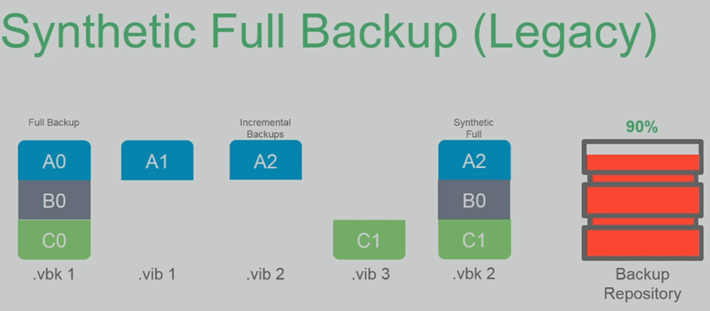 And here is the same with ReFS as a destination repository…. As you can see, the Synthetic full file is created by creating pointers only. The backup repository capacity doesn't change…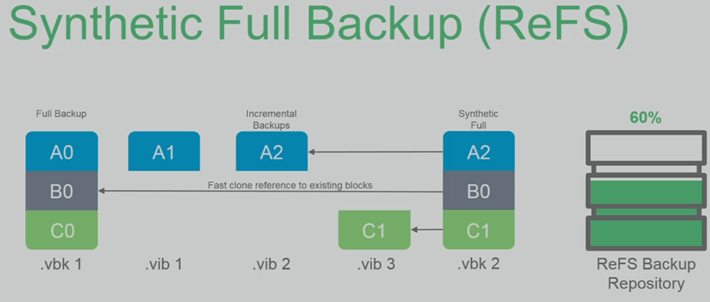 Concerning a possible data corruption questions:
Veeam automatically enables ReFS data integrity streams, which are leveraged by ReFS. You have two possible scenarios:
Veeam relies on Microsoft's technology called data integrity scanner which will detect and notify you of silent data corruption. (on Simple ReFS volume).
On Storage spaces or Storage Spaces direct (S2D), the scanner will not only detect and notify but also fix silent data corruption via [enclosure and rack aware] mirror or parity sets. But this is only part of the more expensive, Datacenter edition of Windows Server 2016.
Nimble Storage Integration
There is newly integrated Nimble storage within the v9.5. So now Veeam can do:
scheduled, application-consistent storage snapshots.
Orchestration of snapshot replication to a secondary array.
Backup and restore from storage snapshots (on both primary and secondary arrays)
Veeam will support Windows Server 2016. The support for Microsoft's application like SQL, SharePoint or Exchange versions for Windows Server 2016 is also supported.
vCloud Director Integration
The feature, that has been here for a long time and used only by service providers. Now, Veeam has a new Web portal which allows clients to do a self-service backup. There is a web-based UI for the job management and restore functionality with native vCloud director authentication.
Native authentication – user sees only his/hers VMs, and not VMs from other tenants/clients.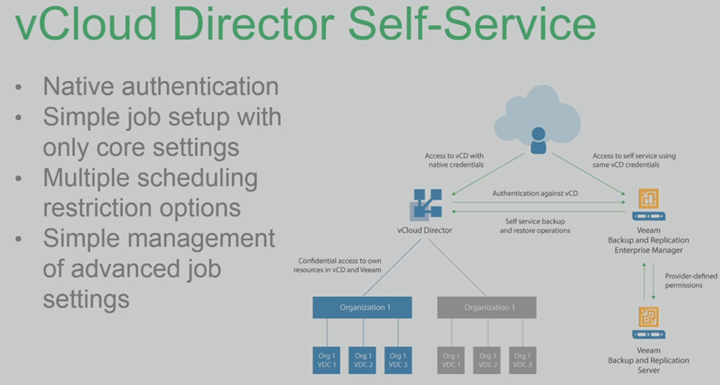 Direct restore to Microsoft Azure – you can restore any computer from any Veeam backup to Azure (including Veeam Free Edition – VeeamZIP). It means that all 3 versions of Veeam (Veeam B&R, Veeam Agent for Windows (previously Veeam Endpoint Backup Free) and Veeam Agent for Linux, can be used…. -:)
Further also:
Automatic installation of Azure Management agent
UEFI to BIOS conversion
Enable remote desktop and Windows firewall rules
Support for Classic and Azure Resource Manager models
Option (Gateway server in Azure) for faster and more reliable upload (automatically deployed and managed without the need to have a VPN connection).
Other Veeam Backup and Replication Improvements
Parallel disk restores – Now Veeam will be able to restore multiple VMDKs in parallel.
Proxy Affinity rules – the backup proxies are tightened to simple backup repositories and scale-out backup repository extents.
Direct NFS Proxy location awareness – There will be intelligent load balancing by selecting the best Direct NFS proxies based on the number of hops to datastore.

TAPE – Restore VM directly to tape
TAPE – Automatic tape drive cleaning
File to Tape job scalability and performance improvements

Oracle – self-service DB restore portal for Dev/DBA
Instant Recovery for Physical computers – in Hyper-V VM. It does require Hyper-V installed (Role) on the backup server.
Download Veeam Availability Suite v9.5 Update 3 ISO here
More general VMware posts from ESX Virtualization:
Stay tuned through RSS, and social media channels (Twitter, FB, YouTube)