This has been in my draft for ages and I apologize for that not publish about this earlier. I'm sure that most likely everyone knows, BUT just to make sure that all my readership gets the message too. Today I'd like to highlight that VMUG is Free, but VMUG Advantage With EVAL Experience is Better for a Reasonable $200/Year, where you get ALL VMware Licenses you need for your lab, during one year.
We'll get into the details in a moment, but let me tell you first for who this message is destined most. It's for all IT and VMware folks learning VMware technology on daily basis, passing VMware certification exams and trying to reproduce things in your own lab environments (home lab, homelab nested, Ravello cloud lab, VMware HOL, other cloud environments you might have access to).
Note that the offer has not only VMware Datacenter and cloud product licenses, but also VMware Workstation Pro and Fusion Pro licenses, for those who just have a Windows or MAC box at home, to do nested virtualization.
VMUG Advantage – Why it's useful?
VMware trials expire after 60 days and reinstall the trial every time is pretty painful, a lot of work, depending on what have you constructed and tested. Even for nested environments, there is pretty much a lot of manual steps involved until the lab you wanted to achieve, actually works.
Hence the need for a license which lasts longer. And the case of VMUG Advantage, you have the license valid for 365 days. VMUG Advantage has that EVALEXPERIENCE which gives you the access to ALL downloads and licenses for the whole year.
Get VMUG Advantage with EVAL Experience
Which products are part of the VMUG EVAL Experience?
Here is the list!
VMware vCenter Server v6.x Standard
VMware vSphere® ESXi Enterprise Plus with Operations Management™ (6 CPU licenses)
VMware NSX Enterprise Edition (6 CPU licenses)
VMware vRealize Network Insight
VMware vSAN™
VMware vRealize Log Insight™
VMware vRealize Operations for Horizon®
VMware vRealize Operations™
VMware vRealize Automation Enterprise
VMware vCloud Suite® Standard
VMware Horizon® Advanced Edition
VMware Fusion Pro 10
VMware Workstation Pro 14
The Process has been documented elsewhere many times, but for those ones who do not know how it works, here is the outline:
1. Purchase VMUG Advantage here
VMUG Advantage, Including EVAL Experience
2. Once you've made your $200 purchase, visit
And login to your space. It will give you access to the downloads and licenses.
I've found a PDF online which details the steps as when in the "shop" section you actually have to buy the products (add them to cart), but the payment is FREE…. (here is the direct link to the PDF if you want to have a look…)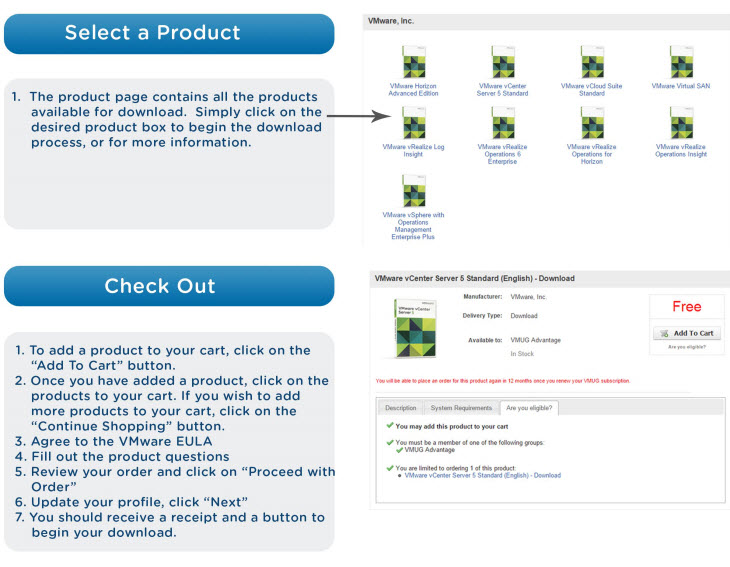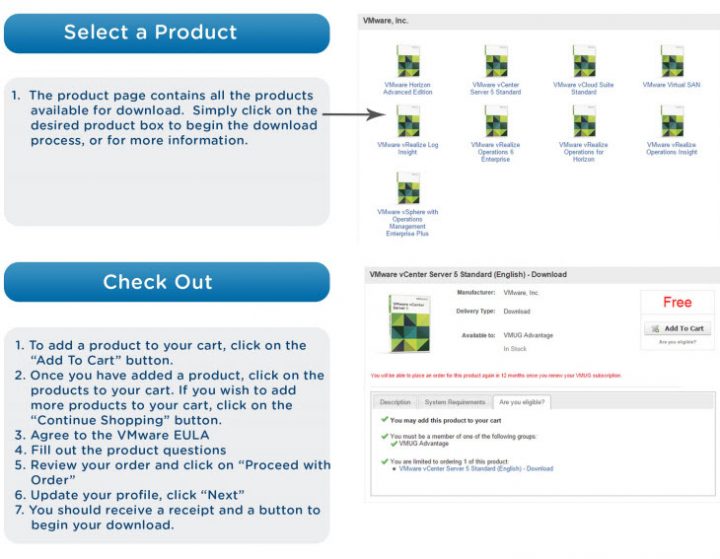 Note that there are other promos and discount within VMUG Advantage
Quote:
Whether the VMUG membership is completely free, the annual VMUG Advantage subscription costs $200, but it offers a number of discounts and perks that can save IT professionals costs on VMware training, certification, product licenses and even attendance at VMworld, VMware's annual user conference. There are also corporate discounts available that can bring down the $200 price of the membership.
The full list of benefits VMUG Advantage:
EVALExperience
20% Discount on VMware Training Classes
20% Discount on VMware Certification Exams
35% Discount on VMware Certification Exam Prep Workshops (VCP-NV)
35% Discount on VMware Lab Connect
$100 Discount on VMworld Attendance
Pretty cool. As you can see, that's a lot for as little as $200/year. This might be interesting to tell your boss to purchase VMUG Advantage subscription for you, actually. Don't you think?
Tell Your Boss you need VMUG Advantage
Yes, VMware has even prepared a document which you can copy/paste and send for approval.
Quote:
Need help on educating your boss on the importance of purchasing your VMUG Advantage membership?  We have created a justification email for you to use. Please edit or revise the letter to fit your needs.
Here is the link to VMUG Advantage:
Act now: Get VMUG Advantage with EVAL Experience
Wrap UP:
VMUG Advantage is the subscription you need. Why haven't I blogged about it earlier? It's because ESX Virtualization is VMware partner so we have those necessary license keys for our lab. I'm also part of the VMware vExpert program since its inception, so part of the vExpert program is the 365 eval keys too.
But for users which are simple employees, not vExperts and are not VMware partners, this is a super deal IMHO. The fact that there are other discounts tightened to the VMUG Advantage makes it even better deal which can give substantial savings to the company you're working for.
Note: 
Just recently, VMware has opened a registration for VMworld 2018. When registering early, you have a possibility to benefit from early bird pricing. The registration is now open. Register here. Discounts for groups, VMworld alumni, VMUG Advantage Level members, VMware Certified Professionals, and attendees in the government and education sectors are available.
More from ESX Virtualization
Subscribe to RSS, and social media channels (Twitter, FB, YouTube)