New version of VMware Fusion 7 and Fusion 7 Pro version has been released yesterday bringing more efficiency (up to 46% compared to Fusion 6), more performance and more features. Fusion Pro version can run a greater range of operating systems (over 200) and has a supports for iSight cameras in VMs. It can also connect remotely to vCenter server – a feature that Workstation 10 already has.
VMware Fusion 7 and Fusion 7 Pro brought optimization and efficiency. But what exactly had been improved?
Optimized for the latest Intel Core i5, i7, and Xeon E5 processors, Fusion 7 Pro delivers up to 43% improvement in CPU – intensive operations like multimedia, encryption/decryption, and other strenuous performance tests. Leveraging the Macs faster memory and SSD performance, and greater power under the hood, Fusion 7 Pro lets you run Windows applications at near-native performance.
Another interesting feature is concerning graphics. You can now give graphics-intensive applications an additional boost by allocating up to 2GB of video memory to a virtual machine.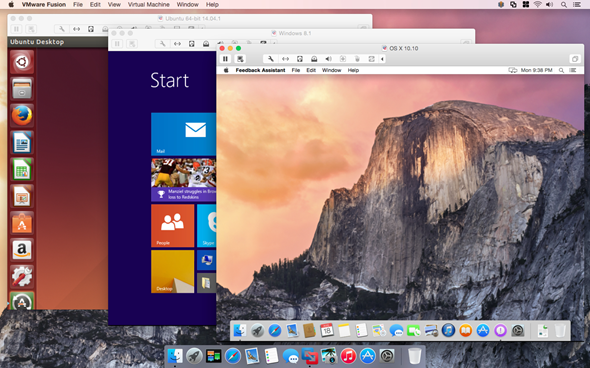 From the release notes:
VMware Fusion Pro has been updated for OS X Yosemite. Visual changes include a new flatter application icon, changes to include translucent elements, and Yosemite style full-screen behavior.
VMware Fusion Pro includes the latest virtual hardware revision with support for:
Advanced Haswell processor features, including AVX2 inside a virtual machine
A new virtual webcam, making it easier than ever to use your webcam with Windows applications
An updated, virtual USB controller with support for XHCI 1.0
A new approach to video memory that enables the VRAM limit to be specified per virtual machine
The amount of VRAM configured is not limited by the VRAM available to the host.
The ability to specify a preference for the integrated or discrete GPU
On recent Mac Book Pros that contain both GPUs, this can result in increased battery life for lightly used virtual machines.
VMware Fusion Pro is more efficient than ever with wake-ups reduced by over 60% for lightly used virtual machines.
OS X Yosemite can now be used inside a virtual machine.
VMware Fusion Pro now shows the status of each virtual machine in the library list view. This is particularly useful for power users working with many virtual machines.
Improved support for Retina displays, including changes to Unity mode and the ability to control how Fusion scales when moving between Retina-class and standard density displays.
Direct sounds from virtual machines to a specific audio device on your Mac.
Per-virtual machine shortcut keys make jumping quickly between operating systems a breeze.
Improved support for Linux in virtual machines including CentOS 7 and RedHat Enterprise Linux 7.
The ability to access virtual machines running on VMware vSphere, VMware ESXi, and VMware Workstation directly from VMware Fusion Pro including:
Remote display, keyboard, and mouse control
Ability to select media for CD, DVD, floppy devices, including files on your Mac
Ability to power virtual machines on and off and configure the network they connect to
Ability to move virtual machines from your Mac to a remote location by dragging and dropping
Ability to move virtual machines from a remote location to your Mac by dragging and dropping
See the state of your remote server with at-a-glance health summary based on Activity Monitor
VMware Fusion 7 and VMware Fusion 7 Pro are available today for $70 and $150 respectively. VMware Fusion Upgrade costs $80, if upgrading from Fusion 5 or 6. (unless you purchased version 6 after August 1 2014 – in this case the upgrade is free).