VMware quietly released another iteration of their flagship virtual desktop management software solution Horizon View 7.5. The product has been updated after several months only where Horizon 7.4 released has brought significant new features like Linked-clones for Linux desktop pools, or . as well. It clearly shows that VMware is really working hard in order to get all application on all devices, and now clouds.
In this new release, it's possible to deploy desktop pools that contain full virtual machines on VMware Cloud on AWS to scale Horizon 7 desktops and applications on an elastic cloud platform.
Since several releases, VMware started to call Horizon suite with another name – VMware Just In Time Management Platform (JMP). It's a Platform where leveraging APIs and VMfork technology we can clone VMs very fast. We've done some installation and tests in a lab a while ago, and we were quite impressed by this technology.
The whole JMP Platform is composed of Instant Clones, App Volumes, User Environment Manager and Workspace One.
Note: Horizon 7 Enterprise Edition includes all the same features as the Standard and Advanced Editions, and adds the JMP technologies: Instant Clone Technology, App Volumes, and User Environment Manager.
Overview from VMware PDF called Deploying VMware JMP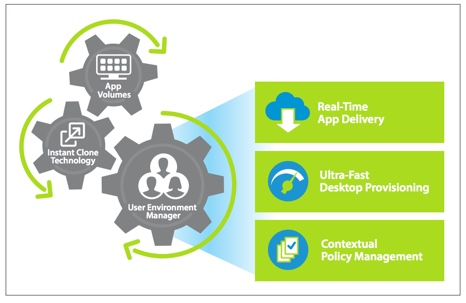 VMware Horizon 7.5 What's New?
There are some significant enhancements which has been added to Instant Clones:
Multiple vGPU profiles are supported for instant clones.
You can select either PCoIP or VMware Blast (non h264 hardware encode) as a display protocol with NVIDIA GRID vGPU for an instant-clone desktop pool.
You can change the 3D vSGA or 3D software settings for instant-clone pools.
And last but not least, Horizon 7 version 7.5 supports instant-clone API in vSphere 6.7.
From the release notes:
Horizon Console

Horizon Console is the latest version of the Web interface through which you can create and manage virtual desktops and published desktops and applications. Horizon Console also integrates VMware Horizon Just-in-Time Management Platform (JMP) Integrated Workflow features for managing workspaces. For more information, see the VMware Horizon Console Administration document.

Deployment on VMware Cloud for AWS

You can deploy desktop pools that contain full virtual machines on VMware Cloud on AWS to scale Horizon 7 desktops and applications on an elastic cloud platform.

Virtual Desktops

You can create a virtual machine in vSphere to use Virtualization-based security (VBS). Using a virtual machine enabled with VBS provides better protection from vulnerabilities within and malicious exploits to the operating system.
For an automated desktop pool that uses full virtual machines, if you use a virtual machine enabled with VBS, you can add a vTPM device for enhanced security.
Horizon 7 supports vSphere 6.7.

Cloud Pod Architecture

The total session limit is increased to 200,000 and the total site limit is increased to 10.
You can configure desktop shortcuts for global entitlements.

Horizon Help Desk Tool

Horizon Help Desk Tool is integrated into Horizon Console
You can troubleshoot Linux desktop sessions in Horizon Help Desk Tool in Horizon Console.
Horizon Help Desk Tool displays the following metrics:

Skype for Business pairing status
State of the application or desktop session
Disk IOPS data
Since several releases, VMware Horizon View improves over previous releases. This is done through continuous innovation and technical improvements. Those innovative technologies are getting integrated into the suite sooner or later.
For example, the VMware Blast Extreme technology with adaptive transport has significant advantages compared to its predecessors. It dynamically adjusts to varying bandwidth, latency and packet loss.
VMware Blast uses standardized encoding schemes (JPG/PNG and H.264 for pixel encoding), and Opus for audio. Those standard formats are supported natively, and are more efficient, by displaying the media in browsers and mobile devices.
Horizon View Client – What's new in Horizon View 7.5
From the release notes…
HTML5 Multimedia Redirection support for the Edge browser
You can now use the Edge browser with the HTML5 Multimedia Redirection feature. Previously, only the Chrome browser was supported.
Support for subdirectories with URL Content Redirection
URL Content Redirection now supports subdirectories. For example, if you specify .*.acme.com/software in a rule, all URLs that include the text acme.com and the subdirectory /software are redirected. For example, 

http://www.acme.com/software

 is redirected.
Simple Device Orientation (SDO) Sensor Redirection
The SDO sensor redirection can sense changes in the screen orientation of a client device and accordingly display a different view on the device.
VMware Logon Monitor
VMware Logon Monitor monitors Windows user logons and reports performance metrics intended to help administrators, support staff, and developers to troubleshoot slow logon performance.
VMware Horizon Performance Tracker 
VMware Horizon Performance Tracker runs in a remote desktop and monitors the performance of the display protocol and system resource usage. You can also create an application pool and run Horizon Performance Tracker as a published application.
The previous release of Horizon View has also brought improvement concerning VMware Identity manager.
VMware Identity Manager Integration – Identity manager is integrated with CPA, where it will present the desktops or applications available from any CPA Pod.
Instant Clone (aka VMfork) technology
It uses a copy-on-write architecture similar to that of containers, meaning that if an application running in a child VM tries to change a shared OS file, a copy of the shared file is created and stored in the child VM.
What is User Environment Manager?
Quote:
User Environment Manager offers simplified profile and policy management with personalized access across devices and locations for end users. Just as App Volumes separates applications from the OS, User Environment Manager decouples personalization from the OS. Users can log in to a different Windows OS and retain their settings.
The VDI suite from VMware has been transformed and if you're not following closely this space, you're left behind. That's the case for some, but not for others. We'll continue to closely monitor this VDI space and technology as finally the main motto of this year, is:
This year is the year of VDI -:).
BTW, I know it is not true.
More from ESX Virtualization
Subscribe to RSS, and social media channels (Twitter, FB, YouTube)