Everyone knows how VMware EVC works on a vSphere cluster (and VMware calls it now Cluster-level EVC). vCenter Server's CPU compatibility checks compare the CPU features available on the source host, the subset of features that the virtual machine can access, and the features available on the target host. But vSphere 6.7 has brought Per-VM EVC, did you know? This post will explain What is VMware Per-VM EVC.
With Per-VM EVC you are now able to set the EVC mode of a VM to ensure that that VM can be migrated across clusters, vCenter Server systems, and data centers that have different processors, without errors.
Per-VM EVC is tightened to virtual hardware 14 so before using this feature, you must upgrade your VM to this hardware level. This is something which you should think of before doing it as there is no easy way back. The EVC mode of a virtual machine is independent of the EVC mode defined at the cluster level.
vSphere 6.7 and virtual hardware version 14 (VMX-14), this is now a setting that can be applied to virtual machines individually. The VM must be off to have EVC enabled, but instead enabling it on a whole vSphere cluster, we can enable it on a per VM basis making it more granular.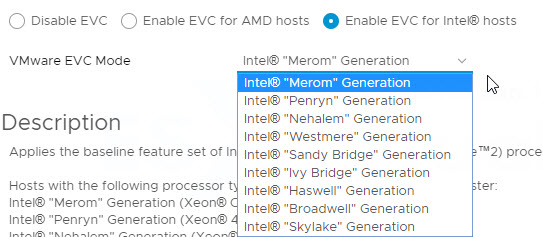 It is the Per-VM attribute which enables a true mobility for VMs, so they can run anywhere. It takes the cluster based EVC and makes it available at the VM object level. It is per-VM setting, which can be done through vSphere Client or you can automate it via PowerCLI.
Note: VMware EVC stands for Enhanced vMotion Compatibility
Per-VM EVC starts with Enabling VMware Virtual Hardware version 14 (VMX-14)
vSphere 6.7 brings Virtual Hardware 14. But when upgrading, you should not just jump in and start upgrading all your VMs to bring them to the latest Virtual Hardware. The VM compatibility level is like changing a motherboard to a VM.
You should only do that for those VMs which needs the features introduced in the latest Virtual Hardware 14. In our case, it's the Per-VM EVC feature we're reviewing today.

VM Hardware 14 adds also support for other features, and also some security and application technologies such the as we talked in our previous posts about vSphere 6.7:
The VM Hardware Version 14 increases the maximum number of virtual disks to 256, which is something that in a rare case is needed, but possibly admins have asked for it.
The security features are:
VBS, vTPM, vIOMMU
vPMEM, updates to vRDMA and vNVMe
Per-VM EVC
But you can find the dedicated post about vSphere 6.7 security here: VMware vSphere 6.7 security features.
Cluster-based EVC and Per-VM EVC Differences
(quoted partly from VMware documentation)
There are several differences between the way the EVC feature works at the host cluster level and at the virtual machine level.
Per-VM EVC – configuration and changes are possible only when VM is powered OFF. (not the case for  cluster-based EVC).
Per-VM EVC – The EVC mode becomes an attribute of the virtual machine. A power cycle does not affect the compatibility of the virtual machine with different processors.
When you configure EVC at the virtual machine level, the per-VM EVC mode overrides cluster-based EVC. If you do not configure per-VM EVC, when you power on the virtual machine, it inherits the EVC mode of its parent EVC cluster or host.
Cluster-based EVC – when you migrate a virtual machine out of the EVC cluster, a power cycle resets the EVC mode that the virtual machine has.
Cluster-based EVC – If a virtual machine is in an EVC cluster and the per-VM EVC is also enabled, the EVC mode of the virtual machine cannot exceed the EVC mode of the EVC cluster in which the virtual machine runs. The baseline feature set that you configure for the virtual machine cannot contain more CPU features than the baseline feature set applied to the hosts in the EVC cluster.
For example, if you configure a cluster with the Intel "Merom" Generation EVC mode, you should not configure a virtual machine with any other Intel baseline feature set. All other sets contain more CPU features than the Intel "Merom" Generation feature set and as a result of such configuration, the virtual machine fails to power on.
Per-VM EVC Requirements

What are the benefits of Per-VM EVC?
Your VMs and applications are now truly portable and can run on any hardware. The Per-VM EVC is a VM attribute. It's part of a VM.
You can set the EVC mode of a VM ao your VM can be migrated across different hardware clusters, vCenter Server systems, and data centers.
It's a necessity for hybrid environments (example of AWS).
How to enable Per-VM EVC?
For newly created virtual machines, the EVC mode that shows in the VMware EVC pane is disabled. For powered-off virtual machines, the VMware EVC pane always shows the EVC status defined at the virtual machine level.
There are two ways to enable Per-VM EVC:
Way 1: Via GUI and VM hardware options – It is two-step process basically because first, you have to upgrade your VM to the latest VM hardware first.
Then Select the VM > Configure > VMware EVC > Enable.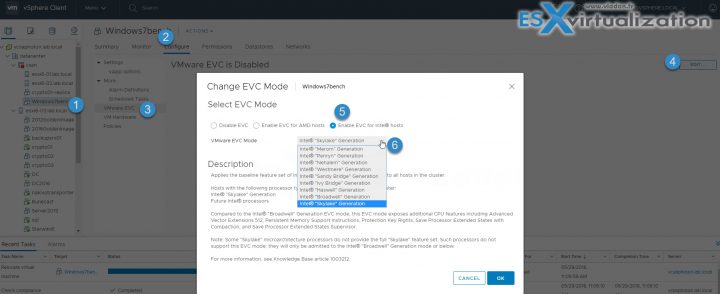 Way 2: Via Power-CLI (detailed blog post by VMware here).
Wrap Up:
Per-VM EVC is a necessary function which needs to be enabled when you're using AWS or other cloud service provider. So your migrations from your On-Premises environment to the cloud environment is flawless.
A Per-VM EVC is one of the features which might make the users think of an upgrade, even though, it needs the VMX-14. However, remember, upgrading your VMs to VM Hardware 14 will make those VMs unable to run on hosts and clusters which does not support VMs with VM hardware 14…
Here are a supported and compatible virtual machine hardware versions in VMware vSphere (from VMware KB:  ESXi/ESX hosts and compatible virtual machine hardware versions list )
I expect this KB to be updated soon to match the new vSphere 6.7.

So this was all we had to say and recap on Per-VM EVC. As you can see, it's a really interesting topic which makes the future bright for VMware, VMware users, and admins. Every release of VMware vSphere adds and packs some really cool features which want us to move forward, move up to get the best virtualization software available today.
Most popular in the SMB sector is the "Essential kits". There are vSphere Essentials or Essentials Plus kits. The Essentials Plus includes 6 CPU licenses of vSphere Essentials Plus (for 3 servers with up to 2 processors each) and 1 license for vCenter Server Essentials. You'll get VMware support for 1 year, within this bundle. If you're not familiar with VMware or you want to know What is The Difference between VMware vSphere, ESXi and vCenter, check this post.
More from ESX Virtualization
Subscribe to RSS, and social media channels (Twitter, FB, YouTube)