A few days back VMware has released their flagship product for VDI – VMware Horizon View 7.3. The latest release brought some improvements and new features such as dedicated instant-clone desktop pools (previously only non-persistent desktop pools could be created via instant-clones). Also, instant-clones can use Windows Server OS
Let's recap a little bit what's the advantage of instant clone technology compared to linked clones (and composer). Unlike linked clones, instant clones do not need to be recomposed, refreshed, or rebalanced. For VDI desktops, when a user logs out of the desktop, that desktop gets deleted and recreated.
This approach to desktop deletion and recreation staggers the patching operation across desktops, eliminates boot storms, reduces storage IOPS, and creates less of a load on the vCenter Server.
VMware Horizon View 7.3.1 – What's new?
Horizon Help Desk tool – integrated help desk utility allowing to display applications process resources with reset control. Has a Role-based access, activity logging, shows horizon client info, has a granular logon time metrics. Also, the tool shows Blast Extreme display protocol metrics.
What is Blast extreme?
Some people might not know that a few years back VMware started with VMware Blast, which was a project which started to work on an alternative to PCoIP, part of what's called Horizon View Feature Pack.
Quote:
Blast Extreme represents an evolution of the display protocol used for HTML Access. Blast—the name of the first version of the protocol—started as a TCP-based protocol. It used a JPG/PNG-based codec to deliver desktops to a browser rather than requiring a native VMware Horizon Client™ on each endpoint device. With Horizon 7, Blast Extreme brings Blast into feature parity with the PCoIP display protocol. Blast Extreme is used for HTML Access and can be used for native Horizon Clients (version 4.0 and later).
Screenshot from Instant-clones PDF document called "VMWARE HORIZON 7 INSTANT-CLONE DESKTOPS AND RDSH SERVERS". Yes, we like this technology.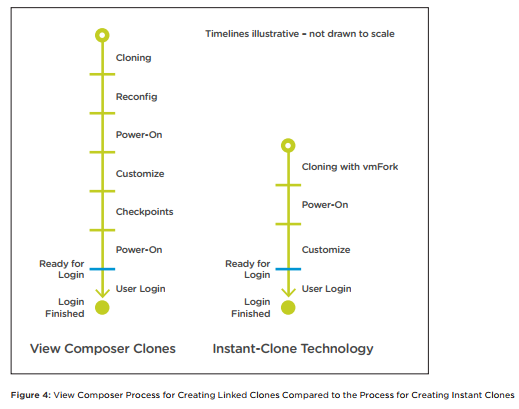 Instant Clones Enhanced – now, instant clones use dedicated assignment to preserve the hostname, IP address and MAC address of a user's desktop. Also, Windows Server OS is supported, and Storage Distributed Resource Scheduler (sDRS) has been added.
Windows Start Menu Shortcuts Created Using the Admin Console – Published applications, Desktops, Global entitlements.
Cloud Pod Architecture is up again – now up to 140 000 sessions, and Seven sites.
Database Support – Microsoft SQL Server 2014 with Always-ON Availability groups is supported.
Skype for Business – Horizon Virtualization Pack for Skype for Business has new features too.
RDSH Support – now for Windows Server 2008 R2 and Windows Server 2012R2.
And more:
Additional NVIDIA GRID vGPU Support – Support for the Tesla P40 graphics card from NVIDIA
HTML5 Video Redirection – View HTML 5 video from a Chrome browser and have video redirected to the client endpoint for smoother and more efficient video playback
Performance Counter Improvements – Windows agent PerfMon counters improvements for Blast Extreme sessions: imaging, audio, client-drive redirection (CDR), USB and virtual printing
Linux Virtual Desktops – KDE support: Besides RHEL/CentOS 6.x, the KDE GUI is now supported on RHEL/CentOS 7.x, Ubuntu 14.04/16.04 and SUSE Linux Enterprise Desktop 11 SP4
MATE  interface is now supported on Ubuntu 14.04 and Ubuntu 16.04, Blast Extreme Adaptive Transport is now supported for Linux desktops, vGPU hardware H.264 encoder support has been added.
USB Redirection – USB redirection is supported in nested mode
ThinPrint Filtering – Administrators can filter out printers that should not be redirected
Wrap Up:
Tons of new stuff, tons of enhancements. It is a big release, this Horizon View 7.3.1 release. If you're into a VDI and have a use case for training class, call centers, or enterprise applications, Horizon View suite is now better then ever before. We cover the evolution of the VDI space for several years, and every year it is the same. Every year they say "this is the year of VDI". But finally, VDI is less "noisy" than all the "cloud stuff" we hear from the left and right.
Now, Linux for VDI is a reality. Since several releases of Horizon View, there is a version for Linux desktops, which supports main Linux distros, and bring down costs for users not requirements to having Windows applications.
But the cloud isn't for everyone. Clients do not like to give their data to cloud providers hiding behind unreadable agreements without responsibility. Clients prefer private cloud where they're in charge of their infrastructure, they stay in control. They not at mercy of some cloud provider… But I imagine that there must be use case for everyone.
Downloads: VMware Horizon 7.3.1 and Horizon Client 4.6!
Purchase links: VMware Horizon
More from ESX Virtualization:
Stay tuned through RSS, and social media channels (Twitter, FB, YouTube)