VMware Horizon Workspace 1.8 which has been released last month is fully compatible with vSphere 5.5 U1. The product grew further with new feature and enhancements. While you can read what's new below, I'd like to point you to New Free 2 hours training for VMware Horizon Workspace 1.8 called VMware Horizon Workspace Fundamentals [V1.8].
If you're new to Horizon you might want to check some of my articles which gives you further details about the technologies used in Horizon, like Octopus or Blast. Check out this post –  VMware Horizon Workspace – New Suite from VMware.
The new training for Horizon Workspace 1.8 is Install, configure, manage and use training. It's an e-Learning which is available online via VMware Education – how to install, configure, and use VMware Workspace. There is 5 modules:
VMware Horizon Workspace Fundamentals [V1.8] Free Training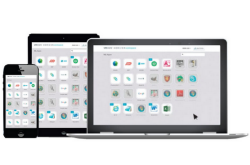 Module 1: Introduction to VMware Horizon Workspace: You will learn how Horizon Workspace works and some of its key features that help end users and IT administrators manage personal and corporate data on multiple devices.
Module 2: Architecture and Components: You will learn about the components that make up the Horizon Workspace architecture.
Module 3: You will learn the key tasks for installing and configuring Horizon Workspace.
Module 4: You will learn how to access the Horizon Workspace interfaces and how to work with the Administrator Web interface to manage Horizon Workspace modules, users, groups, catalog of resources, policies, reports, and how to edit administrator settings.
Module 5: You will learn how users can sign in from the Horizon Workspace user portal, and install the Horizon Workspace client application on the appropriate devices. In addition, this module teaches  how users use the Horizon Workspace features to access and manage their applications and use Horizon Files to manage and share their folders and files.
Get further details and register here.
If you did not see the announce about the Horizon 1.8 release here are some highlights from the release:
Citrix-based Application integration. From the Horizon Workspace User Portal, users can launch Citrix-based applications via XenApp 5.0, 6.0, and 6.5 using single sign-on.
VMware ThinApp package delivery to Windows desktops. Horizon Workspace provides delivery of ThinApp 5.0 packages with 32-bit/64-bit applications to all Windows devices.
Microsoft Office 365. Single sign-on from Workspace to Microsoft Office 365, SharePoint, and Outlook 365 web applications. Browser based and native email clients are supported.
Horizon Workspace User Portal and App Center. The User Portal has been enhanced to make application resource management easier. The App Center provides users with self-service category filtering, which shows the latest applications added.
Web application links. IT administrators can now create Web application links that do not require user authentication, allowing administrators to create static Web links.
Enterprise enhancements, including the following.

Support for multi-forest Active Directory deployments. You can integrate Horizon Workspace with multiple Active Directory (AD) forests.

Application access policy. IT administrators can apply access policies and select different authentication methods based on application type.
Support for enterprise branding of Horizon Workspace.

VMware Switch enhancements, including the following.

Support for Android 4.2 (JellyBean) as the workspace operating system.
Support for Android tablets.
Enhanced Horizon Mail 1.7x.
Links:
Source: VMware Education Blog