vSphere 5.1 features has been unveiled. There are enhancements and new features in every level of the vSphere Suite. There are changes at the product level ( new products, like VDP ), features level ( Virtual hardware v 9, VXLAN, Space Efficient Sparse Disk format – New  ….) there are changes at the licensing level (no "vRAM Tax" any more… ), the number of changes and features just starts the Virtualization game from beginning, once again.
A new VMware vSphere 5.1 Web Client has been introduced, which is faster and uses less resources. .The new web based client isn't limited to Windows environments and it's more resilient. The new vSphere 5.1  Web client uses Flash plugin (like VMware View) so the GUI is really nice.
Express Install of vSphere 5.1 – Installation process has been simplified to install the VMware vSphere 5.1 suite. There is now Simple Install button, which can be used to install the necessary products one after another using the same installer.
Custom Install – There is also Custom Install possiblitity as well, which let's you customize the installation, and install different components, like the New vSphere 5.1 Web client, or the Single Sign-On,  on different servers, to improve scallability.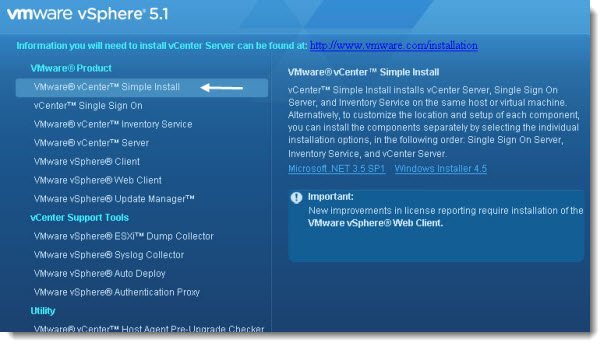 As I report in my article about the Virtual Hardware version 9, the new vSGA format can be used to run basic 3D workloads, which is especially usefull in VDI environments, where you can assign dedicated virtual desktops with that capability to people who needs it. A graphically rich and intense applications such as full motion video, rich media services, and more demanding 3D graphics can be used.
Boot from FCOE – possibility to boot from software FCOE included in vSphere 5.1
Fibre Channel Support for 16Gb – a 16Gb HBAs are supported now. Stays 8Gb support on the SAN's side where there aren't 16Gb storage adapters available on the market yet.

vSphere 5.1 Enhanced vMotion – Enhanced vMotion enables you to move VMs which runs on local storage on one host to local storage on another host. The VMDK disk files are moved from one side to another without the need of shared storage. The VM moves from one physical host to another. Servers with local disks can now be used for VMware vSphere installations in SMB.
–  Hosts must be managed by same vCenter Server.
–  Hosts must be part of same Datacenter.
–  Hosts must be on the same layer-2 network (and same switch if VDS is used).
VMware Enhanced vMotion is manual process – it means that DRS or sDRS dont' make use of Enhanced vMotion.  There is a limit (soft limit I imagine, which could possibly get tweaked through a conf file) maximum two concurent Enhanced vMotions per host. I think that VMware (as always) setting up things, so they work, so even if there is no doubt that this limit can be lifted, it's clearly not recommended. Read more about enhanced vMotion in my detailed article here – vSphere 5.1 and New VMware Enhanced vMotion.
iSCSI with Jumbo Frame – The Jumbo frames are supported through all the iSCSI adapters ( Software, Hardware Dependent, Hardware Independent).
Storage vMotion Enhancements – Storage vMotion has been enhanced with the possibility to migrate more VMDKs in parallel. Now you can migrate up to 4 VMDKs at the same time if the source and destination datastores are unique. This does not change or impact the number of concurent sVMotion operations. See the graphics bellow.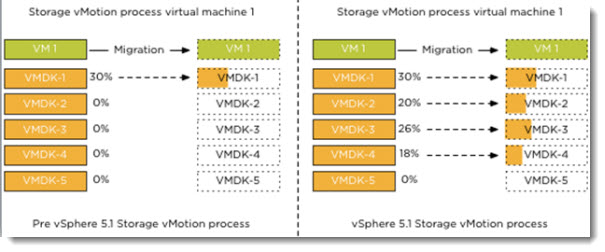 SIOC Enhancements – the Storate I/O control had 30ms threshold defined by default, which leaves the customer to change and adapt best (by hand)to his environment. Now there is an Automatic Latency Threshold Detection where the latency is detected by injector mechanism.
VXLAN Support – vSphere 5.1 introduces a support VXLAN, which works with existing physical network. VXLAN has been created because of several limitations (only 4096 VLANs, rigid hierarchical network design that is dictated by physical switch capacity, once provisionned, the networks are difficult to change on the fly).
What's VXLAN?
To reduce the dependency on the physical constructs we created a new abstraction through VXLAN. With VXLAN we create a overlay network over the existing physical network infrastructure. This overlay networks provides the capability to create logical isolated networks on demand independent of physical network configurations.
The IP packets from the virtual machines are encapsulated in to the MAC frames. This MAC frame is then encapsulated with UDP header and 8 byte of VXLAN Header and a new MAC frame is created for this packet. Because of this encapsulation the virtual machines MAC address is not visible to the external physical switch infrastructure. The unknown unicast traffic is converted in to Multicast instead of Broadcast.
The encap and decap of the UDP frame and VXLAN header is performed by the VTEP, which is a module that runs on the host's vsphere kernel. With the 24 bit field for the number VXLAN network identifier, customers can have 16 million such logical networks. 
VXLAN as a norm is an IETF draft standard supported by companies such as Cisco, Broadcom, Arista, Brocade, IBM. Read more about What's new in VMware vSphere 5.1 Networking in my post – vSphere 5.1 – New Features and Enhancements in Networking.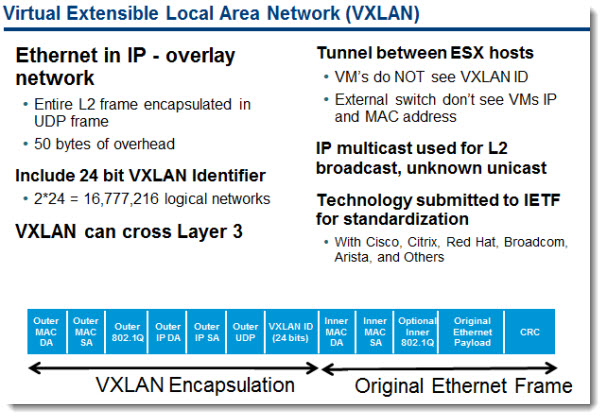 VMware Tools Scheduled Upgrade – with the introduction of Virtual Hardware version 9, there is a possibility to maitain the same level of VMware Tools across hosts, clusters, and (or) datacenters with a cool possibility to schedule the VMware Tools upgrade. In addition, the future updates of VMware tools will not require reboot of a VM… -:).
Instead of to focus on having the latest, up-to-date VMware Tools installed, you can leverage the Compatibility Level, which is new as well. This is a very powerful feature which again, will make a life of a VMware Admin little bit easier. Read the details in the post – VMware vSphere 5.1 – Virtual Hardware Version 9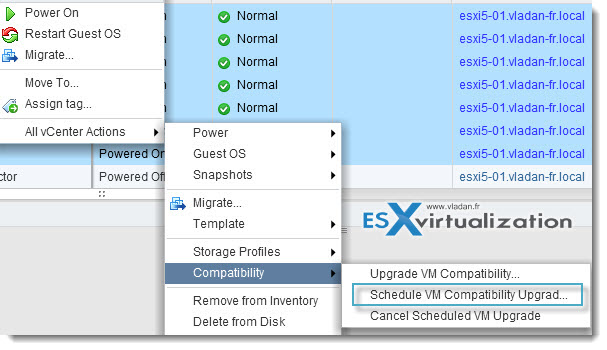 vSphere Data Protection (VDP)
A completely new backup product.
The VDP has the most of the code from EMC's Avamar backup product and in fonctionnalities. It's has more or less the same functions as VDR, (no fancy "Run VM from backup") but much more robust than VDR, and including features that can even rollback the appliance to previous point in time. The backup limit per appliance is 2 Tb and you can have up to 8 VDP appliances managed by single vCenter with tight integration into the New vSphere 5.1 Web Client.
It's agent-less  and disk based backup architecture, which uses vSphere API for Data protection (VADP) with Changed Blocks tracking (CBT) … like VDR does, but there is also some Avamar goodnes there. The appliance uses an EMC's Avamar variable-length segment de-duplication engine to optimize backup and recovery times. De-duplication is used not only within each VM, but across all backups jobs and all VMs being backed up by the VDP appliance.
Read about more details in this product in my article here – vSphere Data Protection – a new backup product included with vSphere 5.1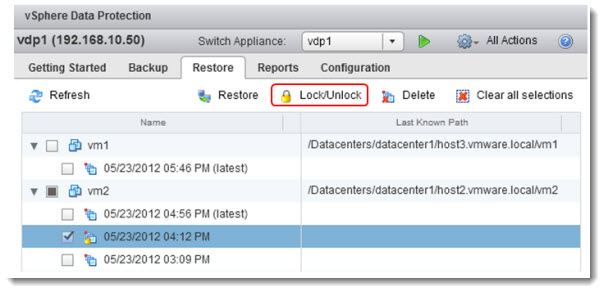 vSphere 5.1 Features – other vCloud Suite product updates.
VMware SRM 5.1 and vSphere Replication (VR) – Hypervizor based replication – SRM 5.1 got more robust "64bit engine" and VR has been further enhanced an improved and licensing requirements lowered including vSphere Essentials packages.  VR can be managed through the new vSphere Web client only. VR can create application consistent copies of entire VMs. This is done through VSS integration through VMware Tools.  You can read all the new features of SRM 5.1 and vSphere Replication in my separate article here.
VMware vSphere Storage appliance (VSA) 5.1  – Shared storage created by VSA can now be resized via the UI, to include any local storage which was left behind. vCenter can now be installed on local storage and then moved to shared storage provided by VSA 5.1, so it can reside on the VSA cluster. This was one of the limitation of VSA 1.0, where the vCenter server had to be installed elsewhere (physical host, VM on local storage only).
Also the capacity handled by VSA 5.1 was increased, now up to 27 TB across 3 hosts, can be handled (previously only 9TB). You can configure up to 12 disks (up to 16 disks can now be supported in an expansion chassis or JBOD ) – previously only 4 –  with RAID 5 (previously only RAID 6 – in the first release only RAID 10) support as well. You can also increase capacity by addin/replacing drives. One vCenter can now manage multiple VSA clusters. There is more improvements in VSA 5.1, read my detailed post here – vSphere Storage Appliance (VSA) 5.1 new features and enhancements.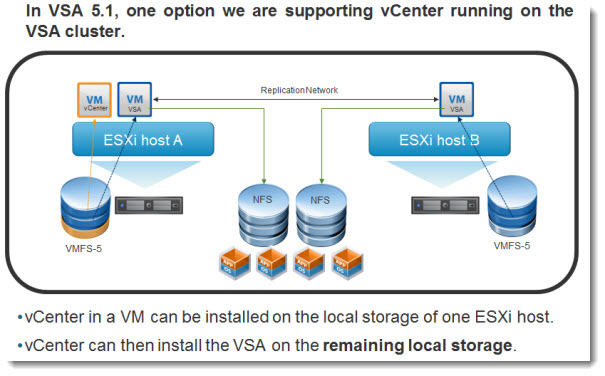 Top vSphere 5.1 Featuress – was a post published first at ESX Virtualization Website.
As for now I managed to publish few other What's new in VMware vSphere 5.1, but there is more to come. Stay tuned via RSS.