vSphere Data protection – a quick guide how to do a VDP install, deploy and use. vSphere Data Protection is a new backup product, which does not bring an additional cost, but it's included in vSphere Essentials Plus and higher VMware vSphere package. The product is based on EMC's Avamar code and present an interesting upgrade for existing customers which are upgrading from vSphere 4.x where vSphere Data Protection (VDP) was bundled.
But to transition from VDR to VDP….? Strangely there is nothing provided. I would imagine having a tool which could tranform or import the backup stores from VDR, but VMware did not said anything about that. A workaround? If you see some workaround, I'd like to hear from you in the comments section… -:).
I've detailed the VDP's specification in my detailed post – vSphere Data Protection – a new backup product included with vSphere 5.1. But but today we'll do the deployment and configuration step by step, to be at the end be able to backup our first VM. The appliance is bundled with ova file format, which is a prepackaged format to be imported in vCenter.
The VDP is linux enterprise server x64 bit edition as an appliance, which is a slight change from CentOS based vSphere Data Recovery product too.
Just a small note before we start. The VDP can be installed on ESX/ESXi 4.x or 5.x, so it's not necessary to update your hosts to the latest version of VMware hypervizor in order to use this backup product.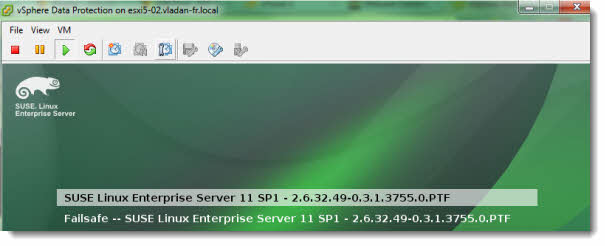 vSphere Data protection needs some planning ahead, before the deployment. You must first think of the sizing of the destination datastores. The  storage cannot be expanded once you choose one of the three sizes which are bundled with the appliance (0.5Tb, 1Tb and 2Tb). Each of those OVA files includes compressed VMDK disk files, and their number differs. The 0.5 has four VMDK files, the 1Tb has seven and the 2Tb appliance has 13 VMDK files.
Note that the VDP appliance needs more space than that on the datastore. In fact you'll need this amount of space on the datastore where you want to deploy the VDP appliance:
For the 0.5 Tb appliance you'll need 850Gb of space, for the 1Tb appliance you'll need 1.57Tb of space, and for the 2TB you'll need 3.02TB of space.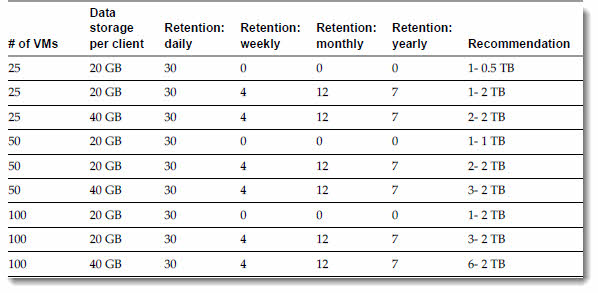 Here is an example which can be found in the VDP 5.1 Admin Guide – and I strongly recommend to download this file from VMware vSphere Data Protection page.
There is limit (I imagine that it's soft limit, which can be tweaked throug a conf. file) of a a number of VMs that can be backed up by single VDP appliance. VDP can back up to 8 simultaneously backups of 8 VMs. That's why you can deploy several VDP appliances in your environment. There can be Maximum 10 VDP appliances connected to single vCenter server.
vSphere Data Protection is more efficient than vSphere Data Recovery (VDR)
The main difference is in the size of segments. The VDP uses Variable where VDR uses Fixed-Length Data Segments. To eliminate a redundant data (and save a lot of storage space) at a segment (or subfile) level there are basically two methods. Fixed or Variable.  So the deduplication mechanism is more sophisticated than used in VDR, and so we should see better backup performance and lower storage needs.
Fixed-length – Fixed-block or fixed-length segments are commonly employed by snapshot and some deduplication technologies. But still, small changes to a dataset can change all fixed-length segments in a dataset, despite the fact that very little of the dataset has been changed.
Variable-length – vSphere Data Protection uses an intelligent variable-length method for determining segment size that examines the data to determine logical boundary points, eliminating the inefficiency.
vSphere Data Protection's algorithm analyzes the binary structure of a data set (all the 0s and 1s that make up a dataset) in order to determine segment boundaries that are context-dependent. Variable-length segments average 24 KB in size and are compressed to an average of 12 KB. By analyzing the binary structure within the VMDK files, vSphere Data Protection works for all file types and sizes and intelligently deduplicates the data.
vSphere Data Protection – the user management.
If you're using Microsoft AD, and vCenter server running Windows Server x64, you must make sure that a user with sufficient priviledges is added to the Administrator's role in vCenter. If you don't, then the VDP appliance won't connect to vCenter and you'll end up with an error like this while following the deployment assistant.

Here is how to do it … There has to be a specific user created when you want to connect the vSphere Data protection product to the vCenter server.
The user has to be  added as administrator on the vCenter server. You'll have to follow those steps in order to proceed:
Login to the vSphere Web Client and select vCenter > Hosts and Clusters.
On the left pane, click on the vCenter Server.
Click the Manage tab and then the Permissions sub-tab.
Click the Add permission icon and Click Add.
From the Domain drop-down select domain, server, or SYSTEM-DOMAIN (in my case I've selected "vladan-fr.local"  as domain.
Select the user that will administer vSphere Data Protection or be the SSO admin user and then click Add and Click OK
From the Assigned Role drop down select Administrator.
Confirm that the Propagate to child objects box is checked and Click OK.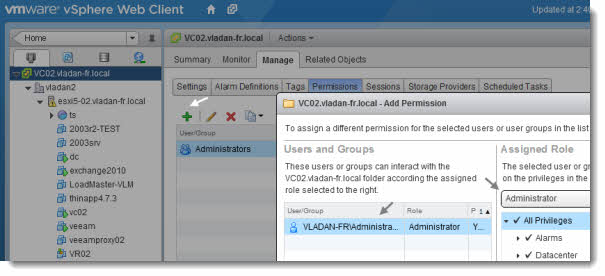 The vSphere Data Protection backup user should belongs to a domain account. And the format to be used for the configuration is rarther this one "SYSTEM-DOMAIN\admin" . And not this one:  "admin@SYSTEM-DOMAIN" . Because if you're using the second format then tasks related to backup job may not show up on the Recent Running tasks.
vSphere Data Protection – The deployment
Before start the deployment, make sure that you create an entry in your DNS server. The Sever must support forward and reverse.
At first, login to the vSphere web client > go to Hosts and Clusters  > right click your host > deploy OVF template.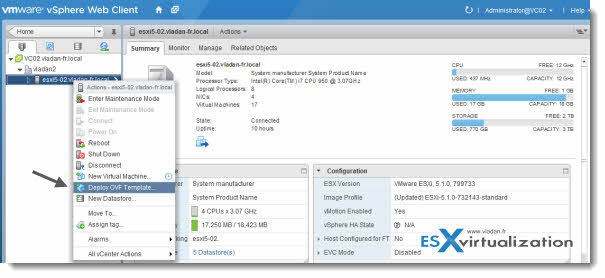 Go and seek for the right ovf file (or rather OVA file…. -:) , and then start the deployment process.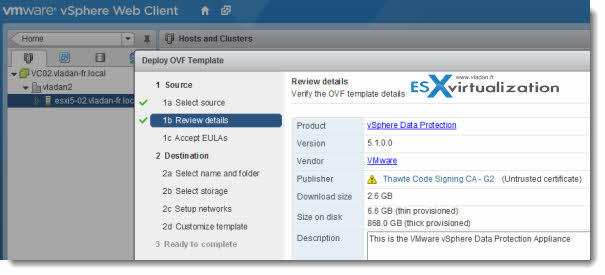 On the image bellow you see the recap of the deployment wizard, I'm deploying to an NFS datastore, so "thin" is the only option there….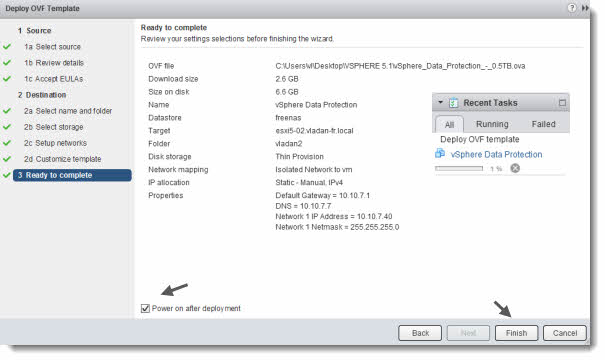 For the first connection to the appliance, you can use those credentials:
login: root
password: changeme
https://<ip address of VDP appliance>:8543/vdp-configure/

So if you open the web browser, through the address showed above, you'll endup with a screen like this one where you can enter the appliance credentials.

To finish the configuration through the web browser, you'll see another nice screen. An assistant which will walks you through the configuration process further.
You'll configure the hostname and default domain: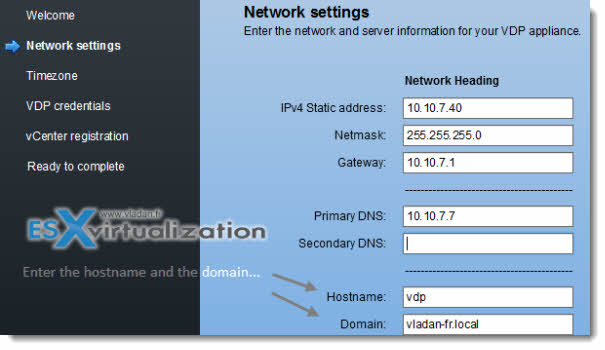 The next screen, you should see this.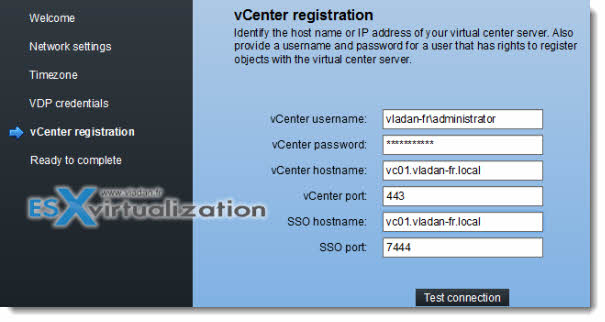 To validate your setup, click the test connection. If you see, that everything went smoothly, then you just need to reboot the VDP appliance and you're done. Please note that after the reboot, the first preparation takes up to 10-15 minutes.
If not, just revisit your steps and find a possible error. Some guidelines: Make sure that your dns is corectly configured and your DNS servers is up.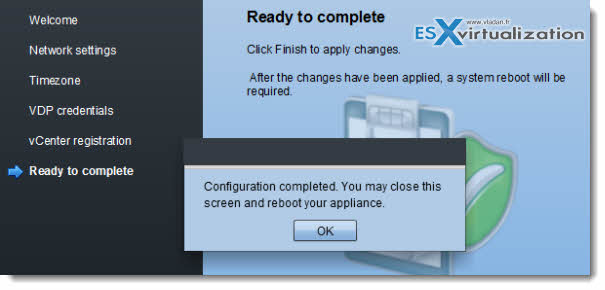 vSphere Data Protection datastore disks – Thick or Thin?
When setting up the appliance, you have the choice for thin or thick disks. If you overprovision your datastore by using thin disks, you might end up in a situation, where there is no more space on the datastore for the think disk to expand. And so you VDB backups will fail. In addition, all your VMs which lives on that datastore will stop. So I would go thick since the beginning. There is a hint to speed up the deployment a bit. I found that in the VDP admin guide…
Thick provisioning allocates all of the required storage when the disk is created. The best practice for the vSphere Data Protection datastore is to create a thin provisioned disk when the vSphere Data Protection appliance is deployed (this allows for rapid deployment) and after deployment, convert the disk from thin provisioning to thick provisioning.
Just make sure that there is enough space on the datastore for the disk to inflate, after the deployment. (right click > inflate).
Stay tuned for the part 2 where we'll play with some backups/restoration options…