vCenter Server 5.5 has brings new functions within the vSphere Web Client faster UI and improved (simplified) Single Sign On installations and deployments. The user interface of the vSphere web client is faster, has more functions and brings support for Mac OSX.
SSO can handle multi domain access and also the deployment options are simplified without the need of creation of another database for SSO as this was the case in 5.1.
VMware vCenter Server 5.5 Enhancements
Single Sign On (SSO) – New architecture of SSO is a multi-master environment. Each SSO instance is complete copy, with built-in replication configured to the other nodes within the same authentication domain, within multiple vCenter servers. SSO is replicated automatically.
Site awareness – it's possible to setup peer partners instead of just Mesh.
Database – It's been designed without a database. (good point!!)
Installation – the installation of the 5.5 version, there is only one deployment model. It's greatly simplified. You basically can choose between different scenarios through an assistant (like if its a first server in new domain or additional server in an existing domain, OR additional server of an existing domain with a new site – MultiSite).
Diagnostics – there is a full diagnostic suite tool, based on MMCs. The components are now manageable through the MMC tools.
Prerequisites – the basics. FQDN, AD joined, DNS (forward/reverse).
The Upgrade will make sure that you have the possibility to change the architecture, if needed. If the SSO is already installed. If you're upgrading from 5.0 you lay down the architecture you need.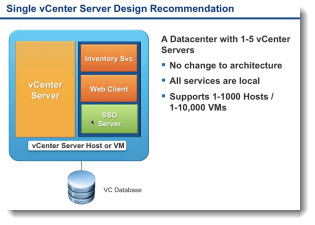 vCenter Server Design Recommendation – it's recommended that the SSO server component is installed onto the vCenter server. All services are local. For small, medium customers with single vCenter server or up to 5 vCenter servers. UP to 1000 hosts is supported and 10 000 VMs. I think that most environment fits in here.
This architecture is the best practices recommended for deployments, where 1-5 vCenters are used in the vSphere environment.
Then for the larger deployments, there will be quite different, but it's only for small percentage of customers. Those environments do have more than 5 vCenters. The backwards compatibility with vCenter 5.1 is assured with the new SSO server. You can see it on the architecture screenshot here.  The sso is protected with vSphere HA, vCenter Heartbeat or NLB.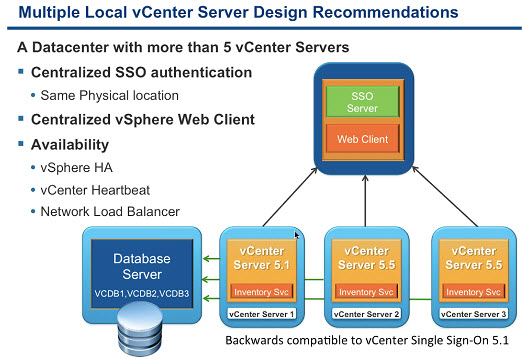 Multiple Remote Sites – For multiple remote sites, there is another architectural model where each site is independent, but there is no single pane of glass view. If you would like to have single pane of glass, then you would have to use linked mode. Each vCenter is local.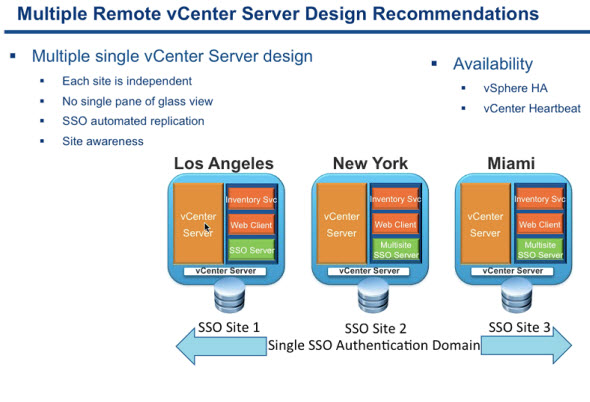 vCenter Server Appliance (vCSA) – some limitations were lifted. The 5.5 version do support on the vPostgress DB, up to 500 ESXi hosts/ 5000 VMs.  
Update: the limit has been changed (still, it's a soft limit) to 100 hosts and 3000 VMs
Hosts (with embedded vPostgres database) 100
Virtual machines (with embedded vPostgres database) 3000
Hosts (with Oracle database) 1000
Virtual machines (with Oracle database) 10000
As for now, there isn't a Microsoft SQL DB support, because there is no available ODBC driver (as for now the driver is in tech preview at Microsoft). Once the driver is updated, it will get updated.
The vCenter Database when on external SQL server, is now supported in Microsoft failover clustering architecture as well as Oracle RAC.  The upgrade paths will be possible, from 5.0 and 5.1. All the migration is possible.
The only thing that would hold me from deploying is the lack of VMware Update Manager integration plugin, and linked mode. If the client don't need those things, then why not.
The vSphere Update Manager stays only for Windows based vCenter servers. This hasn't changes from the previous releases.
The vSphere Client UI enhancements
Faster UI – Faster operations for large environments and overall performance enhancements. That's true that most of the folks, including myself, continues to use the old Windows client, even the most new features aren't visible. But it seems that the web client got faster, and better.
OS X support – it's now possible to fully use the MAC OSX for VM console access, deploying OVF templates or attach client devices. Previously users had to use windows VM in Fusion to do those tasks.
Unfortunately the Linux client has been dropped for the client integration tools. The browser with vSphere web client will continue to function.
[seriesposts title="vSphere 5.5 Release:" listtype=ul order=ASC show_date=0]