VMware View 5 vs Citrix XenDesktop 5.5 – which one performs better?
In this Independent study performed by Principled Technologies, LoginVSI was used to test and benchmark the two different VDI solutions. VMware View 5 and Citrix XenDesktop 5.5. You can download and test LoginVSI yourself, there is an "Express" Version of the software too.
In this study which was conducted by Principled Technologies, which is an Independent testing company which can do various testing on various products. They're able to conduct the testing by using any of a huge variety of industry-standard tests and/or those they custom-develop to meet client needs.
In the test, they first examined the default settings of both platforms to make sure that those tests can be comparable. So for example the "VMware View 5 default to lossless" compression or the "Citrix XenDesktop default to lossy" compression.
Then, two different Login VSI workloads were done:
– Lossy compression levels (on both platforms)
– Losless compression levels (again on both platforms)
What Principled technologies says about the results? A quick quote from the document:
The VMware View 5  was equal or superior to XendDesktop 5.5 in bandwidth consumed and CPU resources required from both client and server when running common office applications. Only the unique case of client-side Flash movie rendering did Citrix XenDesktop 5.5 performs better than VMware View 5. The reduction in bandwidt and CPU across our wide variety of workloads means that View-based virtual desktops can achieve greater density, which can results in cost savings for an organization.
You will be able to find out further details about both technologies. The PCoIP for VMware and HDX protocol for XenDesktop 5.5 in that paper.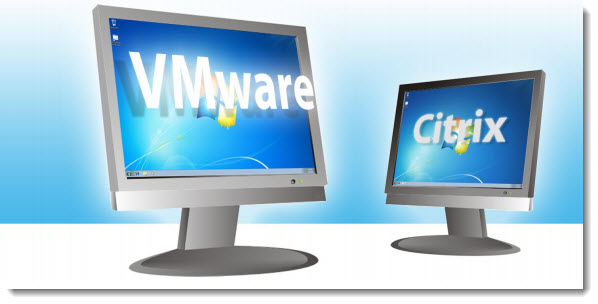 Not only you'll find all the details with many images and graphs there, but also you'll be able to see on which platform this test has been done. Also, and this is very interesting, you'll be able to see the exact step-by-step to configure for example the EMC VNX 5500 SAN device, installing the VMware vSphere infrastructure (ESXi hosts, vCenter, DCs ++++  !), configuring Windows Domains with the necessary tweaks and configuration steps, and the same for Citrix XenDesktop 5.5.
Pretty cool to have such a detailed document with those steps, which could be easily reproduced in your environment (if you got the chance to have the same hardware), or at least the software part can be reproduced.
You can see one of the many screenshots from the report on the image below. Click on the image to see the actual size.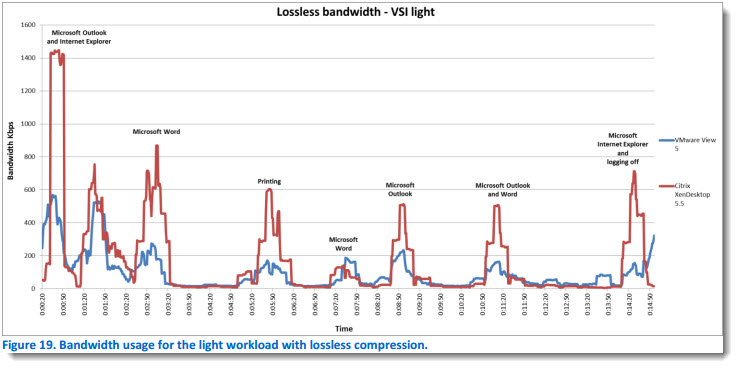 You can download the PDF document here.
Source: VMware Vroom Blog
Enjoy.. -:)