I was rebuilding my VSAN cluster yesterday. Why rebuild you might ask? It's because I accumulated too much clutter in the lab, with a lot of testing, tearing a part or intentionally destroying. It's a lab, after all, it's the main purpose of having a lab so you can do what you can't in production. The core management VMs like a file server or DC with DNS are on another host so untouched. But there are 3 hosts to play with VSAN -:). Cool. So while doing a complete rebuild of the VSAN cluster I was surprised that the new VMware VSAN 6.2 Has a New Assistant.
We could see many VMware posts about the new features and options, but none of them shows the actual workflow. Hence this post. We'll have a look at the different screens and thoughts or gotchas I experienced.
So let's have a look what's changed! The assistant starts when you go and Select your vSphere cluster > Manage Tab > under Virtual SAN select General > Hit the Edit button on the right. Note the informational message at the bottom telling you that without VSAN license you won't be able to create disk groups. In my case, I'm using vExpert licenses from VMware.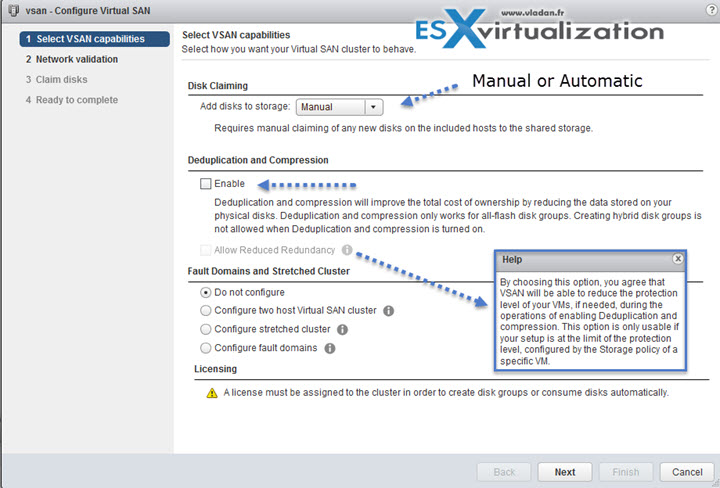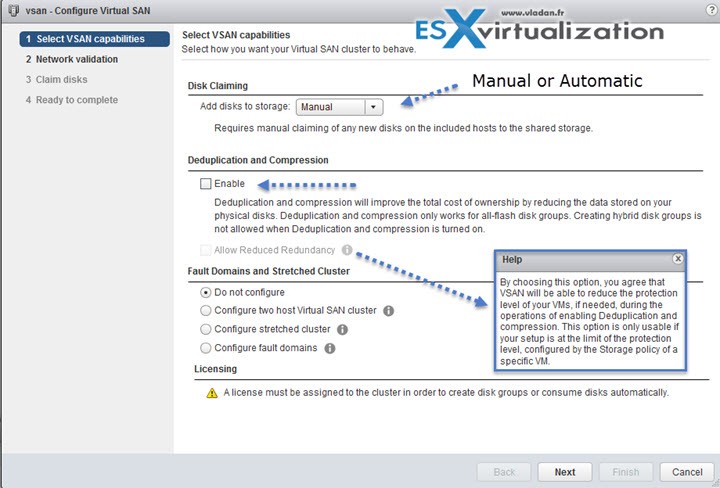 Next screen shows networking. VSAN needs VMkernel adapter enabled for VSAN traffic. If you have not configured this on each of your hosts participating in VSAN cluster, you'll get a warning. In my case I'm fine as I'm only rebuilding the storage, the actual networking did not get "destroyed" from previous VSAN testing.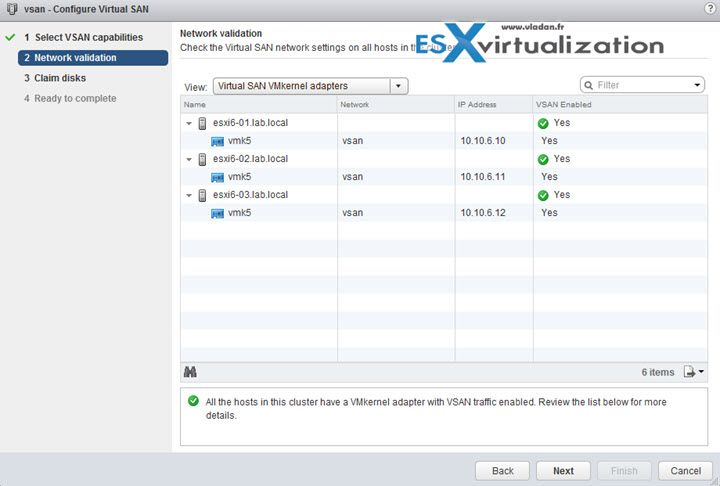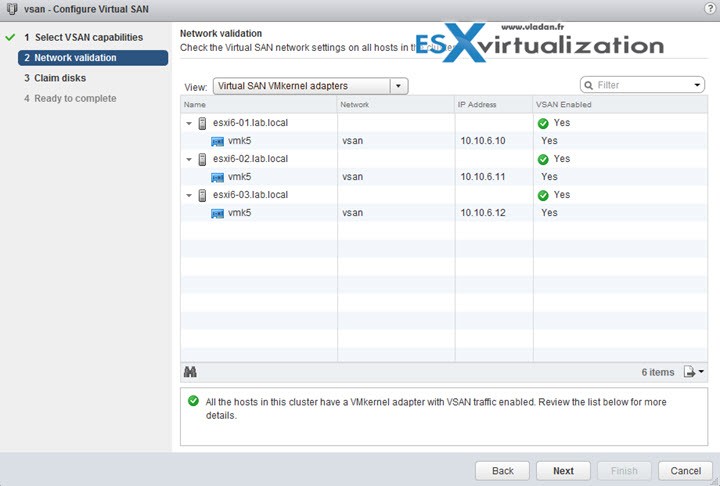 Oh btw, what do one needs to destroy VSAN cluster? Basically, you must:
Evacuate your VMs elsewhere > Put host in maintenance mode and delete the disk groups on that host
Drag and drop that host outside of VSAN cluster
Delete the Cluster
VSAN 6.1 had the possibility to tag disk as Flash or as HDD (for Hybrid scenarios) already. Here is a screenshot from this screen so you can tag your disks, grouped by disk model/size !!! You can also not group your disks, but in this case, you'll have to tag the disk individually and then claim them individually, which would needs a lot of clicks!!!


Once your disks are tagged and claimed, down on the bottom pan you can see green check box informing you that your configuration is correct. You can also see the cache size and capacity size in Gb. Then you can go to the next screen.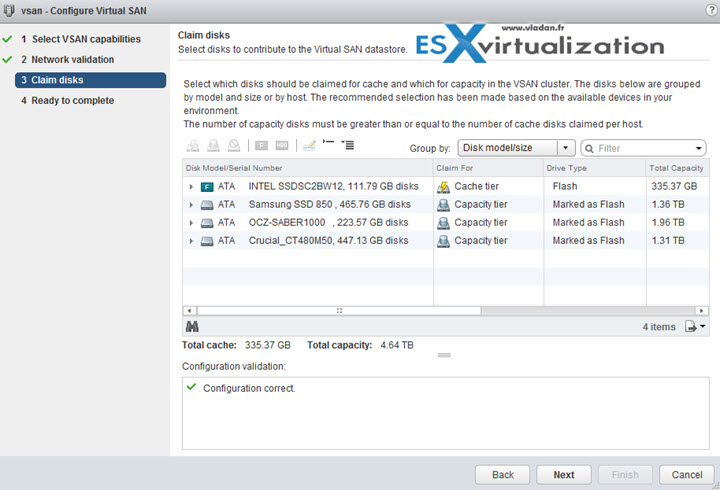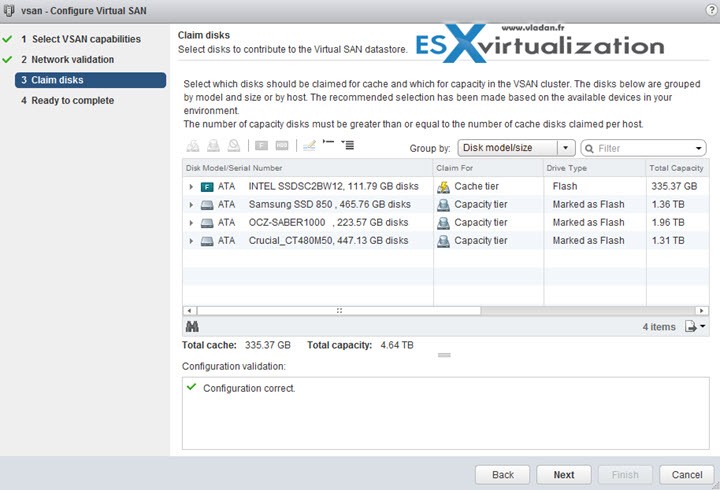 Once you validated the final screen and created the VSAN datastore, you can see the file version (3.0 in our case as the latest formatting has been applied). If you upgrading from VSAN 6.1 you'll be on 2.0 and you'll have to upgrade manually.
VSAN 6.1 could also do an on-disk format upgrade from VSAN 5.5 (1.0) to VSAN FS (2.0), so behavior we could see in VSAN 6.0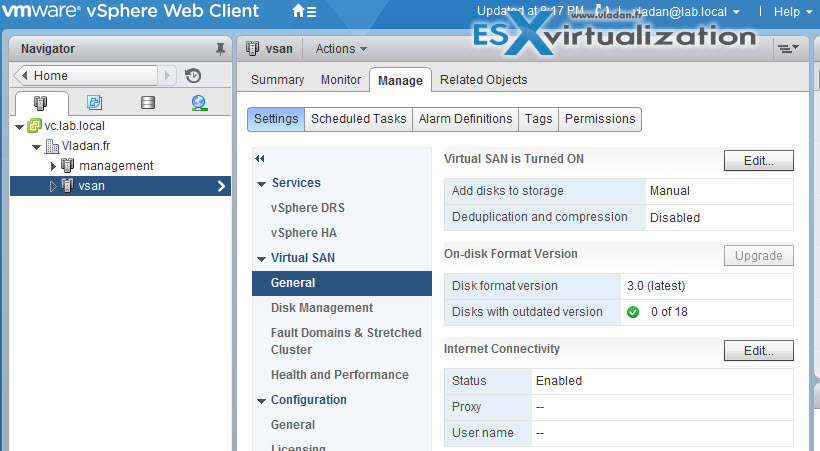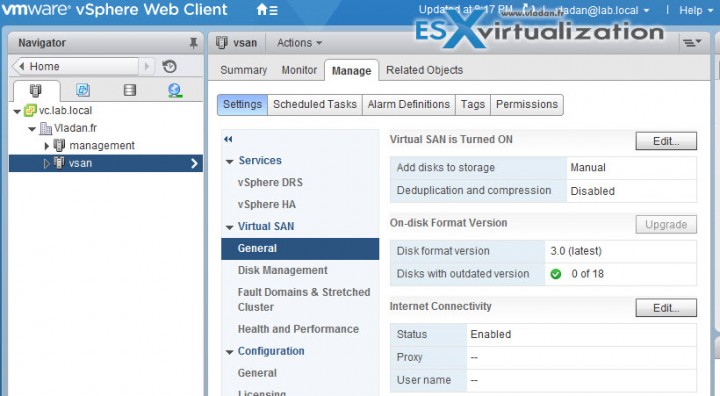 VSAN 6.2 assistant is good and intuitive.
At the beginning of the assistant you have a choice between different architectural options:
Configure 2 host VSAN cluster – 2 hosts + 1 witness
Configure Stretched cluster
Configure fault domains
Deduplication and compression
I had to activate the deduplication and compression option after the cluster is created. I can't remember what prevented me from activating it straight away, but simple checkbox. Note the option "Allow Reduced Redundancy" saying that you're basically allowing that VSAN will be able to reduce the protection level of your VMs during the activation of deduplication and compression. In my case, I had no VMs on the VSAN datastore as I just created it….
There is also a message informing you that during the deduplication and compression activation process:
Changes require a rolling reformat of all disks in the VSAN cluster. Depending on the amount of data stored, this might take a long time. Enabling this feature would lead to some performance degradation.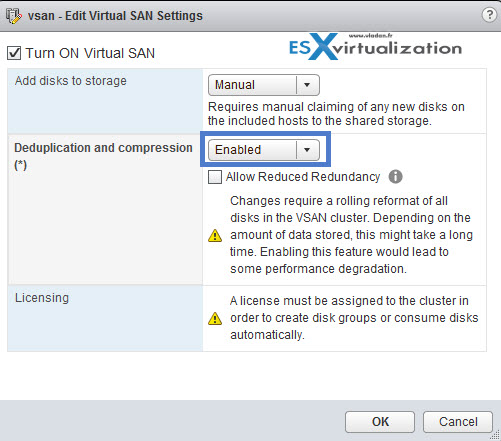 The time for this to finish was much longer than the VSAN activation. I can say it took about 4-5 times longer. VMware VSAN gets better in every release. There is no doubt about that. Simple, intuitive and clean. That's the UI to me. After, the question is, can we have a HTML 5 UI anytime soon too?
Perhaps we should do a post with the walk through the assistant and stretched cluster. We might do this in one of our future posts. Stay tuned…
VSAN 6.2 Posts