VMware VSAN 6.2 has been announced today and there are some cool improvements from the efficiency standpoint (Nearline deduplication, compression, erasure coding) and also from the performance monitoring perspective (no more need for VSAN observer and RVC). In case you missed out, this is the 4th release of VSAN already!
The initial version of VSAN was introduced in vSphere 5.5. Whether in that time, the v 1.0 was destined for test/dev deployments, many clients has adopted the product since then already for its simplicity, performance and future growth eliminating the "silo" problem.
Today we bring the details about VMware VSAN 6.2 and we'll show the details that were available during the recent briefing with VMware. The product, now mature, covers not only main datacenter deployments, but with version VSAN 6.1 also VSAN for ROBO and Stretched cluster has been introduced (details in my post here). ROBO environments saw the requirements of number of nodes being lowered down to two nodes only where the witness component can run in a main datacenter on a ESXi host as an appliance.
VMware VSAN 6.2 – What's New?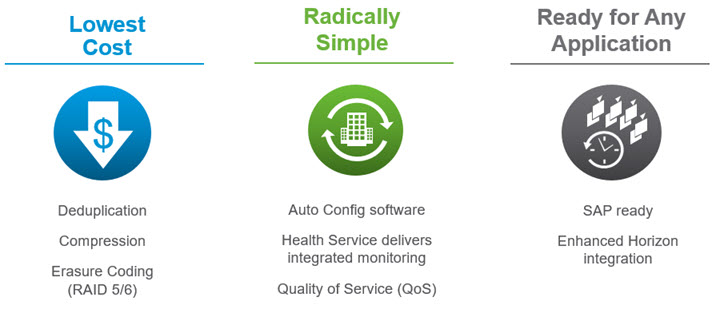 Now the new stuff. VMware VSAN 6.2 brings following new features:
Note: Deduplication and compression is present only in the All FLASH version of VSAN.
Deduplication – nearline deduplication (not post) and compression per disk group level. ("space efficiency"). Space efficiency is enable at the cluster level. The deduplication is done for all the data from the caching tier which goes to the capacity tier with 4k fixed blocks. The same for deduplication below.
Compression – very low CPU utilization. As the data cames to the environment, when they become colder and the data is unique then they're compressed by used very efficient OV4 compression. It's near-line compression. Only data coming from the write-buffer to the capacity tier are touched. The data which are still "hot" aren't compressed as they're still modified/updated. The datas are compressed after deduplication.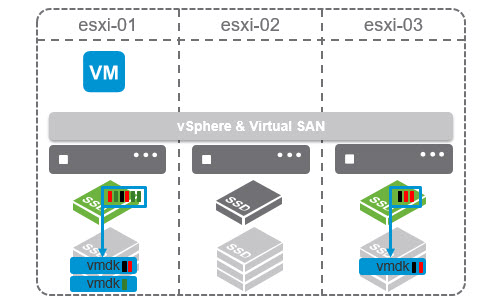 Erasure Coding (RAID 5/6) – It's an option you can do some good space savings. Look at the examples of VMDK size which will for 20Gb disk in RAID 5 config takes only 27Gb (normally 40Gb) and in RAID 6 it'll take only 30Gb (normally 60Gb). It's RAID 5/6 with per-VM option.
Raid 5 – Minimum number of hosts is 4
Raid 6 – Minimum number of hosts is 6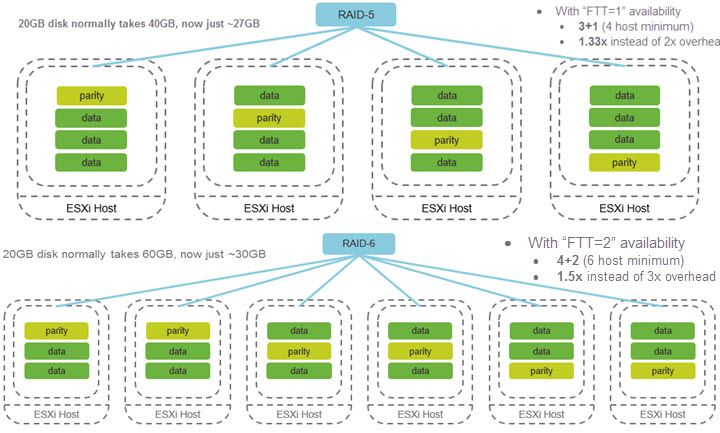 This Raid 6 options with FTT=2 will more likely interests people who are cautious about protecting their data while minimizing the risk during maintenance windows (reboots) and do not want to wait to do full data evacuations every time.
In order to do that you must use FTT=2 if not, you might experience unpleasant surprise like Marco in his post here. (during a maintenance window, while rebooting a host, hardware problem striked on another host).
In any case, the FTT=2 is becoming more economically accessible and viable from now on because of the space efficiency VSAN 6.2 offers…
From the UI of VSAN 6.2 – Erasure coding – using RAID 5 as failure tolerance method… (needs 4 hosts, where RAID 6 needs 6 hosts mini).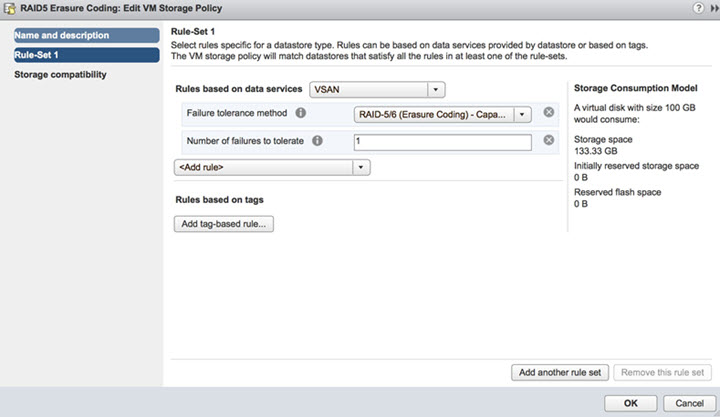 Software Checksum – Hardware checksums were already done with some hardware components/hardware cards. This is completely new software checksums which will perform the following checks:
Write failures to disks
Network copy failures
Checksum failures – will fetch data from another copy.
Disk Scrubbing will run in the background
Enables additional level of data integrity
Automatically detects and solve silent disk errors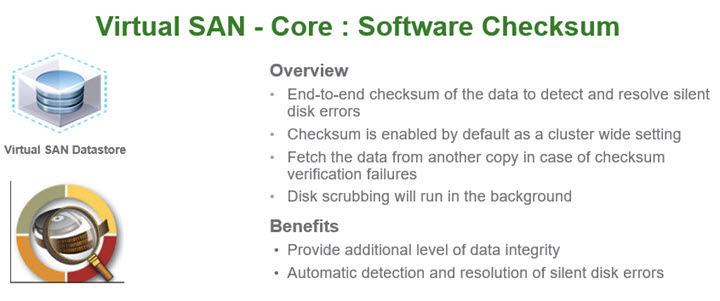 It will be enabled cluster-wide (default) where it's possible to turn it off per VM level, but why would one want to do that… Awesome!
Quality Of Service – Allowing you to manage granular performance SLA management and you'll also be able to configure limit with a single click.
Eliminate noisy neighbor issues
Manage performance SLAs
Complete visibility into IOPS consumed per VM/Virtual Disk

Screenshot from VMware. The UI where you can see the possibility to set up an IOPS limit for object…..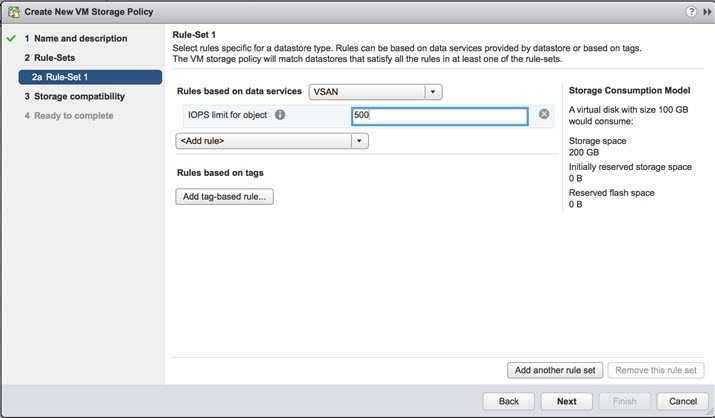 VMware VSAN 6.2 – support for IPv6 – allows to run VSAN in IPv6 only mode where all network communications go through IPv6 network.
Mixed mode is supported for the upgrades.

VMware VSAN 6.2 is ready for any applications
Microsoft Exchange DAG
SAP Core Ready
Oracle RAC
Performance and Capacity Monitoring – now integrated into the UI without further config. It's a built-in performance monitoring service which will have it's own database (not the one used for vCenter). This database is distributed against the VSAN objects store. 256 Mb is the initial size and it's possible to apply a policy which can mirror or do an erasure coding.
It will give you an access to:
Health and performance report
Storage capacity reporting
More Health checks than in previous releases with VSAN health check plugin (no more).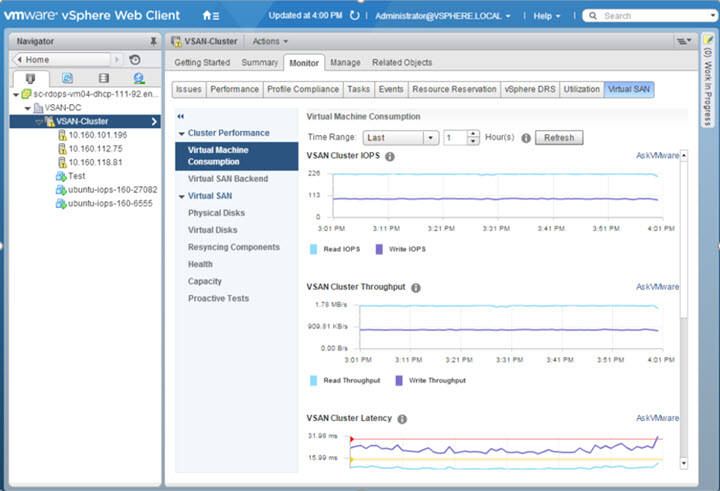 Capacity Monitoring view….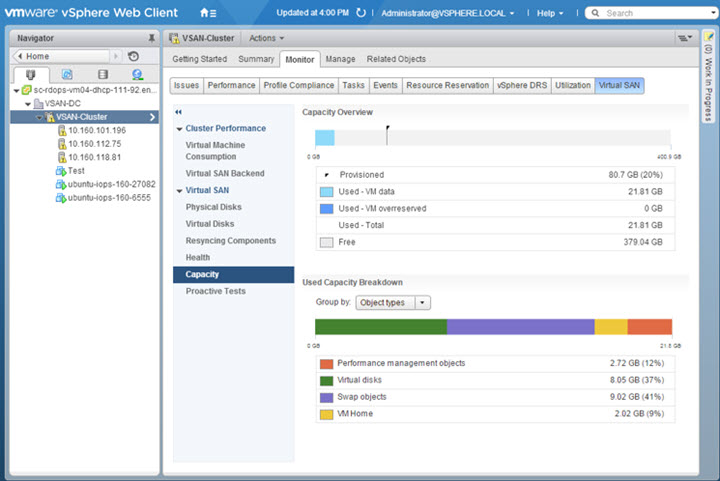 VMware VSAN Health View …
It's built-in (no longer in a plugin), out of the box view.
SNMP support
Cluster-wide summary of VM availability
Event based alarm triggers
Detailed space reporting (including dedupe)
Proactive rebalance from UI
Alarms on performance thresholds breach
Integrate performance data in support bundle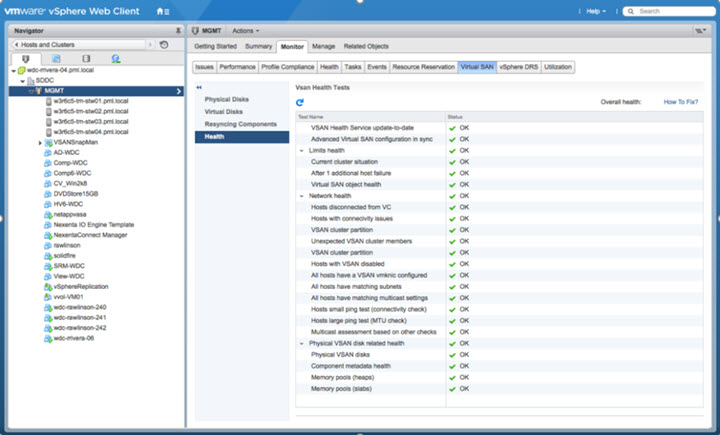 Other New Improvements in VMware VSAN 6.2
Client Cache – write through read memory cache which is "local" to a VM. Data locality to a VM. Brings only very low overhead but has a big impact on performance (especially for VDI). A dynamic memory, taking up to 1Gb from each host. Compared to VSAN 6.1, the client cache will use 4% of host memory up to 1GB of host memory, where other features have their overhead as well. Apparently, there is as low as up to 5% more CPU usage than VSAN would use before. So apparently better performance with little more memory consumption per host (1Gb of RAM only).
Sparse Swap – can reclaim space used by memory swap. It's an advanced option on a host which enables the setting policy for swap to no space reservation. VMs which are configured with a lot of memory and creating large swap files which consume a lot of space on the VSAN datastore. By specifying an advanced host parameter (yes, it's and advanced config per host) you can make the swap file thin provisioned. The parameter is .
/VSAN/SwapThickProvisionDisabled
All VMware announcements (today+yesterday)
VMware VSAN 6.2 Announced – Inline dedupe, Erasure Coding, QoS ++ (this post)
Wrap-up
VSAN 6.2 is another big step forward for VMware in hyper-converged market. They were almost late to the party, where some hyper-converged compagnies Nutanix, Simplivity or Atlantis Computing were perhaps ahead considering their features set, but now with the VSAN 6.2 and those more efficient features including inline deduplication and compression were added. So from the technical standpoint VMware catches up.
Not to forget really useful and logical, tight integration of performance monitoring and health checks which are now included within the VSAN 6.2 and not as some "obscure" Ruby vSphere Console and VSAN observer playing utility. A real plus for day-to-day admin…
VSAN 6.2 really becomes one of the best hyper-converged software solutions tightly integrated with vSphere. We're wondering to see the market adoption but VMware claims already 3000 VSAN clients worldwide so with the better product they'll probably see this number grow rapidly.
Hypervisor no more matters. I've heard this phrase several times in short time period. I think it still does. It's not obvious for an admin to put production workloads on something that has not a lot of market share, but at the same time it seems difficult for VMware to compete with something that is free and good enough especially for SMB and very small shops. That's a reality we see often as very small shops even stays on physical hardware …
However very popular within SMBs offers stays those lower costs vSphere offers which does not have all the "bells and whistles", but do the job well for those small shops. I talk here about vSphere Essentials and vSphere Essentials Plus. Those offers, including minimum 1 year support are best values for SMBs seeking robustness and reliability only VMware can offer. Let's wait and see when the next release of vSphere will became available and which secret weapon(s) to outperform the competition will it brings.