VMware VSAN 6.2 announced past week has made a lot of waves with enterprise class features like erasure coding, near line deduplication and compression, QoS or built-in performance and capacity monitoring features. I reported on all this in my detailed post VMware VSAN 6.2 Announced – Nearline dedupe, Erasure Coding, QoS ++. In today's post we'll have a look at the new VMware Virtual SAN 6.2 Licensing Guide.
What I did not report on was a updated licensing. Yes, VSAN licensing has changed as there is now new Enterprise edition. VMware has updated a paper where you'll find the details. The licensing of VSAN is completely separate from vSphere licensing (changed as well! Check my post on it here – VMware vSphere Licensing Simplified).
We'll take a look at it in this post, and here is an overview of the different editions of VSAN. Basically for ROBO you can't use ROBO edition of VSAN if you're planning All-Flash nodes there. (If for example your ROBO needs best-in-class performance and you need All-Flash node)….
Note that it is a per-CPU licensing so if you node has 2 CPU sockets, then you'll need to cover that with 2 VSAN licenses…
Licensing details (from the PDF) – VMware Virtual SAN 6.2 Licensing Guide.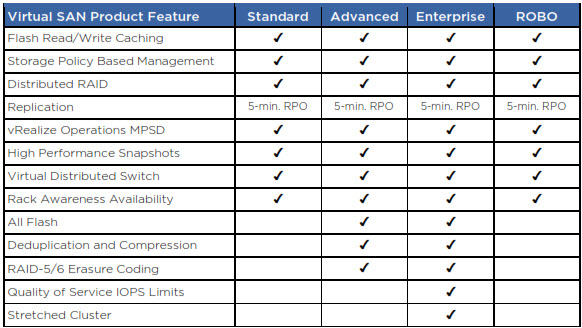 The paper has all the explication and some examples. Here is one of them:
Scenario 9: 2-host all-flash Virtual SAN configuration at a remote office running 20 virtual machines.
Even though this is a remote site with only 20 virtual machines, Virtual SAN Advanced per-CPU licenses are required since this is an all-flash configuration. ROBO licenses do not include support
for all-flash configurations.
Erasure coding with Raid 5 or Raid 6 allowing space efficiency (in All-Flash version only) can be leveraged with the Advanced or Enterprise version of VSAN 6.2. However you'll need 4 respective 6 hosts.
FTT=2 is becoming more economically accessible and viable from now on as the FTT=2 allows 2 component failure protection with "lower cost" (uses less space in the capacity flash tier). It needs only 1.5x more capacity (instead of 3x without erasure coding and Raid 6 option).
The trend shows going towards All-Flash. It's inevitable as the prices of Flash keeps falling. In one of the webinars I've assisted with VMware one of the presenters said that Flash vs spinning media will basically becomes more interesting around VMworld (this summer). We all know that Flash trend is gonna be here one day, but wait. In 6 months time buying Flash becomes cheaper than SAS drives? Hmm…. We'll see that, pretty soon ….
Stay tuned…
Source: VMware Virtual SAN 6.2 Licensing Guide.
*********************************************************************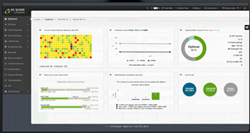 DC Scope for VMware vSphere – optimization, capacity planning, and cost management. Download FREE Trial Here.
Tracks the performance of VMs with a summary view of the resources and metrics in degradation.
Easily improve the performance of your infrastructure.
DC Scope is affordably priced per VM.
*********************************************************************