A publicly available VMware VSAN beta community has been unveiled last week. You may have missed the news, so that's why this post. VSAN beta community provides the latest news and informations about upcoming VMware VSAN. There are some PDF technical documents available there like VSAN datasheet or VSAN technical whitepaper. There is also an official FAQ. If you're about to register for the webminar, note that in the forum there is a PDF with International phone numbers.
I was able to setup VSAN with nested ESXi and do a VMware VSAN Video in my lab.
Oh btw, tomorrow check out the webminar: 9/23 8:30 a.m. PST – Introduction to Virtual SAN Beta Webinar.  Presented by VSAN Product Manager, Kiran Madnani.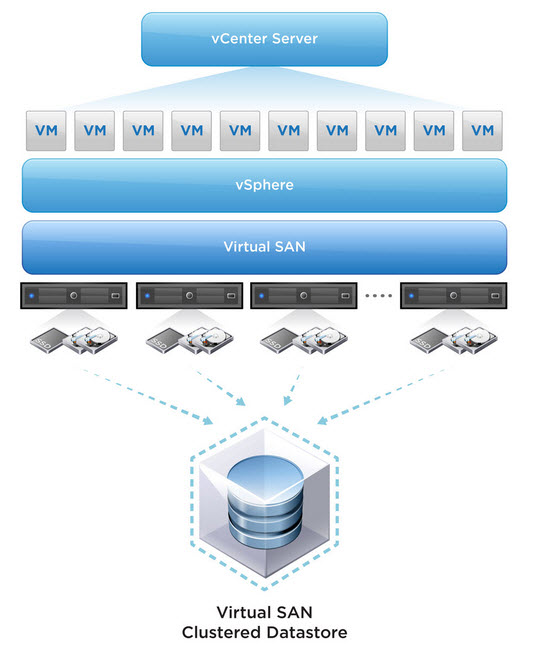 How to access the VSAN Beta community website?
Register for a My VMware account here (If you already have one, skip that)
Sign the terms of use here (one time only)
Access the VMware Virtual-SAN Beta community website.
VSAN is hot, but not available yet, the public beta will most likely to be released at the same time as vSphere 5.5… VSAN supports vMotion and storage vMotion (from and to VSAN datastore), but check the FAQ at the community forum for more info.
You can check out other VSAN posts so far. The one with the most details is this one – VMware VSAN introduced in vSphere 5.5 – How it works and what's the requirements?.
VMware VSAN starts a storage revolution, where shared storage (required for HA and other features) is "baked" to the hypervizor. It's not like VSA but comes in with the hypervisor (with ESXi). You'll need a separate license for it, shall be licensed per CPU, (to be confirmed).
Other VSAN posts:
Don't forget to check my vSphere 5.5 blog page!