I have recently installed an All-Flash version of VSAN in my Home Datacenter (not to say a lab). While the installation went ragher without problems, and also the recently released VMware VSAN Health Check Plugin deployment went rather smoothly except that I have had another web server conflicting with the VSAN plugin…..  so I could not activate the plugin at first… In fact the Enable button just wasn't there and I was receiving https errors through vSphere web client.
When solved this simple issue by uninstalling the conflicting product and re-installing the Plugin, everything went fine. The manual deployment of the VIB which is gathering the host's informations, too. The HCL database was 44 days old but you can see the refresh button which dynamically downloads and updates the HCL components that the plugin has in its inventory. So it means that from time to time you'll be able to see that this or that driver was updated and is on the HCL. Or that this and that hardware component isn't on the HCL any more…
Click the Get latest version online to refresh the HCL.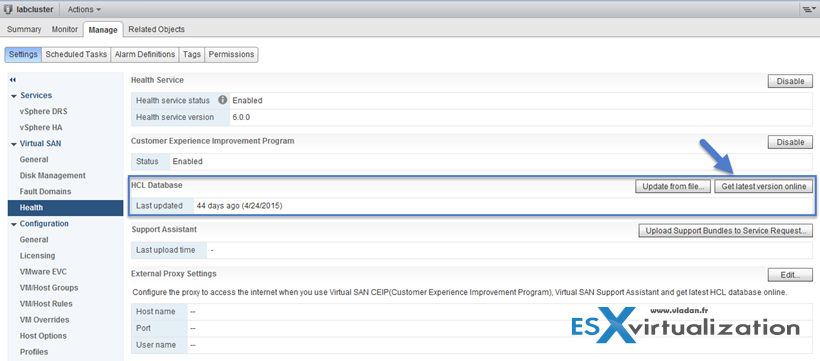 So basically here on the screenshot below you can notice the change when I update the Health check HCL page ….  You can see that the drivers which are on the HCL now (the bottom image – 2) are different. They provide more detailed version based info.

All Green.. Nice, isn't it? -:)
Cluster Health
Data Health
Limits Health
Network Health
Physical Disk health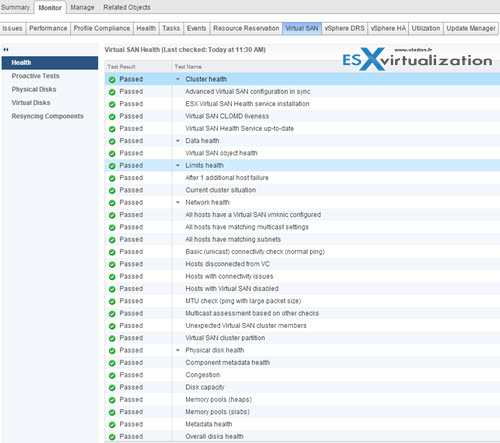 INBOX Drivers:
Basically shipped by VMware. Any issues pertaining to these drivers, will be having complete attention from VMware as, these are coded by VMware itself. Registered/Licensed users of VMware can contact VMware support directly to get the issues fixed pertaining to these drivers. Those drivers are bundled on the installation CD.
ASYNC Drivers:
Basically third party vendor drivers. Any issues pertaining to these drivers, will be having complete attention from device manufacturers as these are coded by device manufacturer. Registered/Licensed users of VMware may need to contact the respective vendor to get the issues fixed pertaining to these drivers
Even thew the driver is suppose to be bundled, (It is actually, but after the HCL update….the wrong version), I wanted to get the proper version of the driver. Normal you might say…
Checked again the version via the CLI (to be 100% sure)
esxcli software vib list
gives the list of all installed vibs.

Other VSAN health check plugin possibilities:
It's possible to execute a proactive tests on VSAN to check that everything works. It allows to detect (in case of doubt, or problems) and isolate possible cause.
VM creation test – creates a tiny VM on each host which gets deleted after the test. This allows to validate the all VSAN components are operational. That the management stack is operational on all hosts, the Virtual SAN network is working, the creation, deletion and I/O to objects is working, etc.
Multicast performance test – shall be run only in case the production switch isn't in production yet, or you can have small maintenance window. The test works by selecting one ESXi host in the Virtual SAN cluster as the sender, and designating all other hosts to being receivers…  The VSAN requires actually less than 20 Mb/s (200jmbit/s) of multicast speed during peak load. Any speeds between 20Mb/s and 50 Mb/s are acceptable and below 20Mb/s is not good…

Quote from VSAN health check PDF guide :
A bandwidth limit of 1000Mb/s has been set on this multicast performance test implementation. Therefore there will be no major difference in results between running this test on a 1GbE network and a 10GbE network environment. The reason we set bandwidth limit to 1000Mb/s is that any speed above 70MB/s is acceptable. Hence, it is not necessary to saturate the full network.
Storage performance test – this test runs some tests on storage performance, by creating some VMDKs on different hosts..
It will create 10 to 20 VMDKs per host (which will be distributed by Virtual SAN onto physical disks). Once that step is complete the test issues a synthetic I/O workload on all VMDKs on all hosts in parallel. Afterwards, the VMDKs are deleted. The storage performance tests allow you to set a duration value that determines how long the test should run.
Wrap up:
The VSAN health check is great help to get more deeper into the testing performance and health check of VSAN installations. It avoids you to digg in with RVC or CLI, but those stays complementary and necessary in case the VSAN health check plugin isn't installed/deployed.