There is a new plugin for VMware VSAN 6.0 which allows troubleshooting and monitoring of VSAN 6.0 installations and implementations. There are 2 versions of the plugin where the first one is for vCenter Server on Linux (VCSA) – this is an RPM file. And the second one is for Windows based vCenter server 6.0 – a MSI file. VMware VSAN Health Check Plugin allows to gather important informations about VSAN clusters which would otherwise needed to be gathered via RVC or CLI. The plugin check the VSAN config, HCL, storage device health and show a component problems (if any).
There is also a vib file (a VMware Installation Bundle) which needs to be deployed on all hosts partitipcating in the VSAN cluster. The deployment of the VIB file can be done via 4 different methods where the easiest one is probably through vSphere web client (other methods are through RVC, VUM or manually via CLI with "esxcli software vib" commands).
To download the plugin you must be able to download VMware VSAN as the plugin can be found at the same area. Unfortunately the VMware VSAN health check plug-in is only supported for VSAN 6.0 and vSphere 6.0 (vSphere 5.5 based VSANs are not supported):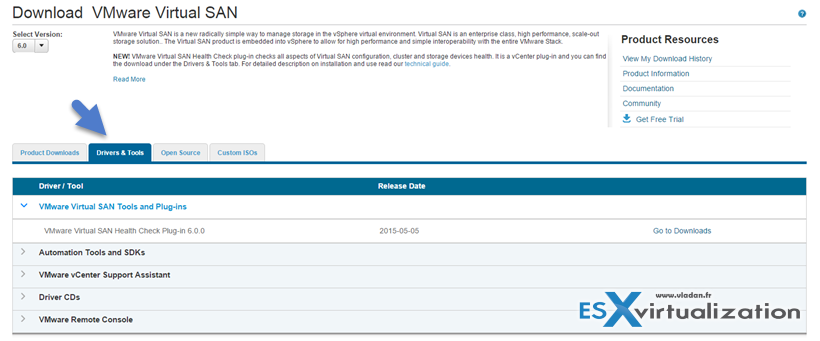 Where to enable?
As you can imagine through vSphere web client only. You must go and select VSAN cluster > Monitor > Virtual SAN > Health > Enable there…

As being said the plugin can be enabled from within the UI (via vSphere web client). At the same time you can also enable the customer experience improvement program from VMware allowing to collect some logs from the utilization etc… Basically a feedback to VMware.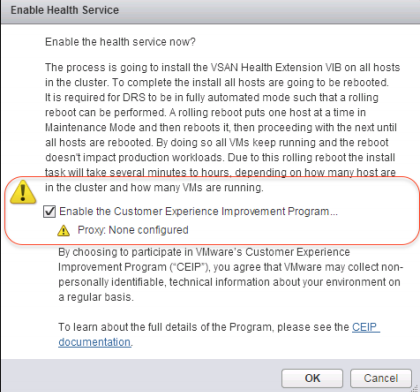 Then the plugin puts host after host into a maintenance mode and installs automatically the VIB, reboot each host after and so on….
While quickly testing it with my nested vSphere 6.0 VSAN lab…

What the plugin does?
HCL checks –  One of the health checks is to make sure that your environment has components which are on the current HCL, but also uses a supported software and drivers. These checks are run against a HCL file that is regularly updated. 
This means that there is not only new hardware added, but also a hardware which is dropped…. I think that this is a good start and shall be further expanded even for standard (classic) infrastructures which runs hooked to a shared storage !!!!  It would certainly be usefull to know for every admin if the hardware he (she) has, is on the HCL. As it's not always easy for an average admin to keep track of all the hosts and clusters, if they are on a HCL or not…
The plugin can run many tests against your cluster. Check this screenshot from the VMware VSAN health check PDF guide.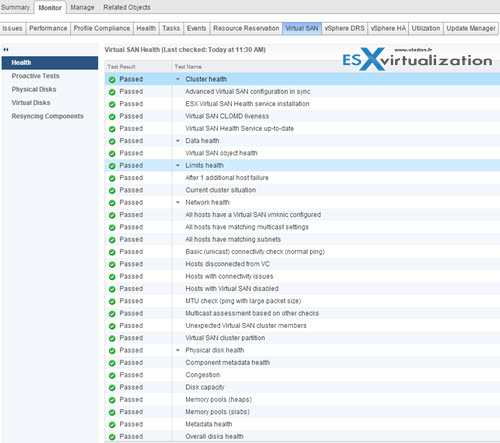 Quote from the original post done by Rafael Kabesa:
Virtual SAN Health Check Plug-in implements several checks including:

Hardware Compatibility – scans your VSAN cluster and detects components not on HCL. Also will make sure you have the right drivers and firmware
Networking Configuration – checks for potential hosts getting disconnected, cluster partitioning and other network related issues
Limits Health – makes sure the cluster stays operational in cases like a host failure
Storage Device Health – checks for disk capacity issues, congestion, metadata health and other potential device problems
Virtual Machines Objects health – checks for objects metadata health, and other potential object complications
You might want to get a detailed PDF which is a very good resource. The detailed document about the plugin has 107 pages and covers all the details, install (uninstall), and also usage scenarios, examples and tests. The tests are mean to test performance of storage, network (multicast), etc. The document is signed by some Cormac Hogan from VMware…
If you're into VMware VSAN, Check also VMware Virtual SAN Diagnostics and Troubleshooting Reference Manual and this one – VMware Virtual SAN 6.0 Design And Sizing Guide – PDF Book 80 Pages. Certainly good stuff.
There is also a video showing the VMware VSAN Health Check Plugin in action.
Wrap Up
The VMware VSAN Health Check Plugin shows that VMware does provide some really useful utility for VSAN users. The plugin is available only for VSAN 6.0 and I doubt that the vSphere 5.5 will ever benefit from it.
Wheere to get it? From VMware VSAN 6.0 page
Source: VMware Blog